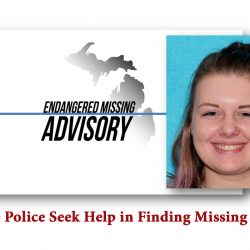 UPDATE—UPDATE—UPDATE
Michigan State Police from the Wayland Post, with the assistance of the Iowa State University Campus Police were able to locate 16 year old Joy Dene Martin earlier this evening on campus at Iowa State in Ames, Iowa. She was found in good health. Preliminary investigation showed that Joy Martin left voluntarily from her home in Fennville Michigan sometime Saturday. She befriended an individual on KIK, a text messenger app, prior to leaving. Arrangements have been made to reconnect her with her family. The incident remains under investigation and the Michigan State Police is working in conjunction with authorities at Iowa State.
Michigan State Police would like to remind and encourage parents to stay informed and beinvolved with electronic media their children use.
For further information contact the Wayland Post, 269-792-2213, M-F 8:00am – 4:00pm.
The following was the original story:
Michigan State Police have reached out to us asking for help in getting the attention of the public as they search for a missing 16-year old who may have been lured away through the social media KIK messenger app and left home willingly.
Authorities say the last place that 16-year old Joy Dene Martin was seen was near Saugatuck, and they fear that she may have climbed aboard a Greyhound bus and left the state. The teen reportedly left home with bags of packed clothing after corresponding with an unknown person on the KIK messenger app on her cellphone.
Martin has blonde hair and blue eyes and stands 5'6″ tall, weighing about 180 lbs. She wears a diamond stud nose piercing, but does not have access to a vehicle of her own, which is why authorities think she may have boarded a Greyhound to make her escape.
State Police have issued an Endangered Missing Advisory regarding Joy Martin and ask that anyone with information regarding her whereabouts call 911 or the investigating law enforcement agency office of the Michigan State Police at the Wayland Post by calling 269-792-2213.
Any leads or other information will hopefully help return the teen safely to her Michigan home.