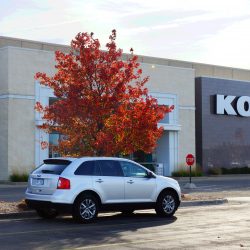 The parent corporation to one of the most popular stores in Benton Harbor's Fairplain Plaza has reported a robust holiday sales period where sales increased nearly 7-percent over the same period a year ago. Kohl's Corporation says comparable sales for the November-December time frame in 2017 clocked in at 6.9-percent higher than the same period in 2016.
Kevin Mansell is Kohl's Chairman, CEO and President. He says, "We are very pleased with our holiday period sales, which were consistently strong through November and December. All lines of business and all regions reported positive comp sales." He adds, "As expected, growth in digital demand accelerated significantly in the holiday period from the year-to-date trend. In addition, we experienced positive sales in our stores driven by stronger traffic. I'd like to thank every Kohl's associate across the organization for their commitment to delivering an outstanding holiday experience for our customers."
Based on stronger than expected Holiday sales and expectations for fiscal January, the company now expects its fiscal 2017 diluted earnings per share to be $4.10 to $4.20 versus its previous guidance of $3.72 to $3.92. Excluding the company's previously disclosed fourth quarter tax settlement of $30 million, diluted earnings per share is expected to be $3.98 to $4.08, compared to its prior guidance of $3.60 to $3.80.
Kohl's continues to expect its fiscal 2017 gross margin rate to be higher than the prior year and its SG&A, including the 53rd week, to increase at the high end of its prior guidance of 0.5% – 2.0%.
Their guidance does not include the impact of recent changes in federal tax legislation which are expected to have a positive impact on the company's effective tax rate and generate a favorable non-cash tax benefit related to the re-measurement of deferred tax balances in 2017.
On March 1, 2018, Kohl's will release its fourth quarter and fiscal 2017 results at 7:00am and host its quarterly earnings conference call at 8:30 am that same day.
Kohl's, which features a prominent store in the Fairplain Plaza on M-139 in Benton Harbor,  is a leading retailer with more than 1,100 stores in 49 states. With a commitment to "inspiring and empowering families to lead fulfilled lives," Kohl's offers a broad array of​​ national and exclusive brands, sizable savings and an easy shopping experience in their stores, online at Kohls.com and on Kohl's mobile app. ​