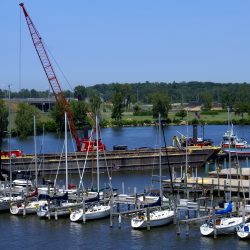 While the President's Budget for fiscal year 2019 spells disaster for some, Great Lakes shippers and recreational boaters in many ports of call will be delighted with the nearly $69-million for U.S. Army Corps of Engineers projects around the lakes including the all important harbor dredging at St. Joseph-Benton Harbor to keep ore carriers and other freighters moving freely through the St. Joe River Channel. There was no immediate indication of any set aside for the New Buffalo harbor in southern Berrien County.
The President's Budget for fiscal year 2019 includes more than $4.7 billion in discretionary funding for the Civil Works program of the U.S. Army Corps of Engineers, USACE, with more than $68.8 million for Detroit District projects around the Great Lakes.
The Civil Works budget funds the operation and maintenance program, which includes the maintenance of federal shipping channels on the Great Lakes, maintenance of federal structures, and the operation and maintenance of the Soo locks, in Sault Ste. Marie. Incorporated in the budget is funding that will be used across the district's jurisdiction in Indiana, Minnesota, Michigan, and Wisconsin.
Lt. Col. Dennis Sugrue is District Engineer for the Detroit District. He responded to the Presidential budget numbers saying, "We stand ready to deliver the Detroit District projects planned for the 2019 fiscal year." He adds, "Our projects are a key component of the Great Lakes public infrastructure that promotes economic growth, quality of life, environmental health and national security."
The fiscal year 2019 funding will be distributed among major Detroit District projects as follows:
St Marys River/Soo Locks, Mich.        Navigation/Hydropower/Recreation     $28 million
Duluth, Minn./Superior, Wis.               Navigation/Recreation                          $7.5 million
Detroit River, Mich.                             Navigation                                             $6.9 million
Fox River, Wis.                                    Flood Risk Management                       $4.3 million
Green Bay Harbor, Wis.                       Navigation                                            $3.9 million
Milwaukee Harbor, Wis.                      Navigation                                            $2.6 million
Saginaw River, Mich.                           Navigation                                            $2.4 million
As with each year, most of the Detroit District navigation projects are funded through the Harbor Maintenance Trust Fund. This year almost $60 million of the district's operations and maintenance projects are funded from that account.
A total of $16 million will be used for dredging projects like the local harbor including the following locations:
Duluth-Superior Harbor, Minn. and Wis.
Green Bay Harbor, Wis.
Milwaukee Harbor, Wis.
Detroit River, Mich.
Grand Haven Harbor, Mich.
Holland Harbor, Mich.
Ludington Harbor, Mich.
Rouge River, Mich.
St. Clair River, Mich.
St. Joseph Harbor, Mich.
Also, more than $3.5 million will be used to continue monitoring lake levels and water flow throughout the Great Lakes.
For more information, interested parties can go to the 2019 budget related links:
Detroit District Website – www.lre.usace.army.mil
Corps of Engineers, HQ Website – www.usace.army.mil
The historical photo accompanying this story on Moody on the Market shows inner harbor dredge work being performed at the tip of Marina Island in St. Joseph before the Inn at Harbor Shores was developed along the rim of that harbor behind the dredge barge.