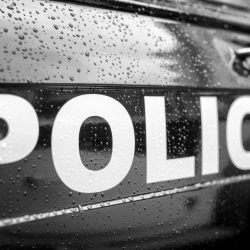 A scary situation on the St. Joe Valley Parkway — or as most call it, the US 31 Bypass — when a steel hauling rig out of Monticello, Indiana careened out of control striking two different passenger vehicles before coming to a rest losing its load of steel I-beams in the process. The result was a mess that ended up closing down the highway, forcing traffic to be re-routed for a brief period until things could be investigated and cleared away.
Berrien County Sheriff's Chief Deputy Robert Boyce says just before three in the afternoon his team was dispatched to a personal injury accident on the Bypass, close to the interchange with the Sodus Parkway.
Apparently a 54-year old semi driver hauling steel from Indiana drifted off the northbound highway and hit an unoccupied Chrysler, parked on the side of the roadway. Rebounding from that strike, the driver crossed back into traffic lanes and his pick-up truck being driven by a 30-year old Coloma man. In the process of the double hit, the semi completely lost its load of I-beams scattering them along the roadway and forcing closure of the road for a period late in the afternoon and early evening.
Boyce's team, which was assisted at the scene by the Michigan State Police Motor Carrier Division, Sodus Township Fire Department and Medic 1 Ambulance, found that the operator of the semi may have suffered some sort of minor medical condition, leading to the wreck, or at least playing a part in the cause of the collision.
That driver was taken to Lakeland Regional Medical Center in St. Joe for treatment, while the pick up driver managed to avoid any personal injury requiring medical attention.
Due to moderate damage across the board, all three vehicles had to be towed from the scene and traffic was being re-routed off of the northbound St. Joe Valley Parkway onto the Sodus Parkway and I-94.
Boyce reports that his team's investigation is ongoing and the exact cause of the wreck remains under investigation as well.