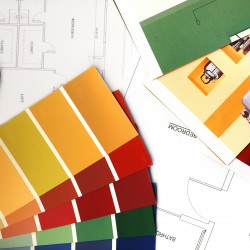 Whether you're ready to launch a full-tilt renovation of your home, simply want to slap some new paint on the summer cottage, or are looking for some great deck and patio landscaping designs, there's likely a bushel basket of ideas waiting for you this weekend at the 2017 Southwestern Michigan Home, Garden and Leisure Show, opening tomorrow, Friday, February 17th at the Lake Michigan College Mendel Center and running through Sunday, February 19th.
Stop in and meet exhibitors showcasing a wide range of ideas from many new and returning vendors, that relate to you as home owners or prospective home buyers.  You'll find ideas on everything from doors, to windows, roofing, siding, floor covering, appliances, heating, cooling, energy saving, home design, decorating, landscaping, lawn and garden, and more.  Take a few minutes or even a few hours and browse through the myriad booths on hand.  It's a great opportunity to get to know people from Michigan's Great Southwest who provide the services and products you need. For a complete list of exhibitors click this link:
The Home Builders Association of Southwestern Michigan, "Professionals That Care", are also accepting entries for the, Future Builders Lego Contest, according to Carol Weller, Executive Officer of the association.  The Western Michigan Lego U Club will be displaying a 10' x 10' Lego City with trains running and numerous buildings.
The Lego competition will be held in conjunction with the Home, Garden, and Leisure Show this weekend.
This year's show features more than 80 exhibitors representing multiple aspects of home improvement, finance, landscaping, interior furnishing, leisure activities and more. Many exhibitors will conduct special offers and discounts directly at their booths – some of them exclusive to the Home, Garden & Leisure Show.
Show hours are Friday, February 17th from 5-8pm, Saturday, February 18th from 9am – 6pm and Sunday February 19th from 11am – 5pm.  Friday will be a buy one get one free night for paid admission. General admission is $5.00 and children 12 and under are free. $1.00 off coupons are available at the website above.
Several Workshops will take place including:
A couples canvas at $30 per couple which includes entry into the Home, Garden & Leisure Show, 2 canvases, paints and instruction.
Dr. Ron Goldy, Senior Extension Educator, MSUE
Lisa Micunek from Martin's Super Market, Stevensville with a cooking demonstration
Ask the Professionals
A presentation by the American Heart Association
Mike Mahler, Naturalist, Sarrett Nature Center and much more.
For a complete Schedule of  workshops click the website above.
This is the  37th Annual Southwestern Michigan Home, Garden & Leisure Show and it is sponsored by WSJM Radio, MailMax, Chemical Bank, Kemner-Iott Benz Agency of Cass County, Frankenmuth Insurance,  Martin's Super Market Stevensville, and KitchenAid.