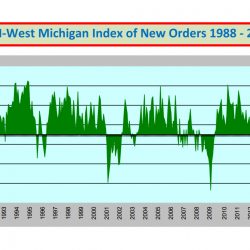 The stock market has been soaring, retail holiday sales were the best in four years, and even the West Michigan industrial economy ended 2017 on a solid roll. That's the assessment of Grand Valley State University Professor Brian Long, the Director of Supply Management Research for West Michigan.
Long's final report of 2017 says, "Historically, the end of the year has sometimes been rough for the West Michigan economy. However, according to the data collected in the last two weeks of December, the local economy finished 2017 on a solid footing."
Long's upbeat report cashes out the old year with news that his closely watched New Orders Index, which he considers to be is most closely watched index of business improvement, was virtually unchanged, but eased to +19 from +20.
Long notes, "In contrast, the Production Index edged up to +22 from +17, while, at +15, the Employment Index remained in double-digit growth for the eleventh consecutive month." Long's measure of activity in the purchasing offices, the Purchasing Index, remained positive at +16, marginally slower than November's +18.
Summing it up, Long says, essentially, "Again, the West Michigan industrial economy remains on the track of slow growth, much as it has since the recovery from the Great Recession began in April 2009."
In a deeper dive look at the jobs market, Long says that at +15, the local Employment Index has been in double-digit growth since the beginning of the year. He adds, "Although unemployment for West Michigan remains well below most of the rest of the state, additional improvement in the rates for most of our local reporting units appears to have stalled." Further, he notes, "The shortage of qualified workers in 2018 will continue to be a problem for West Michigan and the entire state. The seasonally adjusted unemployment rate of 3.7-percent for Michigan in July has edged up to an ominous 4.6 percent in November. Although part of the rise can probably be attributed to statistical variation, the absence of qualified works will remain a factor if changes are not made."
If Long has a deep concern, it likely is his ongoing fear for the automotive industry. He says, "We like to point to the success of many different industries in Michigan, yet the fact remains that West Michigan's recovery from the Great Recession has relied heavily on automotive strength. It was an especially good year for the hourly workers at the auto parts plants, given that their average paychecks rose 7.5-percent over the past year." He adds, "In West Michigan, we are blessed with auto parts fabricators that can compete toe-to-toe with the rest of the world. However, the auto industry as a whole closed out the sales year with a 5.0-percent loss for December, and a 1.8-percent loss for the entire year. The split between cars and light truck continues to grow increasingly lopsided, with December sedan sales down 17.0-percent, partially offset by a 1.6-percent gain in light trucks."
In his forecast, Long suggests, "We can expect auto sales to continue with the same pattern of marginal monthly declines for most of 2018. However, unless there is another catastrophic economic event, the decline in auto sales should remain orderly. We cannot count on automotive to bring in very many more jobs, but the existing auto parts market in West Michigan appears to be stable and profitable at this time."
Professor Long's year end analysis looks into the crystal ball, as he does monthly, for the prevailing mood. He says, "The mood of the industrial economy is still improving, and it seems fairly likely that business confidence will continue to grow in 2018." He reports that the December West Michigan index for the Short Term Business Outlook, which asks local firms about the perception for the next three to six months, tied the record high of +39 set a few months ago. Meanwhile, the Long Term Business Outlook remained unchanged at +45. Additionally, small business optimism as reported by the National Federation of Independent Business is now back to the record level set thirteen years ago. Long notes, "Throughout 2017, we received cautiously optimistic comments from most of our survey participants. We expect this trend to continue in 2018."
In wrapping up his monthly report, which also doubles as his year end capsule, Professor Long reminds us that, "About 66-percent of all the dollars that are spent every day are spent by businesses, not by consumers. Even the respondents to our local business survey represent about $15 billion in annual spending, although most of this money is spent for machines, steel, chemicals, plastic resin, and a bunch of things most of us never see. If the West Michigan businesses grow, so will the West Michigan economy."
As is his custom, Professor Long also shares a bit of verbatim commentary from survey respondents, and we share a sampling of that with you here:
"A thriving economy means aggressive price increase strategies are coming. I'm expecting a lot of upward price pressure in the first quarter of 2018."
"The fourth quarter is looking pretty strong, and will finish out the year."
"Very busy with orders and quotes. Are we nuts??"
"We are on the slippery slope of expediting."
 "We're having great volume during the holiday season!"
"Overall, it has been a solid year for us."
"2017 was very busy, and 2018 is expected to be as busy as long as the funds are there as promised."
 "Quoting activity is very active for the first quarter of 2018."
"Economy appears to be healthy, and 2018 looks promising."
"Business outlook is strong going into 2018!!"
"We're getting hammered with price increases of 5% to 8%!"
 "We've had great sales for the month for December, which is unusual."
"Overall, it has been a rough year for us. Sales growth has been flat at best. Hopefully our customers will have a larger budget to work with for 2018."
"We're closing out a record year of new business, which is more than double our original projection."
 "2018 looks like another strong year with plenty of growth opportunity."
 "We have a rush to get parts out before the holidays. However, things look slow after that."
"Business is very robust."
You can see Dr. Long's full report by clicking the following link: