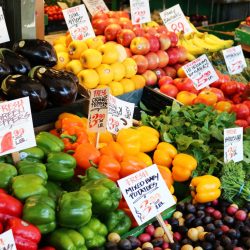 The Michigan Farm Bureau says with diesel fuel prices approaching four-year highs, we might be in for a surprise when visiting the produce aisles at our favorite grocery store.
Authorities with the Bureau remind us that in the world of trickle-down economics, a vast majority of fresh fruits and vegetables grown in the United States reach their final destination by truck.
According to Michigan Farm Bureau Horticultural Specialist Kevin Robson, highway diesel fuel prices play a significant role in setting the rates specialty crop growers must pay to get their products to market. For individual growers, the impact of rising fuel prices depends on distance, perishability of their crop and method of transportation.
Robson tells us, "Fuel is an absolute necessity, both as an on-farm raw input cost to produce the crop, and as a transportation cost for on-road diesel." He points out, "When input costs and transportation costs rise, it's only appropriate for the cost of produce to rise as well. I would expect this to be the case this summer."
For farmers who rely heavily on truck transportation, Robson said the last five years have been anything but steady when it comes to predictable diesel fuel pricing.
In 2013, highway diesel prices typically exceeded $3.75 per gallon, and averaged nearly $4 per gallon. However, once diesel prices broke the $3.75 per gallon barrier in September 2014, rates fell steadily and significantly, hitting a five-year low in early 2016 at $1.98 per gallon.
Since that low point, however, diesel prices have been on a steady upward trend, according to the USDA Agricultural Marketing Service's weekly Specialty Crops Truck Rate Report. As of May 2, 2018, U.S. average price of $3.157 – a level last seen in January 2015.
While rates have yet to reach the fevered level of 2013/2014, the steady climb has growers concerned that prices may be headed in that direction. Since mid-January, on-highway diesel prices have exceeded the price paid during the same month in all of the last three years.
In recent weeks, according to the American Farm Bureau Federation, the increase over year-ago pricing has been even more dramatic, with the U.S. average on-highway diesel priced 22-percent higher at the end of April 2018 than the end of April 2017.
According to USDA's Economic Research Service, as fuel prices rise, so do wholesale produce prices and the margins between farm and wholesale prices.
Robson notes that, in addition to rising fuel prices, growers have been faced with other production-cost increases, including crop protection chemicals and labor.
He notes, however, there is good news for Michigan consumers. He says, "As the second most diverse agricultural state in the country, consumers can expect an ample supply of locally produced specialty crop fruits and vegetables in their supermarkets and local farmers' markets this summer."
The Farm Bureau expert suggests, "Plan to stock up and always be sure to look for 'made in Michigan' produce, to save on higher-priced products shipped in from other parts of the country and support our state's hard working farm families at the same time." No doubt many local farmers and growers will support that sentiment every day.