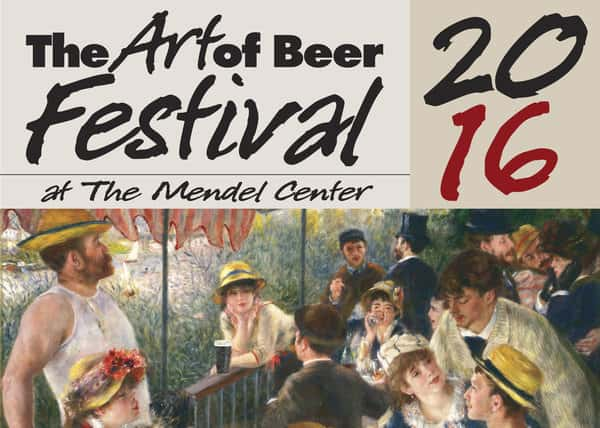 You can expect live singing and there will be nearly 100 styles of beer "on the wall," but the easiest part of the night in a couple of weeks will be to take one down, toss it down, and sample one of the other 99 beers on the wall. It's the Mendel Center's annual celebration of the best in craft beers and hard ciders and it's called The Art of Beer Festival. It's coming Saturday, March 19, 2016 from 5pm until 9pm on the Napier Campus of Lake Michigan College.
Beer lovers from across the region will gather for the beer tasting event which will feature nearly 100 beers from more than 20 of the best breweries in Michigan. Festival goers will enjoy their brews with delicious food from a variety of local dining establishments and live music by The Dani Jamerson Band.

Tonya Martindale is Director of Conference & Event Services at The Mendel Center. She says, "We hosted the first Art of Beer Festival in 2010. Since then it has become one of the most popular beer events in the region with more than 600 people in attendance last year." She adds, "This year's festival is shaping up to be another great one as we put the finishing touches on the list of Michigan breweries and the tap list."

Brewers confirmed to date are:

Arclight Brewing – Watervliet
Crane's Winery (ciders) – Fennville
Cravings Bistro & Brew Pub – Benton Harbor
Dark Horse Brewing Company – Marshall
Dragonmead Microbrewery – Warren
Final Gravity Brewing Company – Decatur
Frankenmuth Brewery – Frankenmuth
Keweenaw Brewing Company – Houghton
Lehman's Orchards – Niles
The Livery – Benton Harbor
McIntosh Cellars – South Haven
Mountain Town Station Brewing – Mt. Pleasant
New Holland Brewing Company – Holland
Paw Paw Brewing Company – Paw Paw
Round Barn Brewery – Baroda
Saugatuck Brewing Company – Saugatuck
Schmohz Brewing Company – Grand Rapids
Tapistry Brewing Company – Bridgman
Uncle John's Cider Mill – St. Johns

Culinary treats will be available from:

Bistro on the Boulevard – St. Joseph
Coaches Bar & Grill – Stevensville
Crane's Pie Pantry Restaurant & Winery – Fennville
Cravings Bistro & Brew Pub – Benton Harbor
Mendel Center Conference & Event Services – Benton Harbor
That Salsa

According to Martindale, the tap list will be announced the week of the event.

Dani Jamerson has quickly risen to compete on the same level as many seasoned musicians and performers in the region. Since founding The Dani Jamerson Band in 2011, she has played to sold out venues, weekend bar gigs, festivals, charity events, weddings, and private parties, as well as for television, and radio. Jamerson delivers a one-of-a-kind unique blend of both silky smooth and coarse, gritty vocals on songs ranging from country and rock to pop, and blues. With her frequent trips to Nashville to co-write with a variety of veteran songwriters, Jamerson continues to fine tune her craft and produce strong original material.

Tickets for The Art of Beer Festival are $35 in advance and $40 at the door. Admission includes 12 beer tastes, $10 in food, a collectible festival pint glass, and the evening's entertainment. $20 designated driver tickets are available and include two non-alcoholic beverages, $10 in food samples, a collectible festival pint glass, and entertainment.

Tickets can be purchased 24/7 by clicking this link: www.TheMendelCenter.com or by calling The Mendel Center Box Office at 269-927-1221 weekdays from 2 – 6 p.m. Attendees for the event must be 21 or older.

The Southwestern Michigan Tourist Council is sponsoring this event.

The Mendel Center is located on the Lake Michigan College campus at 2755 E. Napier Avenue in Benton Harbor, just one mile east of I-94 (Exit 30) and one mile west of the US 31 Bypass (exit 24).