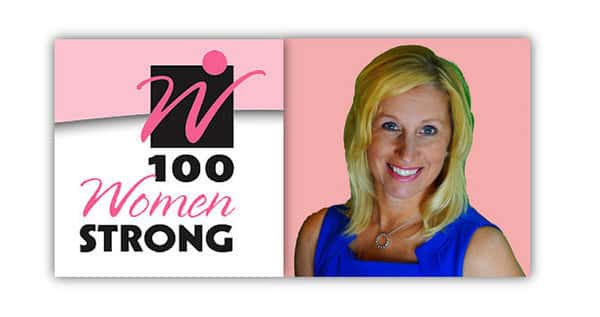 She was single-handedly responsible for turning her community into a sea of pink every October. She was vociferous in her never-ending advocacy for Breast Cancer Awareness, and herself a breast cancer survivor. She was, in fact, a true Leader of Distinction. Denise Bohn will be honored by 100 Women Strong next week as the organization's 5th Annual Leader of Distinction. Sadly, the award will be made posthumously, inasmuch as Denise was the victim of domestic violence last spring, cut down in the prime of a life that was filled with distinction on multiple fronts.
100 Women Strong is a non-profit organization that provides emergency funds to Berrien County women, and they have invited Deborah O'Connor, the Director of Global Corporate Reputation and Community Relations for Whirlpool Corporation, to keynote the address honoring Denise next Thursday, October 27th at the Shadowland Ballroom on Silver Beach at 333 Broad Street in St. Joseph.
Sarah Spoonholtz is Chair of 100 Women Strong, and was a colleague of the late Denise Bohn right up to the time of her death. Both served as radio hosts on 98.3 The Coast. Additionally, Denise was an advocate for Susan G. Komen Michigan where her work has become legendary and iconic not just during Pinktober but throughout the year thanks to her tenacity and every day leadership attitude.
Denise Bohn graduated from Michigan State University with a Degree in Mass Communications, and started as a sales representative at the Radio Stations of Southwest Michigan. Her passion for news attracted her to their news department and she quickly became a reporter for the organization's six radio stations. Within two years Bohn was promoted to News Director and Morning Co-Host on WSJM and Y-Country Radio stations. In 1999, she pursued the visual side of broadcasting. Hired by CBS affiliate, WSBT-TV, then based in South Bend, Indiana, she quickly became an award-winning lead reporter and back-up anchor, filling in on the morning and afternoon newscasts. During her time at WSBT-TV she interviewed a variety of personalities and dignitaries including President Bill Clinton, Barbara Walters, Arnold Schwarzenegger and Verne Troyer also known as "Mini-Me." In 2003, she left the broadcasting industry to raise her family.

In 2008 Bohn was diagnosed with breast cancer at the age of 37. From that moment, she tirelessly raised awareness about the disease and become an advocate for other patients. Through her passion and energy, Bohn helped raise more than $125,000 for charities that included the American Cancer Society, Susan G. Komen of Southwest Michigan, Lakeland HealthCare's Marie Yeager Cancer Center and Pennies from Heaven. Bohn was also known for her ability to inspire other survivors as well as community members in the fight against breast cancer. Before her untimely death, Bohn was the Development Director for the Susan G. Komen of Southwest Michigan breast cancer foundation affiliate, morning co-host on 98.3 The Coast and producer/host of the WSJM Week In Review video newscast.

Keynote speaker Deborah O'Connor is the director of Global Corporate Reputation and Community Relations for Whirlpool Corporation. In that role she leads the organization's PR, media relations, interactive media, community relations, social responsibility and Whirlpool Foundation efforts. O'Connor has been with Whirlpool for 12 years. Her first role was Sr. Manager of Brand Experience for premium brands, where she led the PR, experiential events, partnerships and sponsorships for KitchenAid and Jenn-Air brands.

O'Connor has always been involved in the communities she has lived in. And in southwest Michigan, she found her passion in working for Cook for the Cure, the KitchenAid partnership with Susan G. Komen. This is where she met Denise and partnered with her on several fundraisers. Additional community involvement for O'Connor includes work on the KitchenAid Senior PGA Championship. She serves on the Executive Committee and is a member of the SPGA Community Assurance Committee. O'Connor is also a member of the Lake Michigan College Foundation board and has helped with their annual dinner auction for years. She has served on the St. Joseph Today board of directors and assisted with many community charity fundraising efforts.

Tickets are $25 and a table for eight may be reserved for $180. Spoonholtz has asked that reservations be made by October 23rd online by clicking this link: www.100womenstrongberrien.com/events, or by mail at P.O. Box 9025, Benton Harbor, MI 49023. Questions can be emailed to 100womenstrongberrien@gmail.com.

100 Women Strong is a 501(c)(3) nonprofit organization that serves women who are not eligible for other community resources. These women are either working or attending school and can receive a one-time grant up to $500 to pay for emergency car repairs, health, utility or other unexpected bills. 100 Women Strong's intent is to help women stay self-sufficient and keep them from quitting work or school because no emergency funds were available to them in a time of need. To learn more about 100 Women Strong and its events, click this link: 100womenstrongberrien.com.