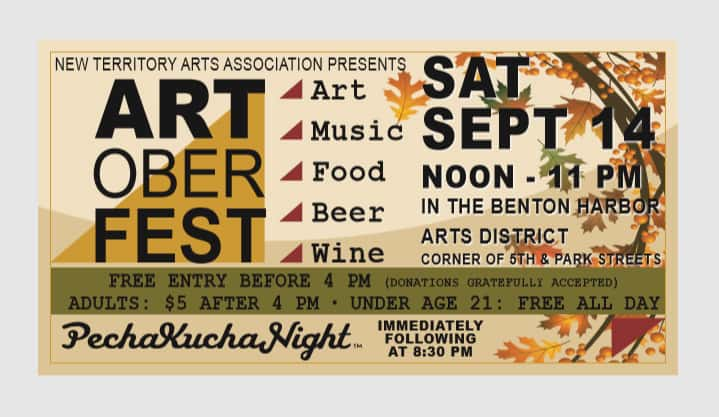 For the past dozen years, the Benton Harbor Arts District has erupted into a full-on celebration of arts, music, food, craft brews and wines they call Artoberfest. Over the last two years that major celebration of all things good has included the phenomenon called Pecha Kucha, bringing the crowd to its feet to cap off a special day in September.
Never to be outdone, the New Territory Arts Association will uncork their 13th Annual Artoberfest streetfest this Saturday with an even stronger line up than ever, and lots of new things to explore.
The popular street celebration is partnering for the third year with Pecha Kucha Night to headline the festival and is adding new features to its colorful and eclectic lineup of art, live music, food, craft brews and wines. The rain-or-shine, family-friendly, event is this Saturday, September 14th from noon to 11 pm in the Benton Harbor Arts District, anchored at the corner of 5th and Park Streets behind The Livery.
This year, Artoberfest has added even more artists, food, and libations as well as a silent auction, extra lawn seating, and a live art demonstration by local artist David Baker.
Kelly Vega, Vice President of the New Territory Arts Association says, "These new additions to the Benton Harbor Arts District's largest and longest-running festival are going to take this event to the next level. This really shows the commitment of our community members to help make our special location a destination for all, no matter where they are from or what they are interested in." Vega adds, "Also, involving younger artists in the musical entertainment portion of the festival this year is something that everyone can look forward to. We've watched these budding musicians grow at the The Livery during NTAA's monthly Open Stage and it's very exciting to be able to see them shine on the Artoberfest Mainstage this year!"
Lana DeFrancesco is PechaKucha Organizer, and she says, "Artoberfest is a fundraiser that we love to participate in," noting, "NTAA supports arts programs, scholarships and projects in the Benton Harbor Arts District, which is critical to keep well-funded if we hope to continue the arts & cultural opportunities in our area."
Admission to the festival grounds is free from noon to 4 pm (but, a donation of $5 is suggested). After 4 pm, adult admission is $5 each and is free for anyone under 21.
Local food trucks on site will include:
Nosh Village
Lake and Farmer
WERK It Food Truck
Dialos Soulfood
Emma Hearth & Market by Live Station Farms
Forte Coffee will offer drinks from their mobile coffee cart
Molino Tortilleria will have a tent
The Phoenix Coffee Shop will offer fresh-brewed lemonade and house-baked goods
The Livery will offer their famous pizza slices as well as provide hand-forged craft beer, wine, and cider.
Artoberfest is sponsored by:
Silver Beach Pizza
The Livery
Thayer Products
Krasl Art Center
Box Factory for the Arts
Adagio Properties
Second Story Development
The Phoenix Coffee Shop
SWMI Brew Tours
The Cheese Lady of St. Joseph
Carpet Mart
Abonmarche
Wanderlust Outfitters
McCrone Custom Woodworking
Kruggel Lawton CPA
Houndstooth Restaurant
The Wooden Door
Connect Home Buyers
Breadbar
Forte Coffee
Greenspan Construction
Artoberfest Activies Include:
Noon-8pm: Over 20 booths will display regional artists' glasswork, paintings, sculpture, photography, jewelry, fiber, and repurposed art. Art enthusiasts are encouraged to explore the local galleries, studios, and shops in the district as well.
Noon-8pm: The Artoberfest Main Stage will offer a variety of musical entertainment.
Noon: The NTAA Open Stage All-Stars – an ensemble of young, emerging local artists including Salina Halliday, Jared Schaub (age 11), Leiah Seawood (age 13), and Xiomara Urbina (age 10).
3:00pm: Twin City String Band – Modern and Traditional Bluegrass with Folk influences from the Twin Cities of Benton Harbor and St. Joseph.
4:30pm: Sankofa – Benton Harbor's own funk, soul, and jazz band.
6:00pm: Al Scorch – Chicago artist intertwining punk, old-time string band, American and European folk, and soulful melodies.
8:30pm: Pecha Kucha Night at Artoberfest will present a series of talks designed to elicit laughter, tears and pondering. Nine talented locals will share their passions using 20 slides, each automatically shown for 20 seconds. The slides will be projected on a large outdoor screen hung from The Livery. Limited seating will be set up on The Livery open space, but show-goers are encouraged to bring their own lawn chairs. Entrance to PechaKucha Night is $5 for anyone 21 years and older.
The Pecha Kucha presentation lineup will feature:
Dierdre Guthrie– "Friction and Flow: An Anthropologist's Reflections on 'The Good Life'"
Angie Renfro– "The Problem with Food Waste"
Princella Stringer– "Not About Me"
Karen Joy B.– "It's All in the Coast"
Carolyn Pampalone Rabbers– "Connecting to the Body: Kinseophereic Communication through Quotidian Gesture"
Traci Burton– "Righteous Rebel"
Barb Chartier Raudonis- "Raising Royalty"
Terry Kucera Choate– "Laundry is the Only Thing That Should be Separated by Color"
Pecha Kucha 20×20 is a simple presentation format where 20 images are shown for 20 seconds each, advancing automatically.
These events are hosted 4 times a year by the Whirlpool Creatives Association, Wightman and Associates, Inc, Krasl Art Center, Box Factory for the Arts.
Many cities often lack spaces where creative people can share their work, and so Pecha Kucha Nights are about exposing the hidden creativity in a city. Pecha Kucha Nights are organized by passionate and enthusiastic volunteers of any creative field.
Pecha Kucha Night conceived by Astrid Klein and Mark Dytham in Tokyo, is an international phenomenon taking place regularly in over 900 cities around the world, and attended by more than 250,000 people annually. Pecha Kucha Night has been described as the world's biggest physical social network. The key to the success is the simple format where presenters only get 20 images shown for 20 seconds each — this gives anyone a chance to present their recent project or passion.
Updates about Artoberfest and other Arts District events are available at info@newterritoryarts.org or by visiting the New Territory Arts Association on Facebook.
The New Territory Arts Association is a 501(c)(3) grassroots organization dedicated to the revitalization of Benton Harbor through the arts. Founded in 1998, it has been responsible for many Benton Harbor Arts District events and arts-related community programming.