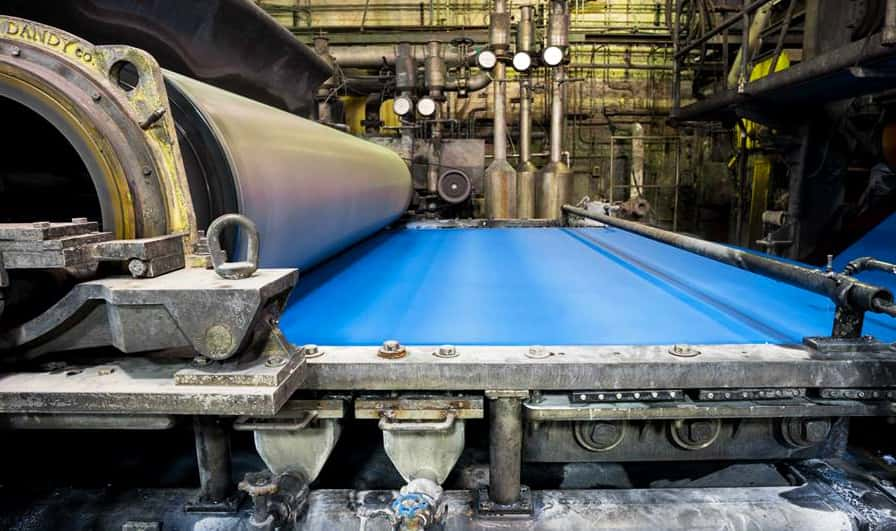 French Paper Company, which has been manufacturing paper in Niles for nearly 150 years has been sold to a New York-based company which is party of a private equity firm with widespread global holdings in multiple industries.
The family-owned French Paper, founded near the Michigan-Indiana border in 1871, has been acquired by Finch Paper LLC headquartered in Glens Falls, New York. Finch operates along the Hudson River some 50 miles north of Albany, New York, and is part of Atlas Holdings, LLC, a private equity firm with investments ranging from automotive companies to aluminum processing, from building materials and capital equipment to food manufacturing & distribution, supply chain management and beyond.
Niles-based French Paper has persevered for nearly 150 years by, as company officials say, "Listening to customers, becoming one of the strongest, smartest, and most consistent paper brands around." The 6-generation family whose name is on the door says that they will continue to operate under Finch and Atlas Holdings.
French Paper Company produces premium specialty un-coated colored paper, colored envelopes and custom paper for graphic arts, printing, specialty, gifts and more.
The company is located along the St. Joseph River and since 1922 it has sourced its electricity from its own renewable hydroelectric power plant at the Niles dam. French Paper also makes the majority of its papers using recycled fibers making it a very environmentally conscious manufacturer.
French Paper is well known in the graphic design industry due largely to its long-standing relationship with CSA Design and the promotional materials it creates.
Meanwhile, Finch Paper LLC operates an integrated paper manufacturing business. The company produces premium blend, fine, opaque, digital, and basic paper from start to finish by being involved in the forestry, pulp making, and paper making processes. Finch Paper offers its products to commercial printers throughout the United States.
Finch specializes in high-bright, un-coated papers for the North American printing markets, manufacturing 250,000 tons annually from its integrated pulp and paper mill in Glens Falls. Using advanced manufacturing systems, Finch produces a broad portfolio of opaque, text and cover and digital papers for multi-press environments, including recognized brands such as Finch Fine, Finch Opaque, and Finch Inkjet Pi.
Finch is one of the largest employers in Glens Falls with around 550 people on staff.
They were the first integrated paper manufacturer in the United States to receive both the Forest Management and Chain-of-Custody certifications from the Forest Stewardship Council and Sustainable Forestry Initiative. Finch is one of only a few paper companies that continues to manage forests. Like the team at French Paper in Niles, Finch papers are made using two-thirds renewable energy produced by on-site hydroelectric and cogeneration facilities and has been a responsible, sustainable New York State manufacturer for more than a century. The company is actually even older than French, having been founded 154 years ago in 1865.
French Paper CEO Jerry French says, "We are excited about combining the many strengths and resources of Finch with our own and creating a business that will provide outstanding service to current and future customers."
Finch Paper President & CEO Deba Mukherjee says, "With this partnership, we are bringing together two outstanding teams," adding, "Finch and French have similar histories as iconic paper companies. We are each a pillar in the community we call home, a trusted employer and a manufacturing leader." Together, the two represent 300 years of papermaking excellence.
The photo of French Paper's manufacturing process accompanying this story on Moody on the Market is courtesy of French Paper Company in Niles.