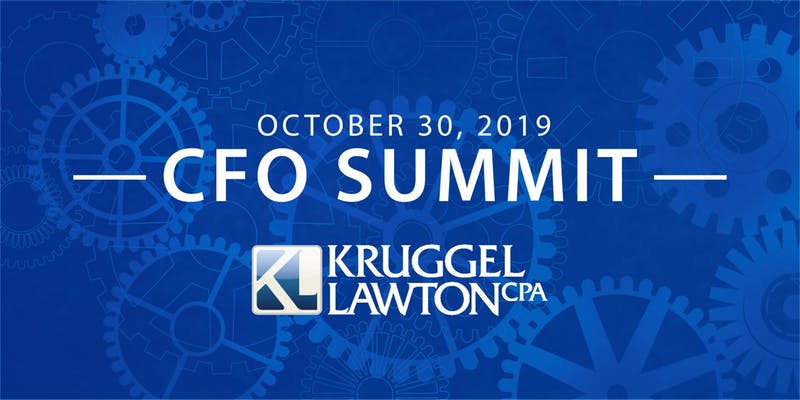 Any time there's the fear of financial volatility, uncertainty or the potential for a recession, you can bet that you'll have the attention of financial managers in senior accounting positions. So, the chances for a sell-out at this fall's 2019 CFO Summit by Kruggel Lawton CPAs have increased dramatically in recent weeks and months.
Coming Wednesday, October 30, 2019, Kruggel Lawton's full-day program will feature a wide range of timely topics geared specifically to busy financial managers who hold down senior accounting positions, on a day set aside to plug-in, recharge, and connect with other professionals in the field.
Targeted to three key groups including CPAs in private industry, CFOs and Contollers, Kruggel Lawton has arranged for a top-notch panel of presenters and topics including:
Leveraging AI to Streamline Accounting/Finance Departments and Add Greater Value to Your Organization — Presented by Kirstie Tierney, CFE, OCA and Managing Director/Data Analytics from BDO/Chicago
Is There a Recession on the Horizon? A Look Forward into 2020 — Presented by Jim Robey, MPA/Ph.D. and Director of Economic Planning Services at the W. E. Upjohn Institute for Employment Research in Kalamazoo
Taxes in 2019 #teamvarner — Presented by Michael Varner, CPA Partner and Stephen Varner, CPA and Senior Manager at Kruggel Lawton
Fall 2019 HR/Legal Update — Presented by Rich Nugent, Partner and Dan Appelget, Senior Associate at May Obefell Lorber
Fraud-Related War Stories and How to Prevent Them — Presented by Sarah Jennings, CPA, CFE, CAE and Director and Principal, Accounting & Outsourced Solutions and Director of Strategic Initiatives and Community Engagement at Maner Costerisan in Lansing, Michigan
Strategies to Attract and Retain Your Workforce — a panel discussion featuring experienced CEOs and HR executives from around the region
Kruggel Lawton says the CFO's perspective was instrumental in laying the foundation for every session planned for the 2019 CFO Summit. Plans are to examine what's coming down the line in tax reform, strategic planning, HR, technology and much more. As a result, senior accounting financial managers can better map a confident course of action — one that will lead to success in the year ahead and beyond.
Cost to attend the Kruggel Lawton CFO Summit for 2019 is just $100 per person and includes 8 hours of CPE credit, a continental breakfast, and lunch. Breakfast and check-in is slated to begin at 7:30am with sessions getting underway at 8am. The conference will conclude at 5pm.
The CFO Summit will take place at the Essenhaus Inn & Conference Center located at 240 U.S. 20 in Middlebury, Indiana. There's a registration link below.
Kruggel Lawton is a CPA and business advisory firm with offices in St. Joseph, Michigan, South Bend and Elkhart, Indiana, and Knoxville, Tennessee, that provides a comprehensive line of accounting, tax, and consulting services to nonprofit organizations and privately held, family-owned businesses. The firm says, "We think of our clients as friends. It's our mission to deliver solutions that provide them with peace of mind for a confident future."
To register for the 2019 CFO Summit by Kruggel Lawton, click the link below:
https://www.eventbrite.com/e/2019-cfo-summit-registration-63392179716