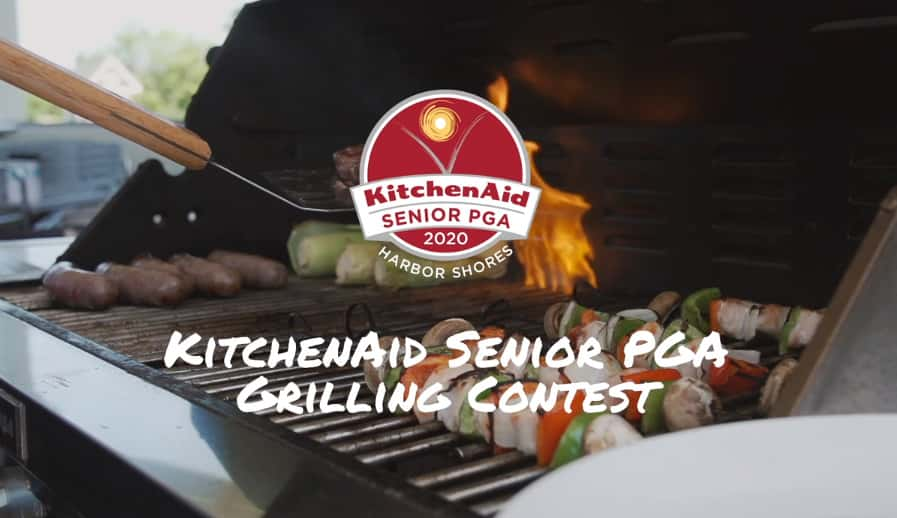 When you fire up the grill, does everyone head for the hills to escape your burnt offerings or do friends, family and even strangers race to be first in line to enjoy the amazing talent you bring to the backyard barbecue? If you do, actually, have an incredible knack for cranking out greatness from your grill, Ryan Ogle's team at the 2020 KitchenAid Senior PGA Championship has an open invitation to proffer your prowess and perhaps become the award winning Grill Master of the year.
The 2020 KitchenAid Senior PGA Championship is "turning up the heat," and issuing a call to all Grill Masters in the region. It's your chance to enter their Summertime Grilling Contest for a shot at  a new KitchenAid Grill and a ticket package to next year's Championship event at Harbor Shores.
Ogle and company are heating up the end of summer and the beginning of tailgating season with a first-ever grilling contest. In advance of the 2020 Championship at Harbor Shores Resort next May 19th to the 24th, the KitchenAid Senior PGA Grilling Contest invites fans to submit their best grill recipes along with photos for a chance to win an elite KitchenAid 5-burner Gas Grill plus four tickets to next year's Championship, a prize worth $1,398.
Deb O'Connor is Director of Global Partnerships for KitchenAid. She says, "The 2020 Championship marks the 10th anniversary of our partnership with the PGA of America and sponsorship of the KitchenAid Senior PGA Championship." She adds, "This Championship gives us a platform to connect with customers and showcase the brand's complete product line for chefs, bakers and grilling enthusiasts. We welcome recipes from chefs, makers and grill masters of all ages and skill levels."
The KitchenAid Senior PGA is calling all grillers, golf fans and competitors to show off their best homemade grill recipes for the chance to win big. The winning recipe creator will receive an elite KitchenAid 5-burner Gas Grill (model no. 720-0826E) and four tickets to the 2020 Championship, a prize valued at $1,398.
Championship Director Ryan Ogle says, "We partnered with a local chef, Food Network star and Spring Baking Champion Cory Barrett for the contest to reinforce the message that anyone can be a grill master in our competition, even a professional baker." Ogle adds, "We know our golf and foodie fans love a healthy competition and we are excited to bring that competition off the green and onto the grill."
You can submit your entry to the KitchenAid Senior PGA Grilling Contest from today, August 1st-through-September 3rd by:
Visiting the link below, following the contest link and filling out the corresponding information…
OR by posting your best recipes and a photo using the hashtag "#KitchenAidSPGA" on social media…
Here's the online link: https://www.pga.com/events/seniorpgachampionship
For information about ticket options and other fan experiences at the 2020 KitchenAid Senior PGA Championship, visit this link: www.srpga.com and for more information about the brand sponsorship, visit Twitter.com/KitchenAid_Golf.
The KitchenAid Senior PGA Championship was born in 1937 on the grounds of Augusta National Golf Club. Since then, famed champions such as Sam Snead, Arnold Palmer, Gary Player, Jack Nicklaus, Tom Watson, Lee Trevino, Raymond Floyd and Colin Montgomerie have hoisted the Alfred S. Bourne Trophy. 
Since the introduction of its iconic stand mixer in 1919 and first dishwasher in 1949, KitchenAid has built a complete line of products designed for those with a passion to make. Today, the KitchenAid brand offers virtually every essential for the well-equipped kitchen with a collection that includes everything from countertop appliances to cookware, ranges to refrigerators, and whisks to wine cellars. To learn more, click this link: KitchenAid.com or visit on Facebook.com/KitchenAid and Twitter.com/KitchenAidUSA.
The photo accompanying this story on Moody on the Market is courtesy of the 2020 KitchenAid Senior PGA Championship.
For a fun feature video about the contest…click this link to see how it all got started: