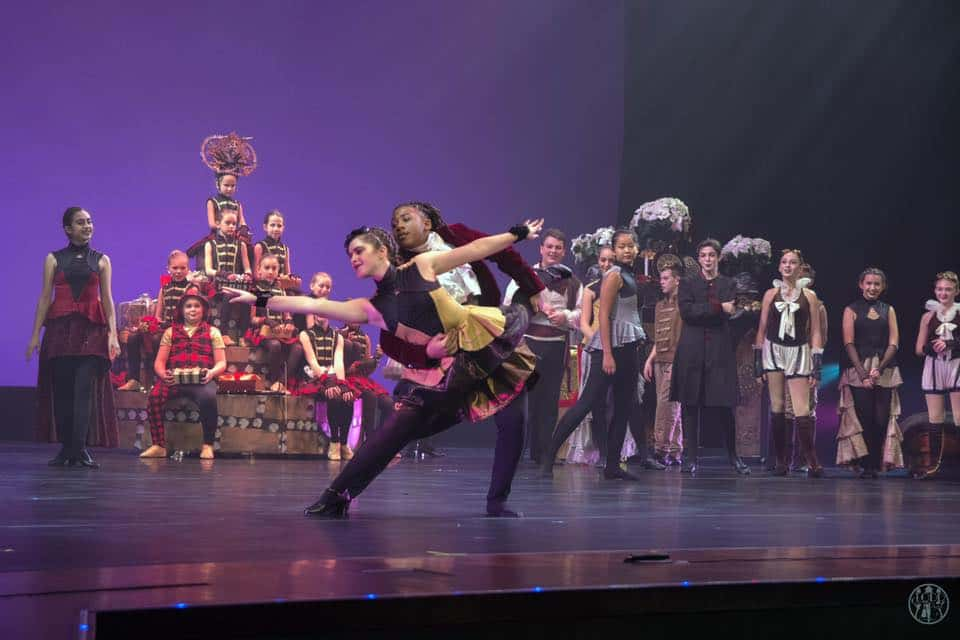 Imagine an invitation to a holiday ball staged inside a zeppelin. Actually, you don't have to conjure the image in your brain…just make your way to the Mendel Center at Lake Michigan College on Saturday, December 14th for the Citadel Dance & Music Center's presentation of "A Steamed Nutcracker." It's a steampunk twist on a holiday favorite, now entering year five.
The Citadel Dance & Music Center will present "A Steamed Nutcracker" on Saturday, December 14th, 2019 at the Mendel Center as an encore of what has become a local tradition since its inception in 2015. Back for two special performances in its fifth year, the production features story and choreography by Director of Dance, Lari Lawrence-Gist with music by Peter Tchaikovsky performed by a professional orchestra directed by Steven Reed.
The story begins with a holiday ball held by the heroine, Sansa, inside her zeppelin. The party is attended by many of her friends, including her best friend, Cora, who arrives with a handsome soldier, Lawton, who, despite Cora's best attempts to beguile him, falls in love with Sansa.
The Seer and her Three Eyed Ravens fruitlessly try to warn Sansa of impending doom, but Sansa refuses to listen. The Seer shares the prophecy with Fiametta, a sister to Sansa sister, and by doing so, she sets in motion the very series of events she was trying to avoid.
Guests depart and Sansa falls asleep with the events of the evening haunting her dreams. Her vivid dreams are a delicious visual treat for the audience and include unforgettable characters such as a flock of Three Eyed Ravens, Timekeeping White Rabbits and Father Thyme-keeper of the Paratroopers. Blinded by jealousy, Cora attacks with her band of pirates and the battle the Seer tried to warn her of ensues. In the end, The Seer must decide if the best way to protect Sansa is by letting her go.
"A Steamed Nutcracker" will be danced by students ages 6-40 and includes many different genres of dance. Sansa is played by St. Joseph High School Sophomore, Anya Walls and the Pirate Queen is played by St. Joe Junior Ellia Kantor.
The Nutcracker is played by Countryside Junior TJ Nichols and Brammall is played by South Bend Sophomore Brayden Lynam. The Seer is played by Lari Lawrence-Gist. The full score, written by Pyotr Ilyich Tchaikovsky, will be played live by an orchestra made up of professional musicians from across the region, under the direction of Steven Reed.
The Saturday Matinee will be performed by understudies Rachel Kurland, Amelia Lifferth, Rowan White, and Tony Jordan.
In celebration of the 5th Anniversary, a post concert discussion with creator Lari Lawrence-Gist will be held following the Matinee. Audience members are encouraged to bring questions about the ballet and the process of creating an original work right here in Benton Harbor.
Tickets are available at www.themendelcenter.com and range from $20-$30. There will be two performances on Saturday, December 14th at 2 and 7:30 pm. Audiences of all ages will enjoy the varied treats offered in "A Steamed Nutcracker."