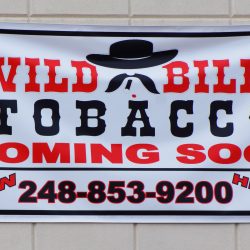 The 5th largest tobacco retailer in America will make its first foray into the Berrien County marketplace next month with two new locations, one each in Benton Harbor and Niles bringing to 80 or more the number of storefronts anchored predominately in Michigan and to a lesser extent in Ohio.
Wild Bill's Tobacco, a Troy, Michigan-based tobacconist and purveyor of all things smoking and vaping-related, has targeted the first week in August for new quarters at 2726 S. 11th Street in Niles and a week or two later in the Fairplain Plaza of Benton Charter Township.
Formerly known as Smokers Outlet, Wild Bill's Tobacco proclaims on its corporate website to be the 5th largest tobacco retailer in the country. Their first store opened in 1994 and the company slowly expanded to more than 60 stores over the next 22 years.
Far and away the majority of the stores, 68, are scattered across Michigan with Niles and Benton Harbor soon to bring them to 70, while there are two in existence in Ohio and two more are targeted for opening in the Buckeye state in the near future as well. Additionally, they have half a dozen stores that sell only e-cigarettes and other vaping supplies in Michigan and one such store in Ohio.
The company website suggests they, "Specialize in providing the best quality tobacco products at competitive prices all under one roof for the convenience of our customers."
Wild Bill Tobacco sites are equipped with large walk-in humidors for cigars from across the world, and many locations in the line up feature lounge areas where customers "can relax and enjoy a fine cigar with friends." There was no immediate indication if the Benton Harbor or Niles sites will offer that amenity to clientele.
Corporate officials brag that their staff members are all trained and equipped with the necessary knowledge and tools to assist customers and "provide exceptional service."
The Benton Harbor Wild Bill's site is papered over from the inside out but sports a large overhead banner where the lighted sign is expected to be installed. It is on the Napier side of the Fairplain Plaza in a slot between the Jimmy John's Sandwich Shop and Great Clip's hair salon.
Each Wild Bill's location offers a wide variety of tobacco products from traditional carton cigarettes, electronic cigarettes, roll-your-own tobacco, cigars and accessories.
Elsewhere in the region you can find existing Wild Bill's Tobacco shops in Kalamazoo, Portage, Battle Creek, Sturgis and Three Rivers.
Each shop has an average of 4 to 5 employees, and the local stores have been recruiting from their signage erected on site for the past couple of weeks. Most, if not all, Wild Bill shops are open 7-days a week with hours typically running from 9am until 8pm Monday through Saturday and Sundays from 10am until 6pm.
Stay tuned.