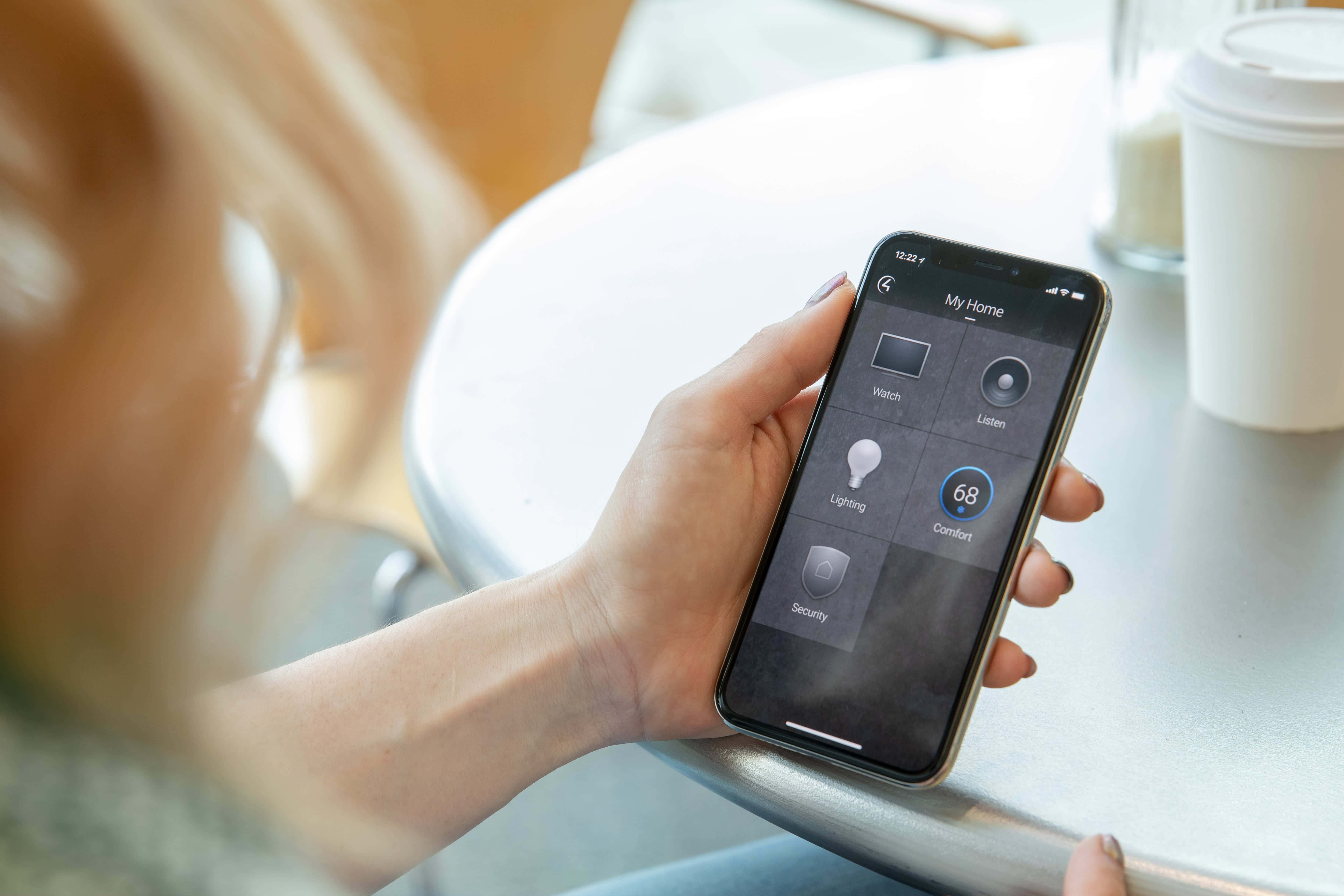 ---

---
Do you remember watching the Jetsons and anticipating a future with flying cars and a house that essentially does everything for you?  While flying cars may not be here yet, home automation is now a reality with help from Shoreline Smart Homes, a local technology integrator based in St. Joseph, Michigan.
For over a decade, Shoreline Smart Homes has been making busy lives easier, providing home and business owners with technology that they can easily control from anywhere with just the tap of a finger or a simple voice command.  Owners, Scott Sternaman and Mike Eisenhart are childhood friends from St. Joe that have always had an interest in all things technology, with over 30 years of combined experience in audio, video, home automation and integration.  With the ever-changing home technology landscape, Scott and Mike's specialty is taking all the technology in your life and programming it to work together effortlessly based on your family's needs and lifestyle.
Like a scene out of the Jetson's, with just one "Go to Sleep" voice command, Shoreline Smart Homes can put your entire house to sleep right before you go to bed.  So after an exhausting day, you can get to bed faster with just one command that sets off a series of events that might normally take 15 minutes to do.  In an instant, that "Go to Sleep" command can turn off all the lights and televisions in your home, shut your garage door, shut your blinds, deadbolt your doors, and perhaps turn on some exterior lighting and cameras outside.
While you may not be ready for a complete Jetsons-style smart home yet, even just one or two smart tech items can make your life a little less complicated and give you a little more piece of mind. Below you'll find various types of smart home technology that might just be the solution you didn't know you needed in your home:
1) Smart Lighting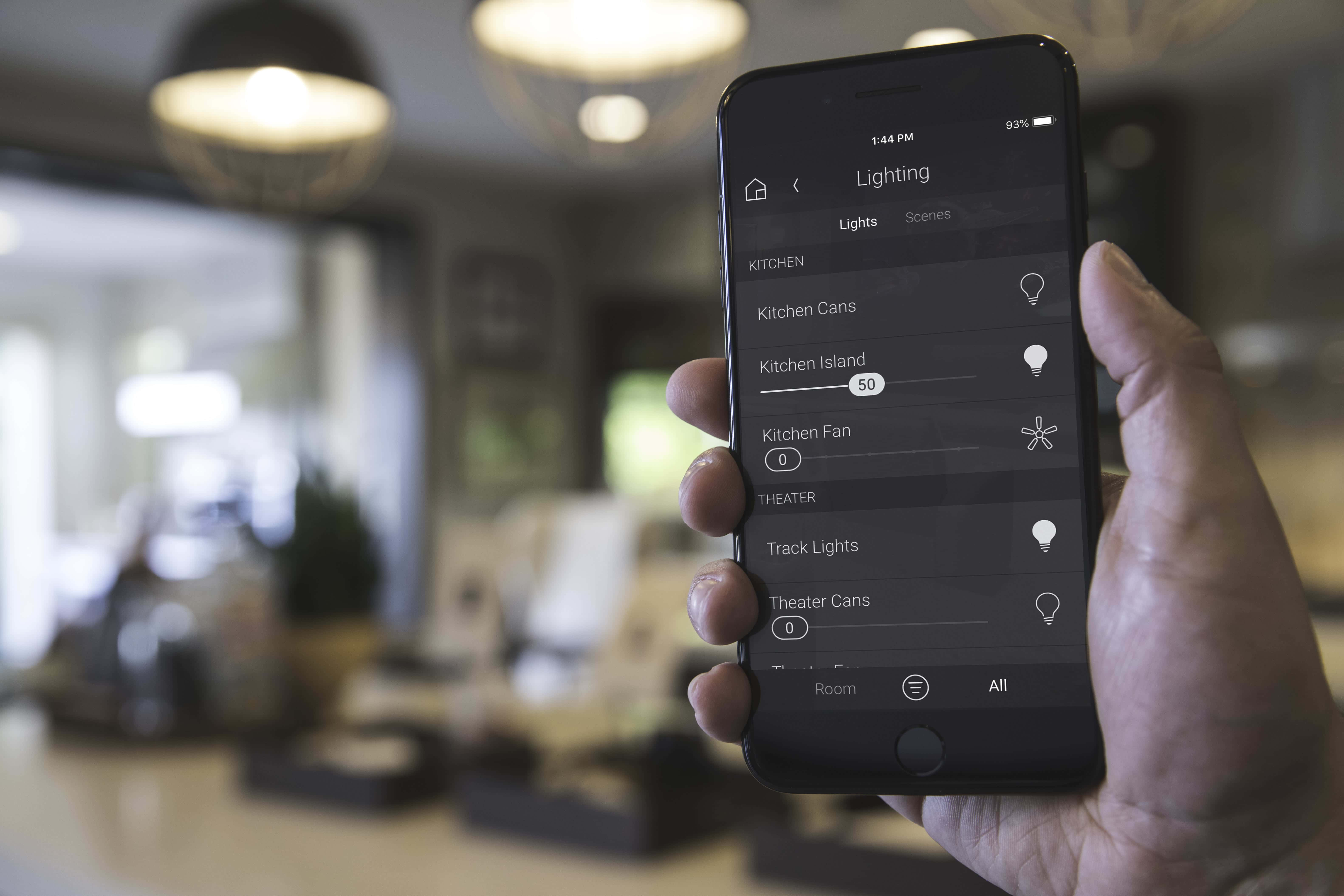 One of Shoreline Smart Homes' most popular requests is having control over every light in the house and grounds — from across the room or thousands of miles away. For instance, imagine coming home from a long day of work and having your home welcome you by having certain lights turn on automatically at the same time every day or with just one "Welcome Home" voice command.  Then once dinner is ready, you can tell Alexa, "Dinner Time, " which instantaneously flashes the lights in your kids' rooms, turns off all the TVs, and sets the mood lighting for dinner.
All of these are excellent examples of ways smart lighting can adapt to your lifestyle, saving you time and money on your energy bill.  There are countless ways you can have your smart lighting programmed to help you manage your life more efficiently.  Below are some other examples of what smart lighting can do for you:
Use motion sensors to provide hands-free illumination in the dark
Turn off all lights with a single touch – except for certain rooms
Program the lights to shut off automatically when a room is unoccupied
As an authorized dealer for Lutron, one of the most innovative lighting companies in the world, Shoreline is able to provide numerous lighting options, including light occupancy, lamp modules, fans, skylights, and a wide variety of wall plates, allowing you to choose from a plethora of colors, textures, finishes and features.  If you're interested in simplifying your life with smart lighting, Shoreline can do on-site consultations with customized designs for specific rooms, goals, and budgets.
2) Smart Shades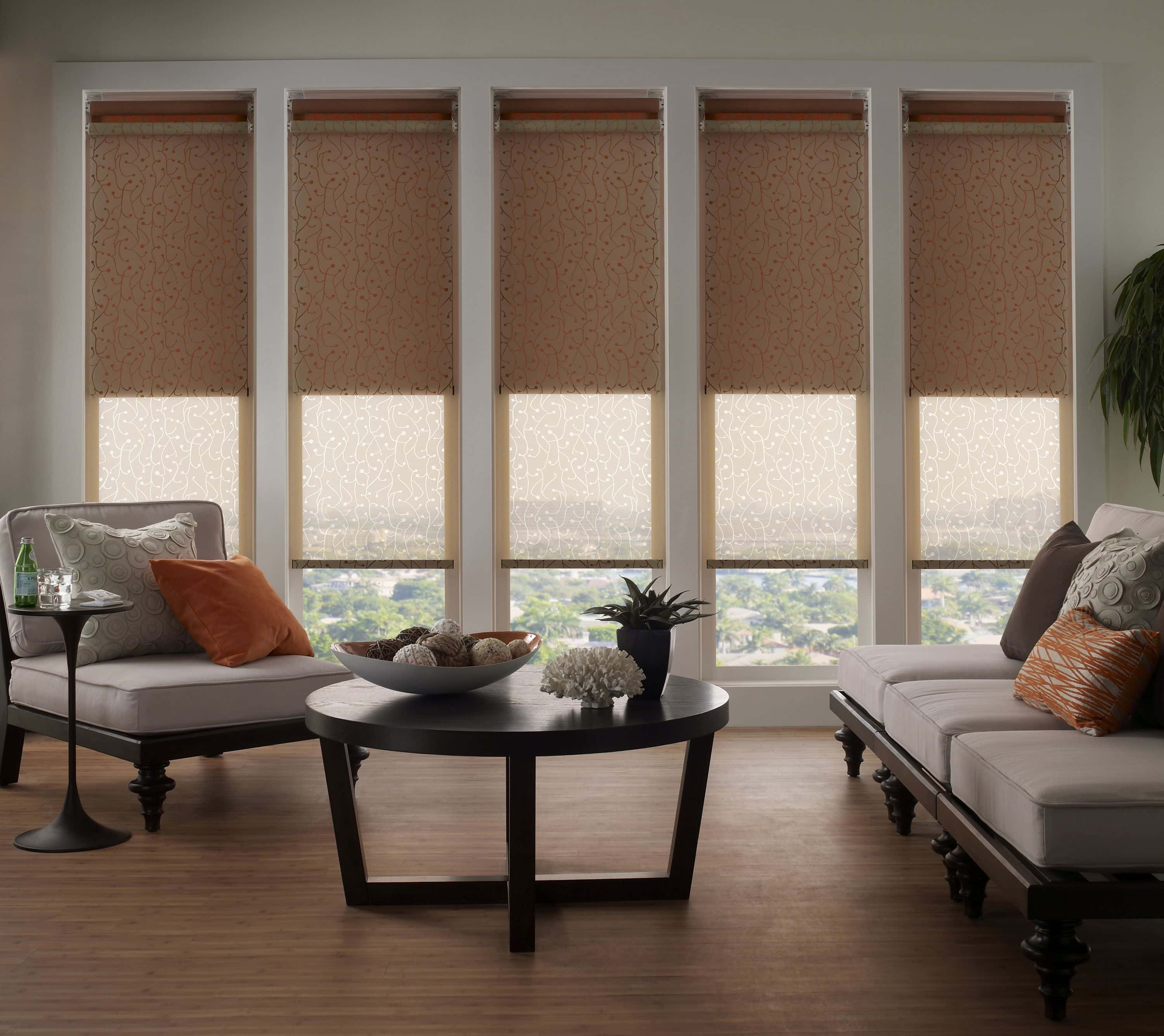 If you live in a home that has an abundant amount of sunlight at certain times of the day, you know it can be a chore closing all of your shades.  Wouldn't it be easier, if your shades could sense the bright light and automatically close on their own?!? In recent years, Lutron has expanded their line of smart lighting technology to include smart shading solutions, which can be automated based on your own preferred schedule or by an astronomical clock. This means your shades can detect when to open or close based on what time of day the sun rises and sets, which saves you the hassle of opening and closing shades throughout the day and saves money by allowing your air conditioner to do less work. Smart shading solutions can also protect your home from harmful UV rays that over time fade artwork, hardwood floors, furniture, paint on your walls, and more.  Plus, just as Lutron's lighting has various options – they also have plenty of blinds and shades to choose from: Honeycomb, mini blinds, motorized and manual roller shades with the ability to mix and match different colors and fabrics to different rooms in your home.
3) Smart Climate Control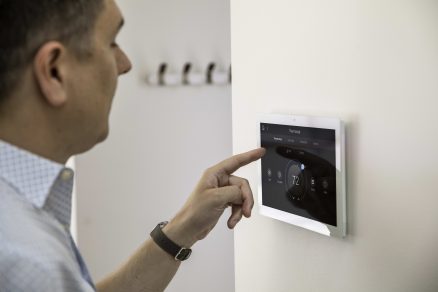 Living in the Mid-West with varying temperatures throughout the day, we all know that it can be difficult just picking out something to wear, let alone deciding what temperature to leave your house at while you're at work.  On a fall morning, it might be 40 degrees, only to end your workday in the high 60's, which means you may come home to a house that's too hot or cold.  Wouldn't it be nice to be able to program your thermostat remotely while you're at work so after a long day away, you can come home to a comfortable temperature?  Shoreline Smart Homes can help you with a programmable thermostat to adjust accordingly to varying temperatures outside throughout the day, as well as give you access to control it through an app on your phone when you're not home.  This is especially helpful when you're on vacation and can't be home to adjust your thermostat.  So if you're miles away and forgot to turn the heat down, you can do it remotely from your smart phone, or if you want to turn it on again several hours before you arrive back, you can turn your thermostat up while traveling so your house is comfortable when come home again.
4) Safety and Surveillance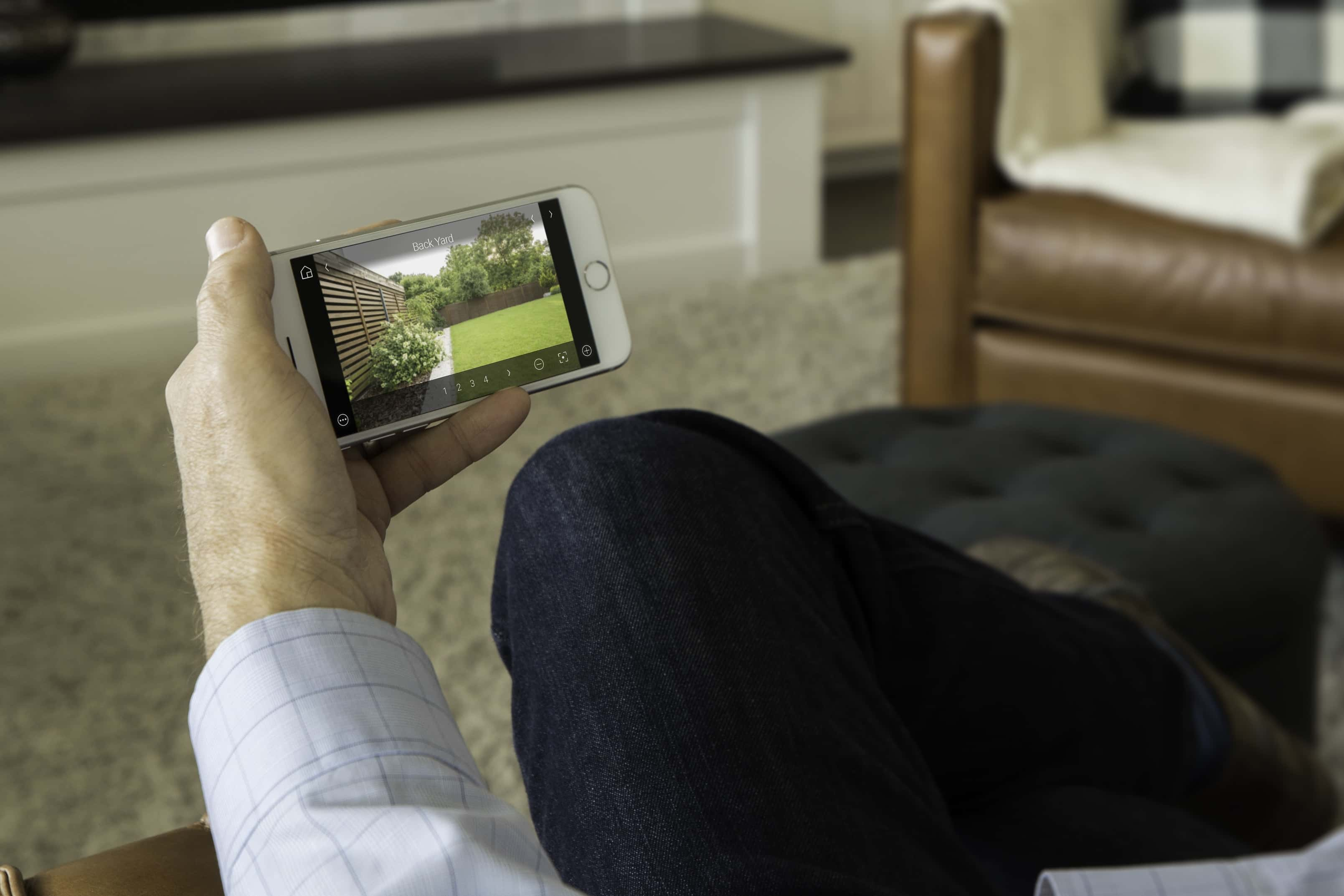 Feeling safer in your home and keeping your home safer while you're away is a priority for most home and business owners, and it's definitely a top priority at Shoreline Smart Homes, which is why they provide only the most reliable safety and surveillance products.  With their knowledge of new surveillance technologies, Shoreline has surveillance camera systems at affordable prices with easy-to-use features, providing you with numerous views of your home, grounds or even your business – all from your smartphone.  They can customize your surveillance equipment so you can see who is at the front door or gate, access or play back surveillance video from your home or business, or check on your kids and pets whether you're downstairs or downtown. From standalone day cameras to motion-sensor outdoor cameras with night vision capability, Shoreline has different surveillance systems based on how you want to monitor your home or business, with prompt, responsive service to back it all up!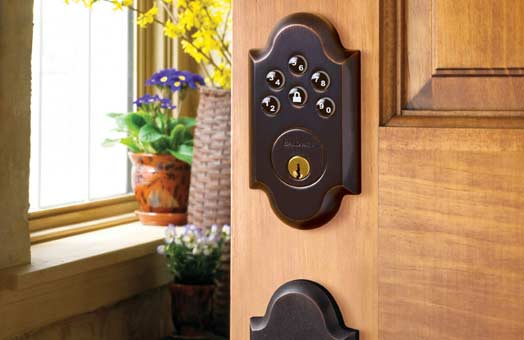 In addition, Shoreline provides secured access products that allow you to monitor who is coming in your home or business, giving certain trusted people permanent or temporary access, all of which you can do from your smart device.  For instance, you can assign a distinct temporary passcode to a guest coming for just the day, perhaps an electrician or plumber, and then give a weekly housekeeper a different code that is only usable every Friday from 12 to 2pm.  Secured access provides meaningful control and lets you stay on top of who, when and how long visitors or family are in your home.  It's a connected world, and Shoreline's surveillance and safety systems will keep your home and family safer from across the room or across the globe.
5) Home Entertainment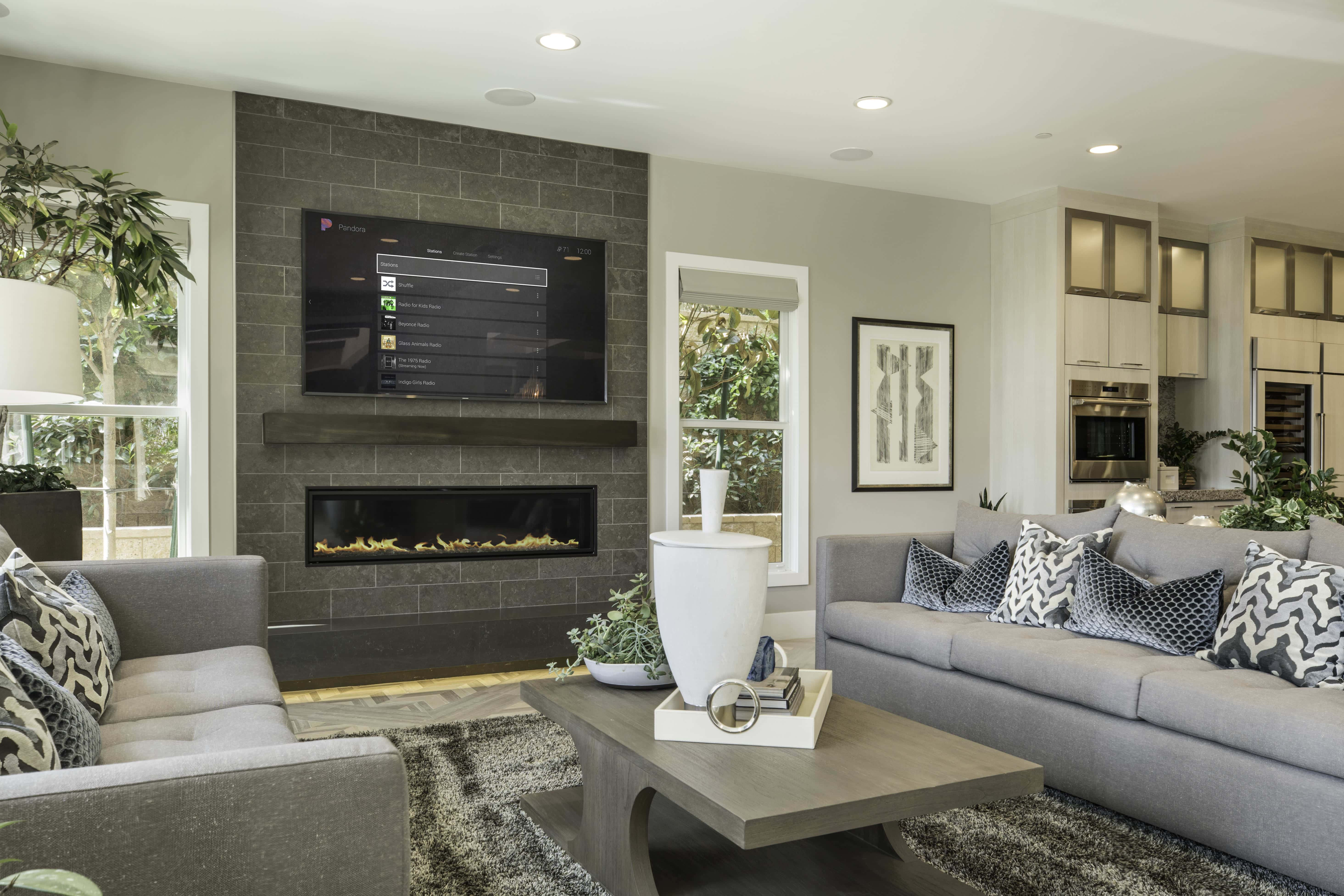 With Shoreline's passion for tech beginning in crafting a superb audio and video entertainment experiences, Shoreline has endless options to turn your home into an entertainment mecca for your family and friends.  They can create an experience in your living room that makes you feel like you're at a movie theatre.  Become completely immersed in family movie night with pristine, state-of-the-art flat screen TVs or high-tech projectors while hearing and feeling the added impact of surround sound audio or perhaps even subwoofers that can literally make your seats vibrate.  Plus, they are experts in architectural audio, which integrates sound throughout your entire home by installing speakers directly into the walls, ceilings, and outdoor landscape so that they completely disappear.  Gone are the days of speaker cabinets, unsightly grills, and large visible speakers – just beautiful sound everywhere you can imagine!
So you may be asking, how can Shoreline make my life easier with my home entertainment?  Well, they can help you by integrating your home entertainment together with one easy-to-use app, with benefits like:
Only giving your kids' access to TVs and Wi-Fi during specified times of day so you can effortlessly control their screen time.
Having your favorite show instantly turn on in specific rooms of the house on a schedule or with a voice command.
Playing your favorite music throughout different rooms of the house at the same time with just one command. So if you're cleaning, you can move throughout different rooms and still hear the same pristine sound from room to room.
Once again, with your home entertainment, you can have as much control as you want, and Shoreline can make it all happen for you.
6) Complete Home Automation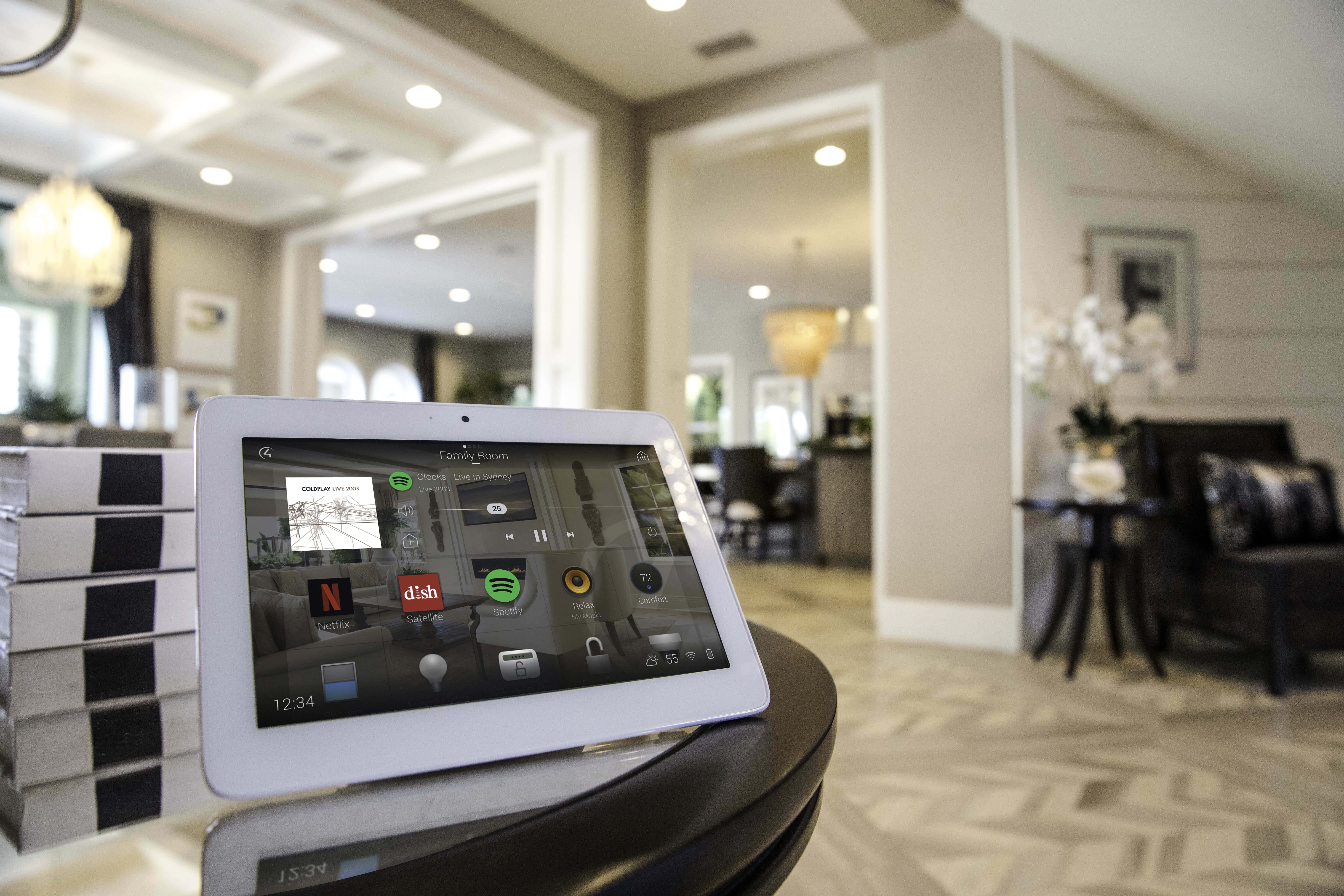 Since 2006, Shoreline has partnered with Control 4, a smart home automation brand that brought smart tech into the mainstream before anyone else. Control 4 is a leader in the home automation industry because it integrates with over 12,000 products, whether it's a surveillance doorbell, nest thermostat, smart lighting, or an Amazon Echo.  This gives Shoreline the ability to take all of your different brands of technology and make them work together effortlessly on one system, with one Control 4 app.  Overall, it's an easy-to-use platform that allows the user a lot of flexibility to build schedules and enable commands to best help you manage your life more efficiently.  For some, smart home technology may sound like something only a tech savvy person could possibly use, but Shoreline can program and show you how to use the Control 4 platform so you can easily have your home perform desired tasks to your standards.
Why Shoreline Smart Homes?
With so many smart tech choices out there and so much DIY product out there, why should you give Shoreline Smart Homes a call rather than figuring it out on your own?  Well, a big reason they've built a strong reputation in the area is that they provide top-notch consultation and strong after-the-sale service. Nobody wants to call customer service and be put on hold for hours, so Shoreline makes it a priority to quickly respond with a phone or house call if your tech isn't working to your standards or if you just need a refresher on how to use any of their products.  In addition, whether you've already bought smart tech or you're thinking of buying it, Shoreline is easily able to help you get it working properly or help pick the right technology for what you want to accomplish.  It's their primary goal to ensure all of your technology works together effortlessly, making it convenient for you to use rather than a hassle.
If you would like a consultation with Shoreline Smart Homes, they offer no cost, no pressure project proposals. They will come to your home free of charge to analyze your needs, understand the project scope, and review the location so they can then put together a custom proposal that addresses your expectations and stays within your budget.  To set up a consultation or for more information call Shoreline Smart Homes at 269-925-1115 or visit their website at www.shorelinesmarthomes.com.
Shoreline Smart Homes
Making Busy Lives Easier in Southwest Michigan since 2006
269-925-1115
www.shorelinesmarthomes.com
---

---