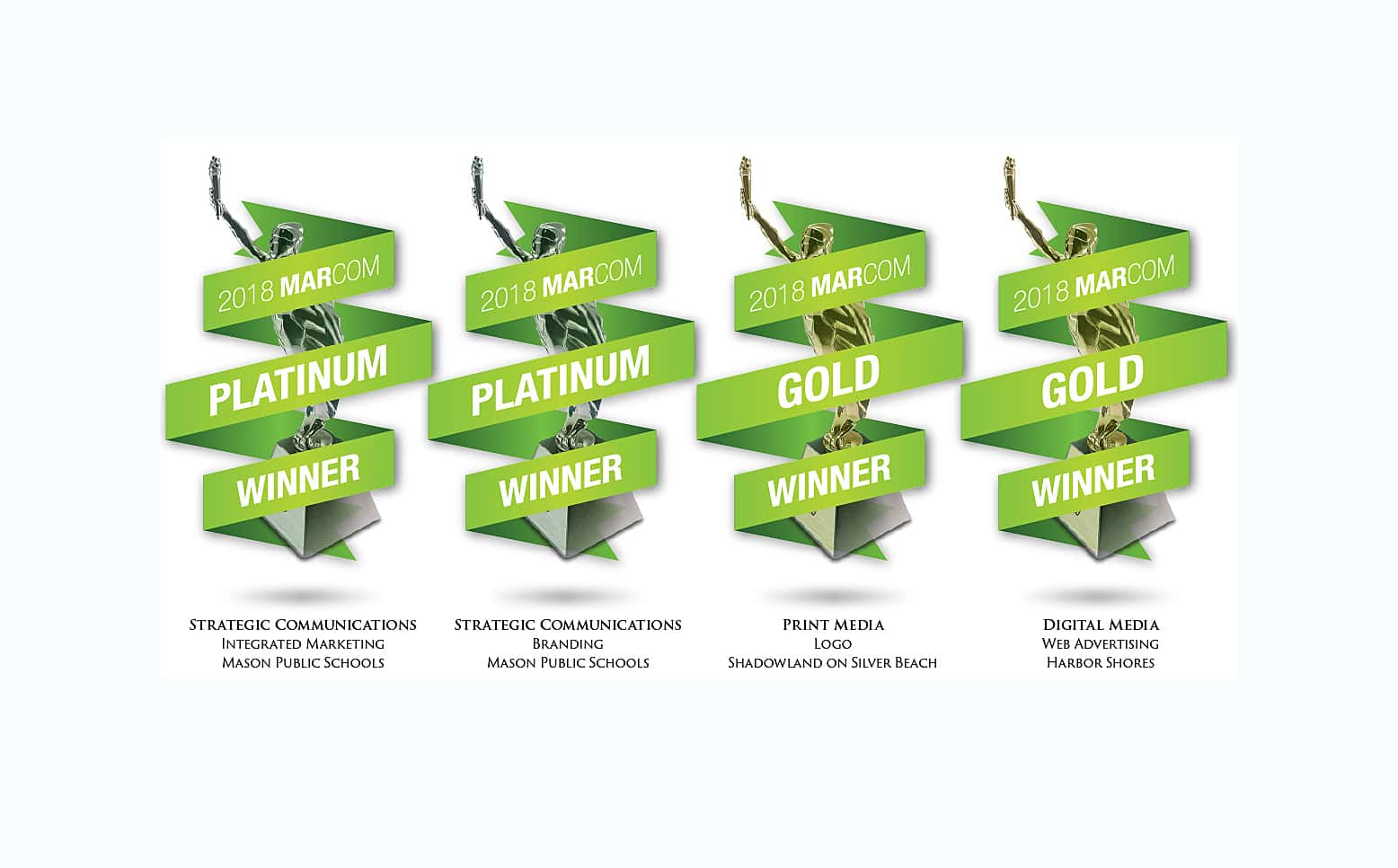 Coleen King and her team at King Media had lots to be thankful for this week at Thanksgiving after performing an incredible encore performance at the recent International MarCom Awards, where they earned four new international awards for the second consecutive year.
The prolific local marketing and advertising agency based in both St. Joseph and Lansing emerged from the ceremonies for the second year in a row with two Platinum and two Gold awards from MarCom. Two of King Media's four awards celebrate work done for the agency's growing portfolio of Southwest Michigan clients.
A gold MarCom award in the Print Media: Logo category recognized King Media's logo redesign for Shadowland on Silver Beach, St. Joseph's premier wedding and events venue. The refreshed logo brings a contemporary feel to the iconic venue, and was inspired by the venue's breathtaking location on Lake Michigan.
King Media's second gold award was in the Digital Media: Web Advertising category, and honored the agency's work on behalf of Harbor Shores Resort. In partnership with local Videographer Kyle Bainter, King Media created exquisite video ads that showcased the Harbor Shores lifestyle. By executing a targeted digital campaign, the agency reached key target audiences and increased real estate sales.
Since King Media opened its second office in St. Joseph in 2016, the agency's portfolio of local clients has been growing – and with King Media's help, many local companies and organizations are achieving new goals.
President and Founder Coleen King says, "I've been part of the Southwest Michigan community my whole life," adding, "and it's very rewarding to build new relationships and help local businesses grow. That's why we do what we do – to make a true difference."
The platinum MarCom awards for Strategic Communications were in the Integrated Marketing and Branding categories. They recognize King Media's efforts on behalf of Mason Public Schools, a Mid-Michigan client for whom the agency developed and executed an informational bond proposal campaign. King Media's messaging and campaign strategy played a pivotal role in passing a $69.7 million bond proposal – the largest in District history.
The MarCom awards honor King Media alongside global brands like Aflac, Coca-Cola, Pepsi, FedEx, Citi, Honda and more. This round of awards brings King Media's total to 17 national and international awards in just three years' time, demonstrating the agency's high standard of strategic planning, creative execution and meaningful results.
King Media is a full-service marketing, advertising, public relations and digital media agency and was named the PR News 2018 Boutique Firm of the Year. King Media has two offices – St. Joseph and East Lansing – with a coast-to-coast footprint. Additional services and case studies can be found by clicking this link:
MarCom Awards honor excellence in marketing and communication while recognizing the creativity, hard work and generosity of industry professionals. Each year, about 6,000 print and digital entries are submitted from dozens of countries across the globe.