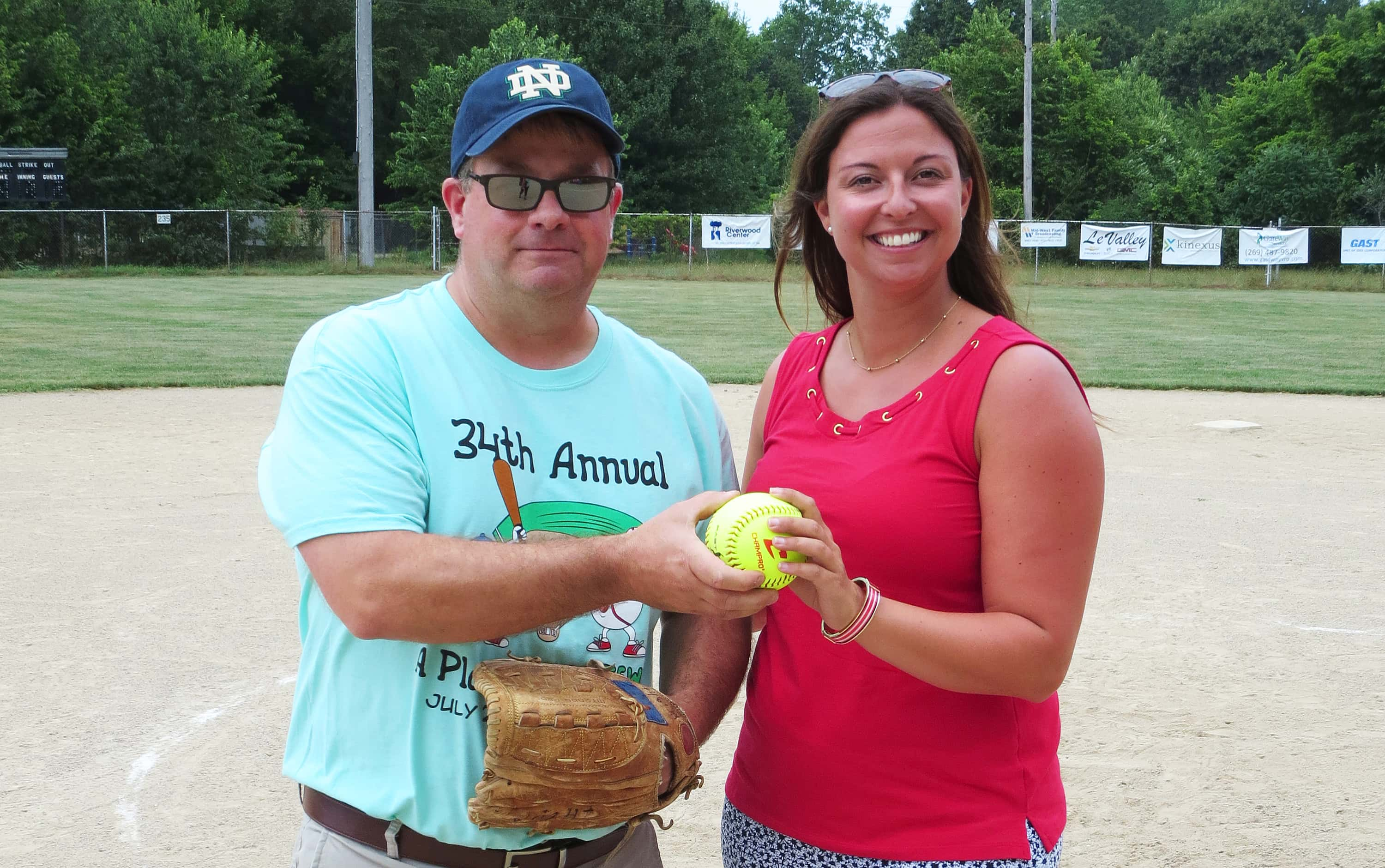 Once a year, otherwise normal acting, well-respected, generally sane members of the business and non-profit community across Michigan's Great Southwest manage to set aside virtually all decorum and let loose with some of the wackiest forms of competition in an attempt to out-duel one another in a bid to hold the coveted GateWay Services "Play for GateWay" Softball Trophy high in the air as victors.
Teams force one another to stand at the plate with a swimming pool noodle instead of a bat…run the bases with over-sized diving flippers on…play the field wearing wildly colored ballet tutus and even more bizarre humiliation attempts all for the great cause of helping the team at GateWay services with one of their largest, and decidedly funniest, fundraisers of the year.
Late last month Plangger's Field in Benton Harbor played host for the 34th consecutive year to the GateWay Services "A Play for GateWay" Softball Marathon fundraising event. On July 26th and 27th, a total of 24 teams from businesses and organization throughout Berrien County and surrounding communities took the field for the wacky event.
In the final analysis, it was Gast Manufacturing who took home the coveted (?) title of Tournament Champions, as they spent the most money bribing the umpires, the hallmark and only true "scoring" method recognized in the annual GateWay affair.
GateWay will use the more than $31,000 raised during the two-day event to develop a center-based respite program for the families, loved ones, and primary caregivers of disabled adults. That program will offer some measure of relief from the often overwhelming responsibility of caring for a disabled adult.
Tim Smith is Executive Director of GateWay Services. He says, "We look forward to this event all year long, and each year I am amazed and humbled by the generosity of this community," adding, "I've never seen anything quite like it."
GateWay was honored to have State Representative Pauline Wendzel, from Michigan's 79th House District in attendance to throw out the ceremonial first pitch.  Smith says, "Agencies and events like ours do not garner a lot of attention, so having Representative Wendzel here was extra special."
Wendzel is a lifelong Watervliet resident from a fourth generation Bainbridge Township farming family. She says, "I was incredibly honored to throw out the first pitch at GateWay Services annual softball marathon! GateWay is doing incredible work right here in our community to help those with disabilities and other barriers to independent living. The money raised at this event will ensure they have the resources necessary to carry out their mission in the coming year. Thank you to everyone who participated in this event!"
If your factory, office, team or other entity would like to be a part of the 35th Play for Gateway, be sure to contact Tim Smith to get your name into play and start dreaming up ways to bribe the ump like he's never been bribed before. It's about the only way to score in this twisted affair. You can reach Tim at (269) 487-9839.
In the photo accompanying this story on Moody on the Market, GateWay Exec Tim Smith hands the opening pitch ball to State Rep Pauline Wendzel at A Play for GateWay's Softball Marathon.