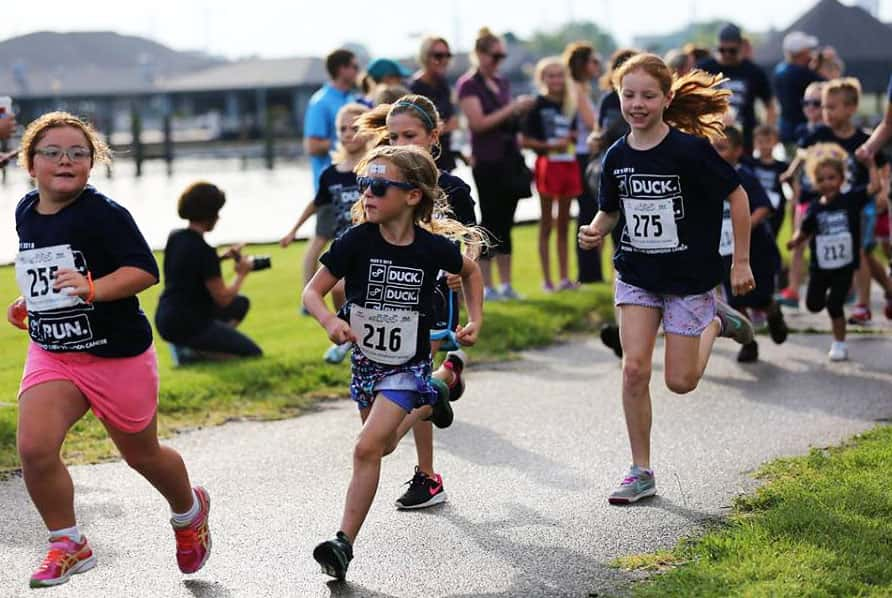 When tiny Alex Mandarino was taken from us by the childhood cancer with a frightful name — neuroblastoma — his family vowed to continue the fight to find a cure forever if necessary. The fight marches on every day, but for one day you and your entire family can join the fight in a remarkable day of family fun to remember the feisty young man who set an example for all of us.
The Alex Mandarino Foundation has established the date for the 7th Annual Alex's Duck Duck Run for Saturday, June 15th with a familiar launch point in the riverfront field below the Berrien County Courthouse on the St. Joseph River and the community's inner harbor.
Presented again by United Federal Credit Union, the annual extravaganza will feature the memorable 1K Kids Fun Run for those 10 and under beginning at 8:25am, followed by the full-on 5K Run/Walk at 9am. It is a chip-timed event, and if you sign up before June 2nd you are guaranteed a participant t-shirt. Being chip-timed, there will be awards for finishers dependent on age divisions plus an overall male and female finisher honor.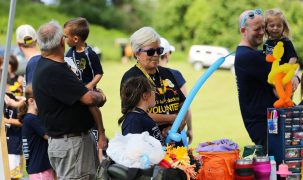 There is a great array of kid-friendly activities including face painting, balloon animals, and most likely the colorful inflatables, as well as refreshments being served at the event. The 5K course has glorious views of the St. Joseph River waterfront, Silver Beach, Lions Park Beach, the Howard Recreational Trail, the Silver Beach Carousel, and the Whirlpool Compass Rose Fountain.
You can sign-up online, by direct mail to 1409 Wolcott Avenue, St. Joseph, MI 49085, by dropping off a completed form at Connected Soles at 1501 Niles Avenue in St. Joseph or on race day from 7:30 am to 8:45 am. Here's the link for the online registration form:
http://www.thealexmandarinofoundation.org
New to race day this year is an Interactive Laboratory from Dr. Mary Beth Madonna from Rush University in Chicago. Dr. Madonna received a $25,000 award from the Alex Mandarino Foundation after last year's run to help in research at her laboratory. She focuses on pediatric cancer research with an emphasis in neuroblastoma, which is the same kind of cancer that Alex had. The interactive "traveling" lab that she will be bringing with her will be for kids and adults where they can learn a little bit about the research she is currently doing. It can be a real eye-opener.
Also at the run this year will be Jacob Beckley from the Beckley Foundation. "Jake" is the individual that made a homemade boat, in 2016, and rowed it across Lake Michigan. This year, in August, he is teaming up with former Chicago Bear great Charles "Peanut" Tillman to do it again. He and Tillman are making another boat from scratch and — if it's completed in time — they will bring the boat over for people to see at the Duck Duck Run event this summer.
The Mandarino family and Foundation team are extremely grateful for those who continue to support The Alex Mandarino Foundation and keep Alex close to their hearts.  Alex endured a great deal for a little boy and they continue to fight for him and all the children that get the terrible cancer diagnosis.
Many people are unaware of how underfunded childhood cancer is. In the last 20 years, only three new drugs have been approved that were specifically developed to treat children with cancer. The family and foundation feel that is not enough and not fair given that there are roughly a dozen cancers that are exclusive to children.