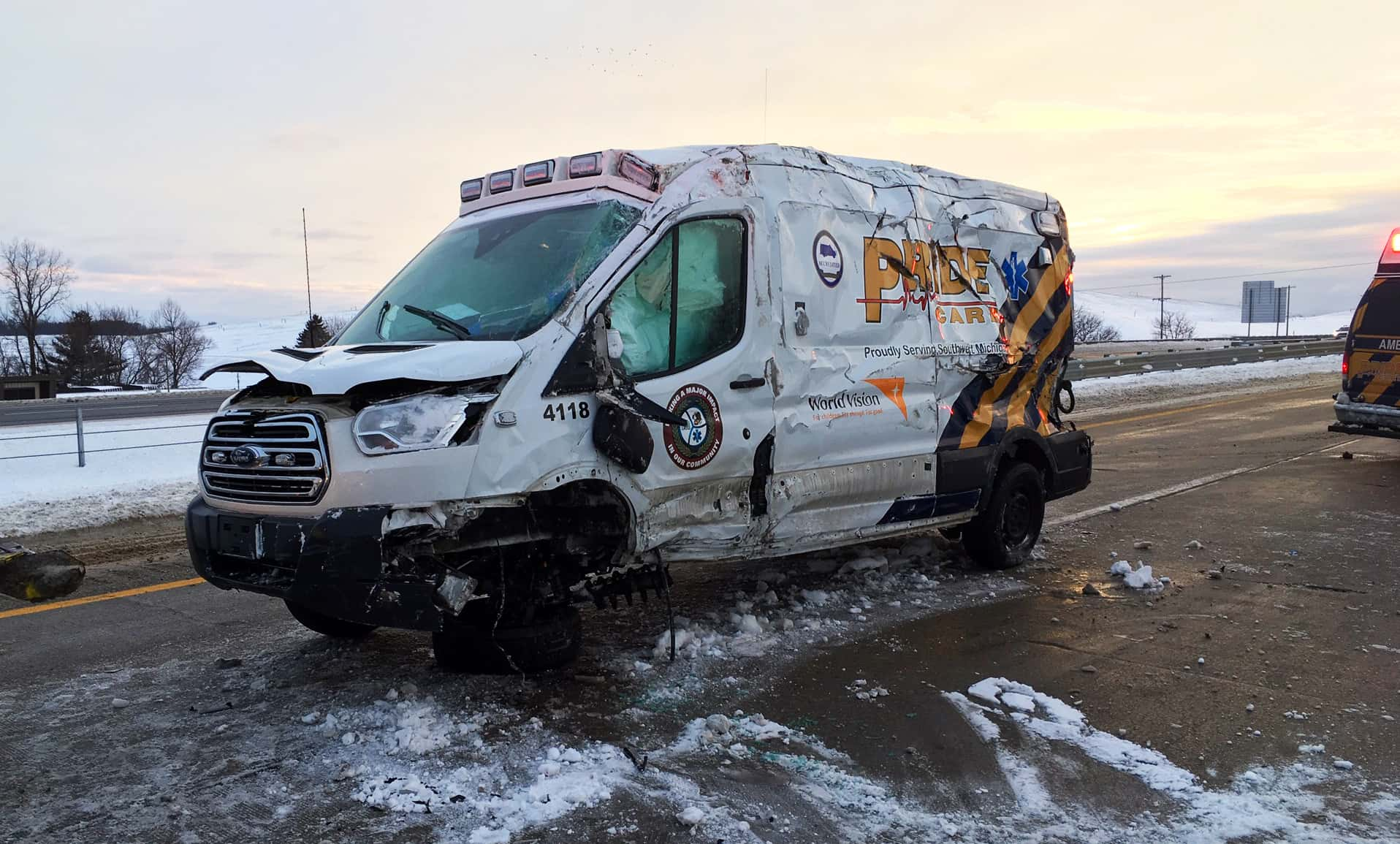 The team at Pride Care Ambulance will need a new ambulance, or at least substantial repairs, following a harrowing experience on westbound I-94 early this evening. Berrien County Sheriff's Sgt. Ryan Sullivan says that a Pride Care Ambulance was making a "non-priority" transport to Spectrum Health Lakeland shortly before 5pm tonight when the driver lost control of the vehicle in some of the slush and snow on the shoulder of the interstate sending the ambulance into freefall in a roll over accident.
The accident, along I-94 at mile-marker 39 in Watervliet Township, involved only the ambulance and no other motorists.
Sgt. Sullivan says that he was able to determine that the Paramedics from Pride Care Ambulance were not seriously injured. Sullivan reports that Medic Andrew Sack, a 22 year old from Battle Creek, sustained lacerations to his head during the roll-over.
The patient in the ambulance was a 69 year old woman from Watervliet. The driver, Medic Kyle Robertson, a 21 year old from Bangor, reported being shook-up, but did not sustain any apparent injuries.
A second Pride Care Ambulance was dispatched to the scene, and took the original patient and the two additional Medics to Spectrum Health Lakeland in St. Joseph. Sullivan says all injuries are believed to be non-life-threatening.
I-94 was closed to west-bound traffic for approximately one hour; but has since re-opened.
This accident was investigated by Deputies with the Sheriff's Watervliet Township Patrol. Assisting at the scene were Deputies with the Sheriff's Road Patrol, Watervliet Police, Coloma Township Police, Pokagon Tribal Police, Watervliet Township Fire, and Pride Care Ambulance.