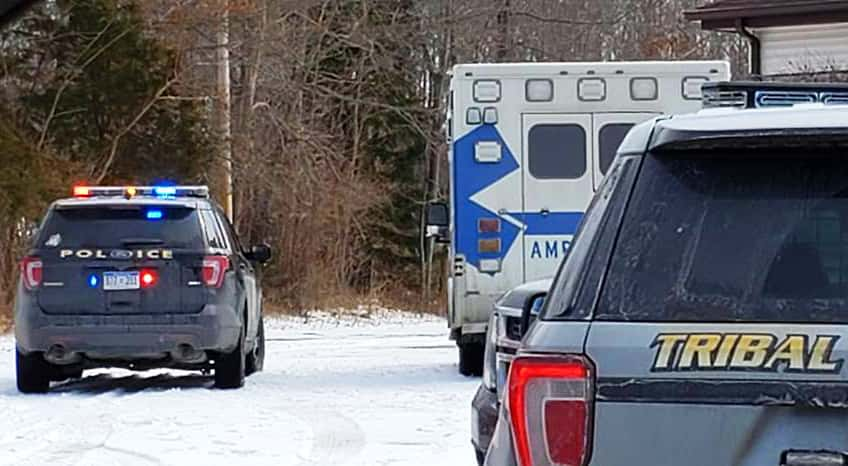 It's not necessarily an unusual sight. An ambulance racing down the interstate highway in excess of 90-miles per hour. The unusual part was the series of squad cars from at least 8 different agencies giving chase and requiring a set of "stop stix" to get the ambulance to pull over because it had been stolen.
It all went down this afternoon shortly after 1pm when a crew from Three Oaks Ambulance stopped off at Panera Bread in St. Joseph Township after clearing from a patient drop-off at Spectrum Lakeland Hospital in St. Joe.
While the paramedics were inside getting their order from Panera, an unidentified man waltzed up and drove away. The ambulance crew called it in as the ambulance hit the highway and gave chase when Baroda-Lake Township Police spotted it around the 16-mile marker on WB I-94. The ambulance thief then proceeded to hit speeds in excess of 90-miles per hour before a set of "stop stix" tossed out by the Pokagon Tribal Police rendered the front side passenger tire disabled, bringing the chase to an end as the thief left the highway at Exit 4A onto US-12 and pulled into a church parking lot.
The driver jumped out and try to get away on foot, but was apprehended a short distance away and taken to the Berrien County Jail.
The 35-year old has not been identified by police, but is being held on several charges including a hold from the United States Department of Justice.
Baroda-Lake Township Police Chief Shawn Martin says his Officer Hopkins was assisted in the case by the Berrien County Sheriff's Department, the Bridgman City Police, Amtrak Police, Michigan State Police, Chikaming Township Police, the Pokagon Tribal Police and the New Buffalo City Police.