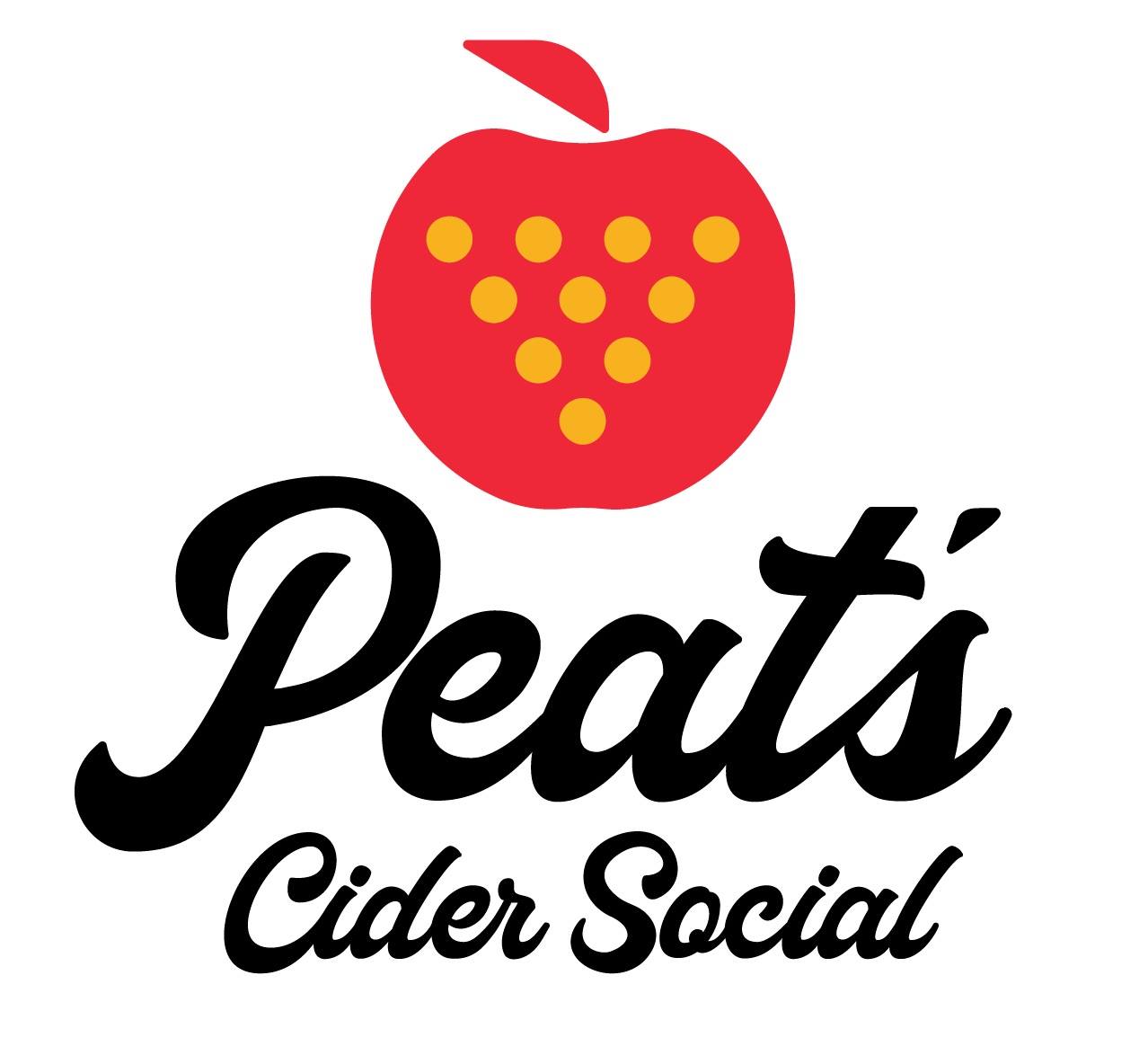 ---

---
You're looking for a place to unwind and connect, where you and your party can enjoy yourselves, and not have to travel outside of Southwest Michigan: where do you go?
Peat's Cider Social has proven a fruitful experience for the many customers and friends they've gathered since opening their doors in 2020, and always ensure a fun, family-friendly atmosphere, delectable beverages, and fantastic bowling.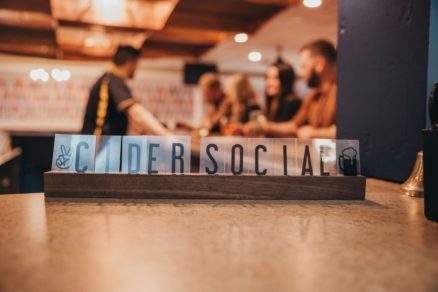 Inside the Social, formerly Lakeshore Lanes in Stevensville, the illumination of the retro bowling lanes invites you into the fun zone, where leagues fill the space on Thursdays, and novice and professional bowlers casually sip cider between frames. Vintage arcade games, complete with pinball and pac-man, live inside a cozy little room showcased behind glass, in full view of the bowling action.
"If you're renting a space for a birthday party, corporate event, or casual get together, you'll find that we have something for everyone," says Dan Peat, co-founder of Peat's Cider Social. "We are a very inclusive place; people come here for an event, and return on their own because of the fun, easy-going experience we offer."
Peat's has tapped into the hosting market in the last couple years, holding events like Maker's Markets, networking events, and car shows, welcoming new, potential customers to the world of hard cider and bowling. Non-profit organizations, like the Humane Society of Southwest Michigan, the Women's Service League, and others, find Peat's Cider Social the ideal location for fundraising events.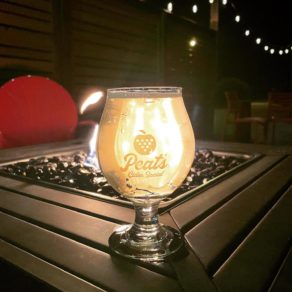 The extensive property provides ample parking, and their decked-out seasonal outdoor space is home to fire pits, cornhole duels, live music, and the occasional dunk tank. Though the Social does not have a full service kitchen, they are equipped with a rotating food truck schedule during our warmer days, and a Bring-Your-Own-Food protocol every day of the year. Whether you're feeding a crowd or hosting a potluck, the flexibility of bringing in your own fare is a plus!
During the colder months, when the dumping snow renders the outdoor patio off-limits, the building's capacity can hold 150 people. You have the option of booking the entire building, or parts of it, like the Lounge Area or Party Room, making Peat's the perfect place for any size gathering or activity.
Customer Appreciation parties have graced the space, along with open-house style employee parties, baby showers, and even rehearsal dinners – when the time before your formal wedding calls for entertainment and fun, Peat's will be ready to reset pins and pour drinks for your guests.
"We'd like to help guide the more organic aspect of business relationships," says Dan.
"Going above and beyond for your company culture and employee appreciation helps create a positive place where your work is done. We'd like to be that place for you. People have been pretty disconnected, and social is in our name. Our environment is positive and inclusive all year, not just during the holidays when company parties are popular."
The taproom is decorated with lively hues of tangerine and aqua, providing bursts of joy that compliment the warm wood tones of the furniture and bar, inviting everyone to come sit for a drink, a conversation, a new memory.
Cider flows from ten ever-changing taps, and a multitude of beverage options are available daily. Non-alcoholic slushies are a hit in the summertime (the apple cider one is so refreshing), and a slew of bottled sodas and tonics fill the cooler, ready to quench your thirst.
Dan and Leah Peat, profoundly friendly, passionate, and excitable people, partnered with friends and coworkers to purchase and renovate 6201 Red Arrow Highway in 2019. As the curiosity of opening a taproom for their already flourishing beverage business came to a realization, Josh & Tiff Cosner, Eddie Hengesh, and the Peat's worked endlessly through remodeling, the wait for licensing, and the beginning of Covid-19, but they stayed out of the gutter.
2022 was the first year they could be open all year without restrictions, and glass after glass of refreshing, crisp cider was enjoyed by many. "We have so many beverages to choose from," Dan says.
"People think they've had hard cider before, but apple-flavored malt beverages are not true ciders. We make real hard cider, and people love it."
One of many bowling alleys in the area, Peat's does not compare themselves to the others. "We are a hard cider business that offers bowling, we are not competitors," Dan says. "We all survived the pandemic together, and offer significantly different experiences."
Peat's Cider Social is fun, easy going, and is quickly becoming "the hangout" for people of many different lifestyles. Bowling is an everyone sport, played by families of all sizes, groups of friends, people who like hard cider, people who don't imbibe – it is always inclusive and entertaining.
Plan your next party: Pricing for space rental is dependent on the day of the week and time of day, but Party Packages start at $200, and can be designed to meet your specific needs.

Peat's open hours are:
Monday, Wednesday, Thursday 4 p.m – 9 p.m
Friday 4 p.m – 10 p.m
Saturday Noon to 10 p.m
Sunday Noon to 7 p.m.
Happy Hour rates can be enjoyed all day Mondays and Wednesdays, and shoe rental is complementary with your lane. Bowling lanes are first come first served, but you are always welcome to call with any questions.
The exciting, refreshing taste of Peat's handcrafted hard ciders is unique and inviting, which completely embodies the setting and ambiance of the Social itself. "Once people are exposed to our brand, our style, our flavor, they come back again and again," says Dan. Time to experience it for yourself – See you at the Social!
---
---