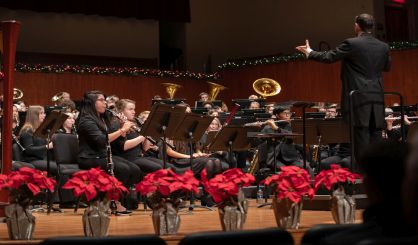 Andrews University will host a performance of its wind symphony this weekend. Andrews told us the following:
On Saturday, Dec. 4, at 8 p.m., the Andrews University Wind Symphony will perform its annual holiday concert, this year titled "Joy to the Season," at the Howard Performing Arts Center.
Under the direction of Byron Graves, the Wind Symphony will perform several holiday classics. To begin, they will play "Festive Fanfare for the Holidays" by James Curnow, "O Holy Night" arranged by Calvin Custer and "Away in a Manger" arranged by Tom Wallace. Next, they will perform "Ding Dong! Merrily on High" arranged by Jay Dawson, "Lux Aurumque" by Eric Whitarce and "Joy to the Season" by Sean O'Loughlin.
Following the intermission, the Wind Symphony will play "Jingle Them Bells" arranged by Julie Giroux, "Symphonic Highlights from 'Frozen'" arranged by Stephen Bulla, "We Wish You a Mambo Christmas" arranged by Erik Morales and "Nutcracker Fantasia" arranged by Julie Giroux.
Tickets for this event can be purchased at howard.andrews.edu and are $7 for general seating and $5 for students and seniors. There is a two-ticket limit if purchasing with a student ID.
Guests are encouraged to be vaccinated or have recently tested negative for COVID-19. Please self-screen for symptoms and exposures prior to attending a concert. Individuals who are symptomatic or who meet Health Department criteria for isolation or quarantine should not attend events. Wearing of masks is required.
For additional information, contact the Howard box office at 269-471-3560. For a full season schedule of events at the Howard Performing Arts Center, visit howard.andrews.edu.
The Howard Performing Arts Center is a premier 850-seat concert hall on the campus of Andrews University. Founded in 1874, Andrews University is the flagship institution of higher education for the Seventh-day Adventist Church and offers more than 160 areas of study, including advanced degrees. Its main campus is in Berrien Springs, Michigan; however, the University also provides instruction at colleges and universities in more than 25 countries around the world.