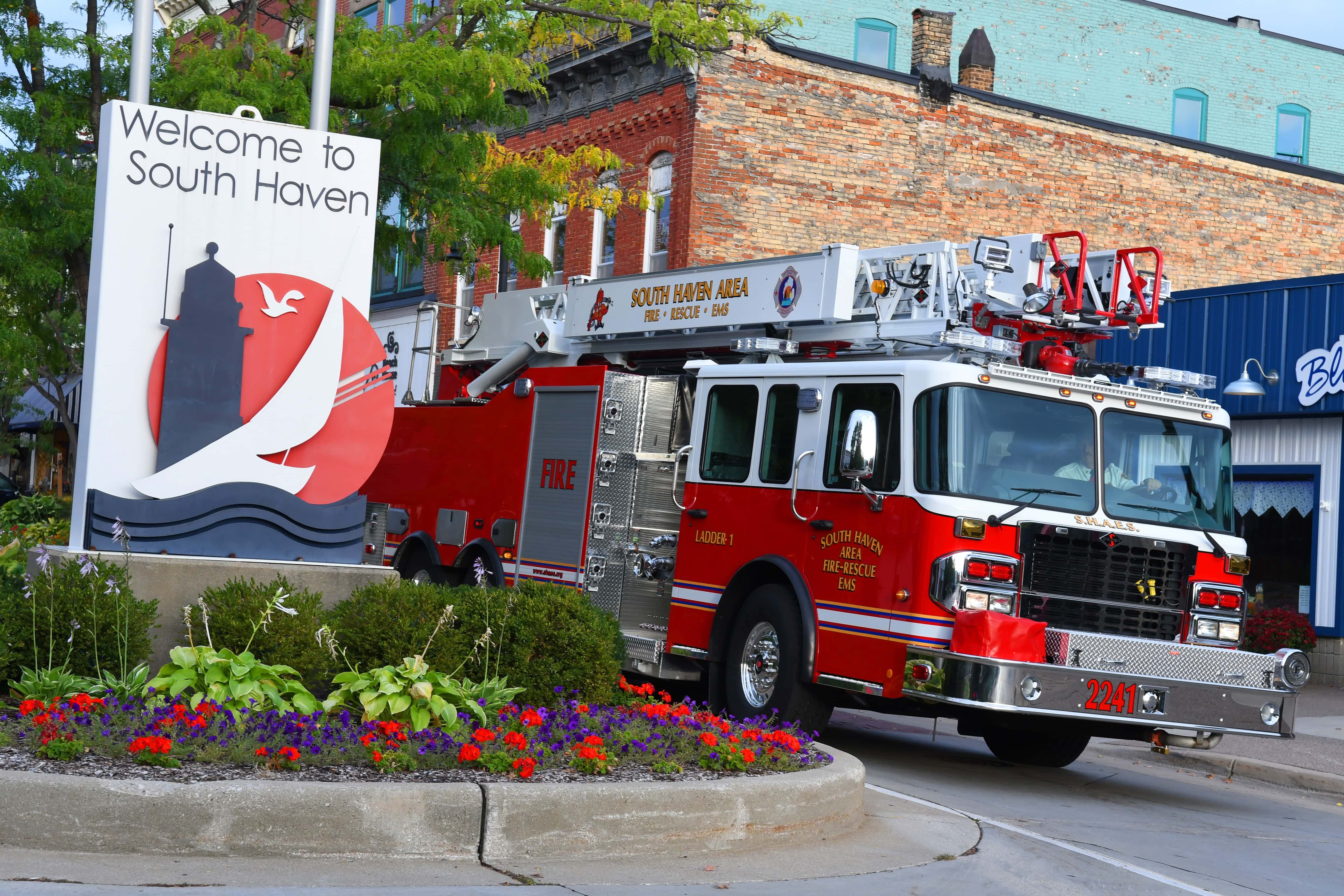 For those who think of firefighters lounging around the firehouse waiting for the calls to come in, don't even start that conversation with the crews of the South Haven Area Emergency Services. They have released their annual report, and it shows they were anything but lounging around, racking up the fourth busiest year in the history of the department last year.
South Haven Area firefighters and emergency responders turned out for more than 2,000 calls for the seventh consecutive year, according to the department's annual report for 2019.
The South Haven Area Emergency Services Authority serves not only the city of South Haven but also the Townships of Casco, Geneva and South Haven from three stations in the system. During 2019 the agreement creating the department's authority was extended for another 25 years as well.
Chief Ronald Wise says, "The SHAES staff is grateful to the community for its ongoing support," and adds, "We remain committed to providing quality emergency service to our area."
The 2,171 responses in 2019 mark the fourth highest turnout in department history. The all-time record set back in 2016 resulted in 2,276 calls. In 2018 the department responded to 2,085 calls.
There were 701 fire alarm responses and 1,470 medical calls in 2019. There were 1,036 responses in the City of South Haven, followed by 437 in South Haven Township, 306 in Geneva Township and 325 in Casco Township. The department also provided mutual aid to other fire departments on 57 occasions and received assistance themselves a total of 15 times last year.
Total property losses from fire in 2019 came to $1,872,463, including $1,087,272 in residential fires. Casco township experienced the biggest residential fire loss at $664,000, followed by the city of South Haven at $148,050, Geneva Township at $142,122 and South Haven Township at $133,100. Most of the residential fire losses came from three major blazes, two in Casco Township and one in the city.
The department was particularly busy in the area of water-related incidents with several rescues needed on Lake Michigan, and there was one drowning. The staff also worked with Emergency Management officials in Allegan and Van Buren Counties developing shoreline emergency responses through the year.
There were no civilian fire-related deaths or injuries in 2019. There were three incidents in which a firefighter was injured either at an emergency scene or other work-related occurrence
The department is comprised of 15 full-time staff and 28 paid-on-call firefighters protecting 121 square miles from their three stations. The department continued an expanded community-wide pre-planning and inspection program in 2019. Additionally, the staff conducted inspections or related tests at 917 locations in the department's coverage area, including 644 short-term rental inspections over the year.
Chief Wise announced during 2019 his intention to retire after 31 years of service, including as chief since 2008. That retirement is effective September 30, 2020, and the search for his successor is currently underway.
The department continued its active public education programs with safety presentations to people at schools, senior living facilities, businesses and to civic groups in 2019, with an estimated 500 children and adults attending the annual Fire Safety Fun Night.
A copy of the Annual Report is available at the department's website, and is accessibly at this link:
http://www.shaes.org/dokuwiki/lib/exe/fetch.php?media=public:shaes_2019_annual_report.pdf