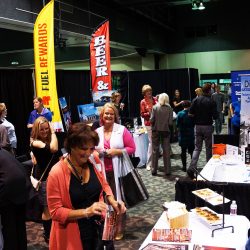 For Joanne Calo and Paula Wygonik, tonight's Cornerstone Chamber of Commerce Fall Trade Fair provided a distinctly different but equally important platform to showcase the businesses they represent. Fortunately for both top notch business women the feeling was mutual — they were garnering great feedback that can drive future sales for each of their firms.
Calo is Assistant Manager and Consumer Lending Agent for Flagstar Bank on Niles Avenue in Southtown St. Joseph. Wygonik is President of Competitive Edge on Red Arrow Highway in Stevensville. Each had a vendor booth showcasing the products and services of their firms, but each had a different mission over all.
For Calo, this was a first time exhibit in the long running annual showcase of Cornerstone Chamber members showcasing both member-to-member and member-to-consumer businesses from throughout the region. Wygonik's team, on the other hand has been a participant since day one in the event that spans some thirty years or more.
Calo tells me she spent her time talking products and services from Flagstar Bank, but with only one branch in the local marketplace she know that a primary focus was going to be "to get our name out there." She says, "We have on branch in St. Joseph, and while there are other branches going more towards the Grand Rapids, Kalamazoo and Detroit areas, we wanted to let people know that we're here, because a lot of people just don't know how good we are."
Flagstar was talking up interest rates, which Calo says "are a huge factor right now, and we have some of the highest interest rates offered for savers compared to our competition." She also was reminding those who stopped by that they also offer mortgages, investments, and "we're a well-rounded financial institution, so we're talking about whatever the customer needs most." As a consumer lender she offers a full suite of home equity loans, car loans, boat loans, and can even finance motorcycle, RVs and more.
Saying, "This is my first one and I think it's great!" Calo admitted that with just a single branch, it's "a little more difficult to create awareness, however we do have ATMs everywhere making it easier to access cash, but we have great products, so we just want everyone to know that we're here for them, and make sure people know we're here."
For Wygonik's Competitive Edge, not only has the team participated in the showcase since year number one, they have anchored the same booth space for years and they continue to return because, "We love to support this community…we love to come out and see our customers…and we love to see what's new in the community." One things she noticed right off while walking the exhibit floor is, "This year there are a lot of new businesses here that I have not seen here in the past, and that's a truly optimistic thing — that we're getting more and more interest from new businesses to come out."
Speaking of new, I asked Wygonik what's new in her realm and she immediately pointed to technology. She says, "Technology continues to evolve as a driving category and so as technology changes —  iPhones, Androids, and all those kinds of things —  our manufacturers are always working to keep up with those changes in terms of power cords and power banks, and what do we need to do to make sure that power banks are safe and that they hold enough battery to charge your phone more than once, or can they charge both your phone and your iPad at the same time, and all of those kinds of things."
Wygonik notes a sea change in the world of personalization saying, "In the world of decoration and branding, digital printing has evolved. We have a tech company that uses all-digital print to do four color process images on every type of tech item, so what that does for our customer is eliminates set up charges on those items, and it eliminates minimums on those items, so if you have one person that needs a gift for retirement, recognition or acknowledgement, you can pick a high end blue tooth speaker, or a custom set of earphones, or a power bank and have it fully customized for them with a full color imprint and even their name if you want with no set-up and no minimum order." That is a huge boost to smaller companies like many in Southwest Michigan, says Wygonik, because, "It used to be that if you wanted to do anything more than one color you had to commit to a large quantity, you had to commit to multiple set-up charges, and extra-run charges, and so we're finding that that is starting to change as digital printing gets better and better, and technology products is where we're seeing it."
While both ends of that spectrum welcomed customers, members, guests and other interested parties, Cornerstone Chamber President Chris Heugel was beaming, saying, "Our Fall Trade Fair attracts the entire community, and it's great to see all the people who love to come out, set up their booths, show what they do along with their products and services, and have the community come out and support those folks and see what's out there."
Asked about exhibitor reactions to the show, Heugel says,  "We get nothing but positive feedback from our vendors. They just love it, and we've got a sold out exhibit hall and they just enjoy it. This year it's great to have four or more brand new exhibitors here like Freedom Boat Club who have never been here before, and they placed a large boat right inside the exhibit hall, so it's kinda cool."
While he was focused on the showroom floor tonight, Heugel was reflective, telling me, "The future of  the chamber looks really great. Memberships are up, all of our events have record-breaking attendance, and we're just really blessed to be here in Michigan's Great Southwest. It's a great and supportive community."
Realizing that you can never stand still, Heugel is always looking to the future too, saying, "We're always working on new things, nothing that I can really mention right now, but I can tell you that with the Dale Carnegie programming and our new relationship there, and our relationship with Disney there'll be some announcements about further Disney classes coming up and we're always looking at fun and exciting stuff."
Heugel was right to enjoy a great night on the town, with a packed house and smiles from one end of the Grand Upton Hall at Lake Michigan College to the other, it was a productive night and a good night to be a member of the Cornerstone Chamber of Commerce.