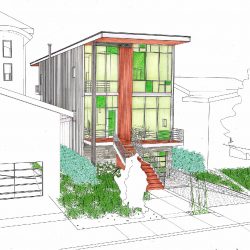 Following a considerable set of challenges, an Allegretti Architects designed home is finally under construction in St. Joseph, but it has already won a Merit Award from the Southwest Michigan Division of the American Institute of Architects for 2017. The award is for a project design in the Unbuilt, Private Residence category.
The private residence, located in St. Joseph, is finally actually under construction following a unique set of challenges according to John Allegretti, the Design Architect who created the plan.
A modern three story lake front home is currently under construction on a small lot, after having addressed waterfront erosion and narrow lot issues.
The millennial modern home was challenged by being designed on a wedged-in 33-foot wide by 132-foot long lakefront lot. Restrictions included a seven foot side, thirty foot rear, and ten foot to the first step front yards, with forty five-percent lot coverage, and thirty foot height.
Allegretti says, "Then, just as we were ready to begin construction, unprecedented beach erosion required a new seawall, significantly reducing the budget," adding, "All this while our busy clients, seven hundred miles away, were stretched between their two toddlers, their jobs, and being very involved with the decisions their home required."
By lowering the home 3-feet below grade, Allegretti created a beach access area, which will act as a "surge plinth" for the main and upper levels of the home. The lower level consists of a garage, shower and sand-trap area, and a mechanical room.
Allegretti was further challenged by the fact that both of the adjacent neighbor's homes crowd the property lines, forcing his design strategy to evolved into an internal progression of decks, covered terraces, and a main level which are all focused on the street and lakeside views.
The interiors of the home are primarily white as is the "floating stair" from the beach area to the main level and to the upper level three bedrooms. Wide flange steel shear wall frames were used at both ends to support the tall 30-foot high by 22-foot wide structure with multiple cantilevering decks.
Allegretti reports that, "'The Resilient St. Joseph Coastal Study' shepherded our waterfront design and was approved by the City of St. Joseph." He adds, "This home is now finally under construction and we believe it is recognition-worthy because of the problems our team surmounted for our client and the litany of best practices design iterations we developed in the process."
You can find additional project information by clicking this link:
https://www.houzz.com/projects/1666428/st-josephresidence-6
John Allegretti has served the community of Michigan's Great Southwest with multiple award-winning designs from his offices located in the historic building anchored at 500 Main Street in St. Joseph. You can reach him by phone at 269-983-1100 or by e-mail at Allegrettiarchitects@gmail.com. You can also learn more about his firm in general by clicking his website at the link below: