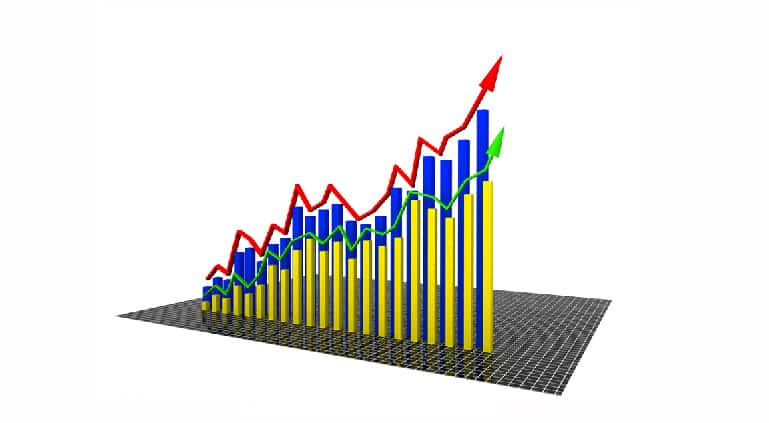 The West Michigan Industrial Economy enjoyed a strong resurgence in October, but Professor Brian Long at Grand Valley State University argues, "The current economy is about as good as it gets, given the restraints." He cautions, "Hiring new workers continues to be a BIG problem for some firms, so we can't expect much more expansion."
Nevertheless, the genial keeper of the data, who serves as Director of Supply Chain Management Research at Grand Valley State, says that the economic pace was strong, "Another uptick," for the industrial sector in West Michigan.
Long says, "For well over nine years, our overall pattern of growth has been slow, punctuated by a few ups and downs. For West Michigan, September was strong, but October was even stronger." He points directly to the data, which he gathers monthly from the supply chain management community through surveys with industry executives large and small.
According to Long's data collected in the last two weeks of October 2018, his New Orders Index of business improvement, rose confidently to +36, up from +28. The West Michigan Production Index, which was already fairly strong, edged up to +30 from +29.
Meanwhile, activity in the purchasing offices, the Purchasing Index, rose to +29 from +21. Long says, "Our survey participants are still airing concerns about the tariff wars, but most of the attention has now been directed at China. Despite these concerns, the overall impact of the tariffs has been fairly limited."
When Long turns his attention to individual industry sectors, he says, "For many months, industry analysts have warned that auto sales will continue to soften. So far, the decline has been very orderly, and our West Michigan auto parts suppliers continue to report positive business conditions." Long adds, After all the talk about auto sales softening, the October sales report from Automotive News posted a minor gain of 0.4-percent, while the seasonally adjusted sales rate rose to 17.59 million vehicles from 17.44 in September." He also notes that the 2017 tax incentives continue to boost many segments of the industrial economy, keeping the capital equipment and office furniture firms humming. Dr. Long adds, "For most of our industrial distributors, business conditions are still benefiting from the usual seasonal uptick."
Focusing on the employment reports, Professor Long says, "According to the latest report from Michigan's Department of Technology, Management, and Budget, Michigan's 'headline' unemployment rate for September (latest month available) edged down to 4.0-percent. Total state-wide employment grew by 30,000 workers compared to September 2017, and the number of people unemployed decreased by 37,000.
Long's September Employment Index came in at +24, a little slower than the previous month's index of +29. He notes, "The unemployment rate for most of our reporting units is now running about one full percentage point below 2017. Some West Michigan cities like Kentwood have an enviable unemployment rate of 2.4-percnet. Can it get better? Probably not. A lower rate would primarily require hiring more people, and many of our area employers continue to complain that recruiting new (qualified) workers is extremely difficult. The industrial sector may have taken the economy as far as it can go, given that firms can't find enough qualified people to hire."
While most numbers continue to be strong in Long's report, corporate optimism continues to fade. He reports that the West Michigan index for the Short-Term Business Outlook for October, which asks local firms about the perception for the next three to six months, ticked up to +26 from +25, an insignificant increase. That reading, although still positive, is still far less optimistic than February's reading of +51. The Long-Term Business Outlook, which queries the perception for the next three to five years, retreated to a record low of +24, down from +33. Long contends, "Although these readings do indicate a little concern about where the West Michigan economy is headed, the overall mood is still positive."
As is customary in Long's monthly survey, he shares verbatim anecdotal comments in an anonymous manner. Here are some of the comments he shared in the October results forum:
"It feels like the business economy is tapering off some, although business is still very strong."
"We're working on completing projects before the snow!"
"October was our most productive month of the year."
"Hiring and maintaining enough production employees is a problem."
"Tariffs are a big problem."
"September was the worst month in years; very much like October of 2008. This October, while still slow, is showing improvement. We're hoping the fourth quarter isn't horrible."
"We see machine tool pricing starting to increase due to component parts increasing from our suppliers. Items like castings, ball screws and electronics are in high demand and vendors to us are increasing lead-times and increasing pricing."
"We believe tariffs are having a near-term negative effect."
"Our supply base is full, and lead-times are extending."
"Orders are up, and some projects cutting loose. It is still impossible to find and hire good quality, skilled workers."
"We are busy, and should remain busy through year end."
"We are starting to see sales intake rise slightly. Many of our suppliers are slammed and can't expedite orders."
"Business remains strong, and the forecast for the rest of the year is solid."
You can see Professor Long's complete report including charts and graphs by clicking the link below: