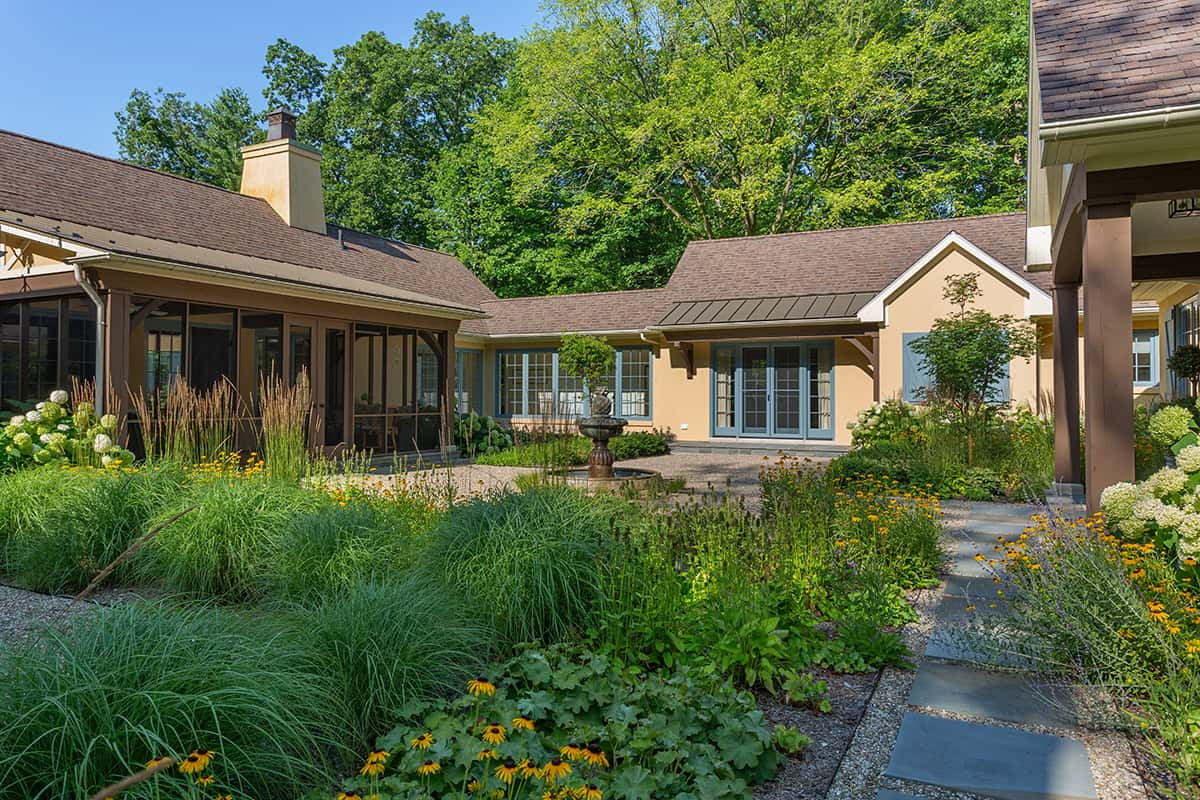 ---

---
As the crew at Arcadia Gardens prepares for their 30th landscape season, they're taking a brief moment to look back on their humble beginnings in founder Dot Hollerbach's home based office, with little more than pencil, paper, truck and a shovel to their name, and a handful of clients who trusted them with their prized gardens. The family owned business built itself on slow and measured growth over the years, carefully cultivating a strong reputation based on a high level of quality and customer care, centered on referrals and repeat clients.  Owners Todd and Anna Brooks' strong employee, client and community focused relationship style of leadership has created a core management team that has aligned themselves with some of the very best contractors in the area, and is committed to continuing that tradition of quality for years to come.
Today, the company facilities have grown significantly from that old desk in the corner to a full fledge office on West Hinchman in Bridgman.  Taking over the old Keeler Creek Nursery that sat abandoned for years in 2016, they've since fully renovated the office, shop and greenhouse to accommodate their ever growing needs to best serve the landscape design/build/maintain market of Michigan's Great Southwest.  This space has allowed Arcadia to recruit a diverse group of individuals who are well trained, experienced and dedicated to serving their clients. The leadership team places a high value on continuing education, and annually sends team members to training and conferences put on by the likes of Michigan State University, Unilock, Techo Bloc, Michigan Nursery Landscape Association and Association of Professional Landscape Designers.  This ensures that the team is up to date on landscape trends, labor saving equipment, and environmental and hardscape installation standards. They are even invited to present seminars to conference attendees on occasion, and have had numerous articles appearing in trade magazines.  The company's commitment to employees' professional growth and development has led to a very high employee retention rate, with familiar faces returning to care for clients' landscapes year after year.
Arcadia Gardens is much more than a gardening service though.  With two certified designers and a design associate on staff, they are able to create leading edge, custom designs for landscapes of any size or scope.  Proposals and project management are done in house, and they've developed a three part installation system that means projects are installed on a timely basis, allowing minimum disruption to the short summer season. The Arcadia team has built a strong network of sub-contractors over the years, which allows them to implement outdoor-living projects that include swimming pools, fire features, outdoor kitchens, water features, decks and more.  And if you're not the gardening type, they are pleased to follow up with a full range of landscape management services, which they can now proudly say is backed by 30 years of knowledge and experience.
See the gallery of just some of the fine projects completed by Arcadia Gardens in this gallery:
---
For more information, contact Arcadia Gardens by filling out the form below:
---

---