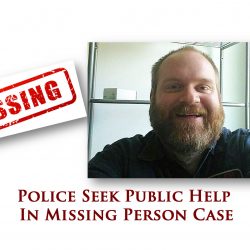 Authorities are seeking your help in locating a Southwest Michigan man who has been missing since Friday night. His name is David Lewis Amerson and he is a full-time employee at Weller Trucks and Weller Reman Center in the Grand Rapids suburb of Wyoming.
The Allegan County Sheriff's Office is currently investigating a missing person's complaint involving Amerson and they are asking for the public's assistance.
On Saturday, March 10th, 2018 deputies from the Allegan County Sheriff's Office were dispatched to the Amerson residence in Dorr Township for a missing person complaint.
The missing subject, identified as David Lewis Amerson, was reported missing from his residence by family members after he failed to meet them for a scheduled event.
Amerson's family says David is a friendly family orientated individual who keeps to himself and works full time at his job in Wyoming.
Police say that Amerson is a 36 year old white male, standing approximately 5'11" tall, weighing 220 pounds, wirth blue eyes and short reddish colored hair and a full beard.
He was last seen wearing his work uniform which is navy blue in color with a Weller Reman patch and name patch on the breasts. Amerson was last seen at a family member's home in the Grand Rapids area around 11:00 pm on Friday March 9th as he was departing for home. Amerson's vehicle is currently at his residence and there are no other vehicle's associated with him at this time.
Anyone who has seen or has information regarding David Lewis Amerson is asked to contact the Allegan County Sheriff's Office at 269-673-0500 or Allegan Central Dispatch at 269-673-3899. The public may also contact Allegan County Silent Observer with information at 800-554-3633 or online through Facebook at this link:
https://www.facebook.com/Allegan-County-Sheriffs-Office-154410984593252/?ref=ts
*****UPDATE 3/12/18 *****UPDATE 3/12/18 *****
Allegan County Sheriff's Deputies report that the body of David Lewis Amerson was located early this afternoon, however they say that no foul play is suspected in the case of his death. They were assisted by the Michigan State Police in today's search. No further information was provided.