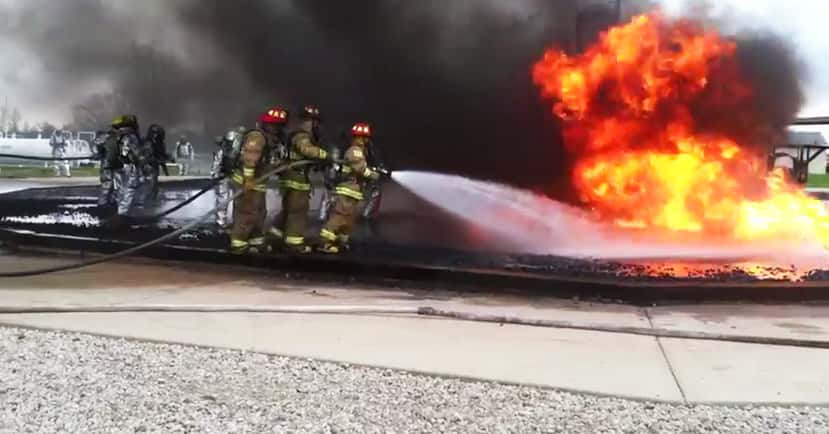 If you're dropping someone off Monday morning at South Bend International Airport or headed off on a business trip, vacation or other travels yourself, don't panic if you happen to see something that looks a lot like a plane crash on the airfield. It's just a test.
The St. Joseph County Airport Authority Department of Public Safety will be conducting its annual Federal Aviation Administration fire training with live burns on Monday morning, May 13th, 2019 from approximately 8:00 am until Noon at the live fire training facility on the northwest corner of the airfield at South Bend International Airport. In the event that weather weather prevents the activity from taking place, the training will be moved to the same time from on Tuesday, May 14th, 2019.
The fire safety training is mandated by the FAA under FAR Part 139 for any entity specializing in Aircraft Rescue and Fire Fighting. Twelve St. Joseph County Airport Authority safety officers will work together to put out the live fires on the airfield.
Mike Ornat heads up that department as Public Safety Chief. He says, "The FAA fire training with live burns is conducted annually to ensure our team is timely, effective and proficient in putting out large flammable liquid fuel fires." Ornat adds, "Safety is held to the highest standard across all sectors at the airport. Training procedures like this help our team stay equipped and alert for our traveling public."
South Bend International Airport's four air carriers provide nonstop flights to twelve cities:  Atlanta, Charlotte, Chicago, Dallas/Fort Worth, Detroit, Fort Myers/Punta Gorda, Las Vegas, Minneapolis, New York City/Newark, Orlando/Sanford, Phoenix/Mesa, and Tampa Bay/St. Petersburg with connections worldwide.
South Bend International's multi-modal terminal serves over one million air, rail and bus passengers each year. According to the 2012 Economic Impact Report from the Aviation Authority of Indiana, South Bend International's total annual economic impact on South Bend and surrounding communities was in excess of $1.7 billion.
Remember...Monday's fire drills are only a test.