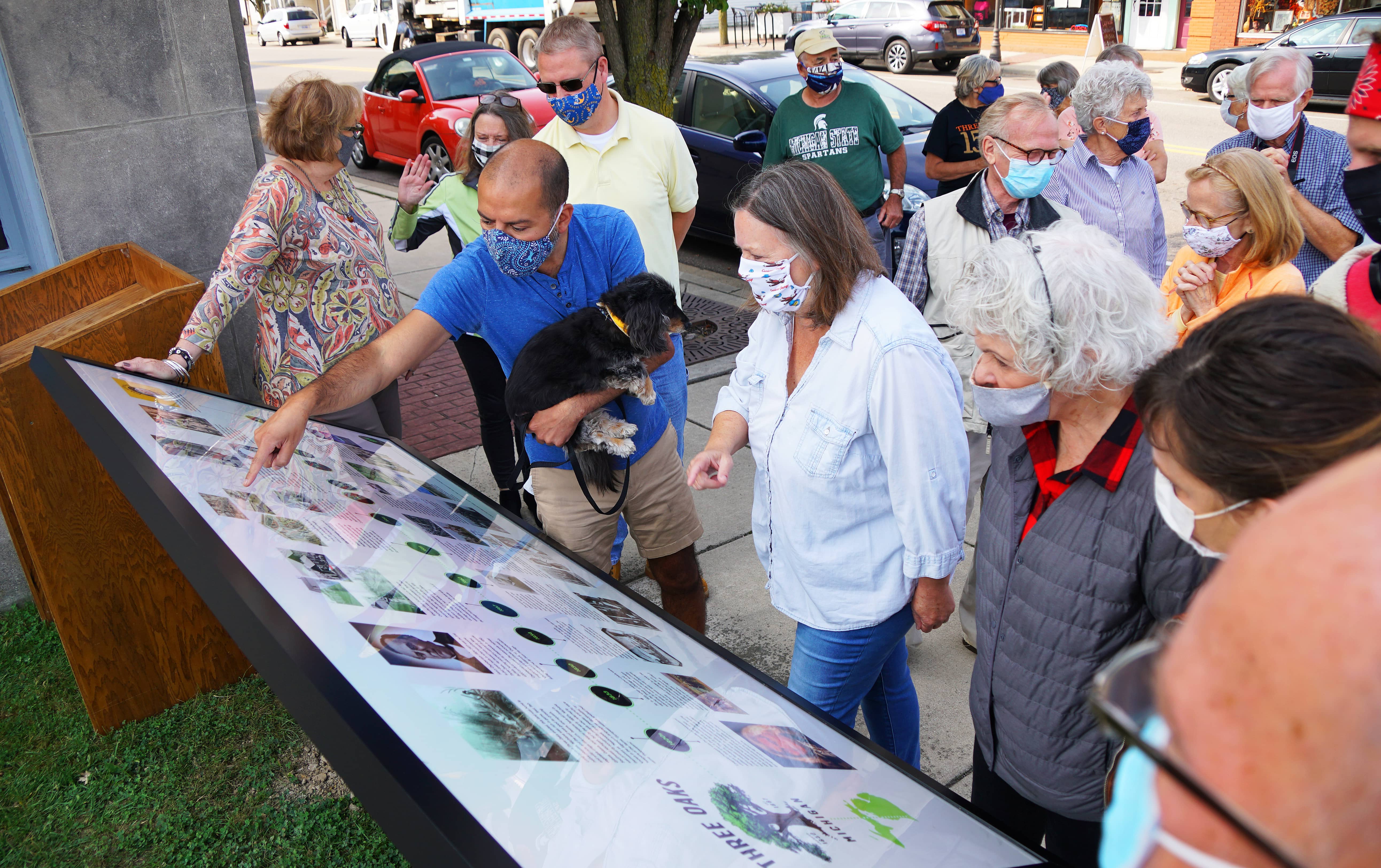 A couple of avowed story tellers who have come to know and love the Village of Three Oaks over the past three decades have made it possible for everyone else, resident and visitor alike, to learn some of the great accomplishments that have accrued to the village in its storied history.
Allen and Lynn Turner are the story-loving benefactors who helped create a large historical plaque which now sits on a village green in the community's central business district unveiled Wednesday morning before a small, but highly appreciative, crowd.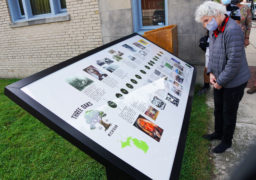 David Grosse, Village President, says that the community has been working on the historical marker, which is designed to highlight significant events that have taken place in Three Oaks over the years, for nearly a year now.
Grosse says, "When we saw one of these displays in a neighboring community, we thought it would be really cool to have the history of Three Oaks on display for people to come by and look at." Realizing the scope of information on that display, Grosse suggests, "I'm sure there are people who have lived here their entire lives who don't know some of the things that are on this plaque. It's terrific."
Grosse says that Nick Bogert from the Region of Three Oaks Museum gathered almost all of the information and the photos used in the display, which was designed by the Chair of the Downtown Development Authority, Suzzana Bierwirth.
Nick clearly loves the community, telling the crowd, "When the motion picture "Prancer" was in the planning stages, producers were trying to figure out where to shoot parts of the movie and they selected Three Oaks largely because it hadn't papered over its history. It still looked like the place we were born." He pointed with pride saying, "We still see it in the E.K. Warren Office Building anchoring downtown at the library, and the department store that was built in 1910 and is now reborn as a great place to eat, and there are endless examples all across the village, including the township hall which the museum has just acquired. It was built in 1866 and is one of the oldest still standing structures in Three Oaks and now has a fresh coat of paint on its interior walls."
Suzanna, who designed the piece, says, "I'm thrilled that we have this now, because there are so many stories in the village and if there's one person who really knows them all it's Nick. It's pretty amazing to read all of it, and there is so, so much history and it was my job to really make it digestible and presented in a way that people can come and stand around here, including all of our visitors, and really get a glimpse of this wonderful story. I also want to say thank you the Turners for giving us another beautiful piece for this great village."
The Village President made it clear that none of it would have been possible if it weren't for the generosity of "two very big supporters of Three Oaks." He adds, "These folks have supported Three Oaks in ways that most people are never going to know, and that's because a lot of the things they've done they've said 'we don't want recognition, we just want to help this town.'" He introduced Lynn & Allen Turner.
Allen Turner immediately offered up a "confession to make, an apology," adding, with a smile, "My mother's actually from Buchanan!"
Turner says he and his wife transferred to Three Oaks about 30-year ago. He says, "We bought the old Mitchell Farm a few miles south of town, and now live on what may be the first settled piece of land, 1833, and the homesteaders are still buried in the cemetery there."
Turner says, "We are very fond of this town and its history, and we are basically story tellers, my wife and I, and the stories in this community are extraordinary. If we told all of the stories this plaque likely would have needed to extend all the way to South Bend. We are somewhat limited, but nonetheless there are some great stories on this plaque. We want more people in the town to know about this, we want more casual visitors to come and understand the history of this town both in terms of native Americans, early settlers, and those people who have come afterward. We just want everyone to know, so Lynn and I are delighted to be part of this, so thank you very much for everything."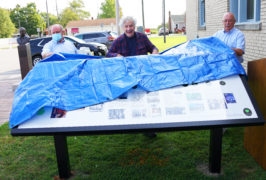 With that, the blue tarp covering the display was removed, and now Three Oaks has a new slice of history to share with the rest of the world. It's in a small grassy area on Elm Street near the railroad tracks and village parking lot across from Big C Lumber in the downtown district.