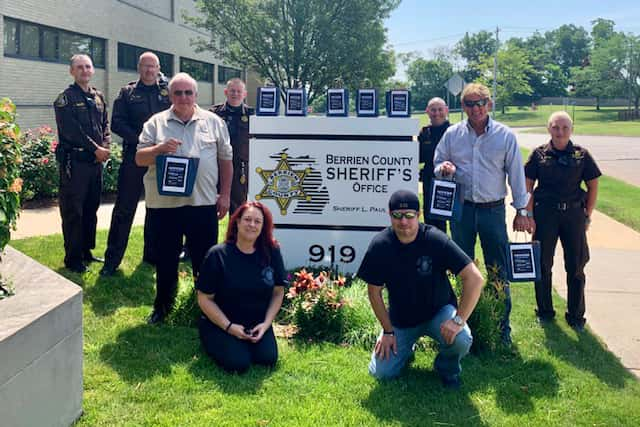 A social media movement that literally was spawned from the tears of a mother is leaving its mark on local police officers in Michigan's Great Southwest. The organization, Back the Blue Encourage, is providing goodie bags to local officers as a way to show their support for law enforcement.
Back the Blue Encourage — often shortened to simply BTB Encourage — used the backdrop of the 4th of July to provide the gift bags to law enforcement officers on Saturday.
Jackie Haney, one of the original organizers, says "This all began from the tears of a mother." Haney works with a woman whose daughter works the midnight shift at a local police department. With the current negative climate surrounding law enforcement her co-worker was worried and concerned for her daughter's safety. Being a mother herself she wanted to show her support for police and decided that "the silent majority can no longer be silent."
What began as a Facebook event asking for assistance to show support, quickly became larger than she could have imagined. That attracted the attention of Dr Robert Flood in St. Joseph and others who donated to the cause and the group was able to deliver more than 400 gift bags to five police departments in the region.
The bags were filled with prepackaged drinks, chips, cookies, granola bars and other comfort items. The Berrien County Sheriff's Office was one of the recipients of the group's kind gesture and each sworn officer received one of the gift bags. Sheriff Paul Bailey, sharing his appreciation with the support showed to law enforcement, was on hand to receive the donation at the Sheriff's Office. Bailey says, "We are blessed to have this type of support from our community and it means a lot to the men and women that faithfully serve our communities during these difficult times."
The photo accompanying this story on Moody on the Market is courtesy of the Berrien County Sheriff's Department.