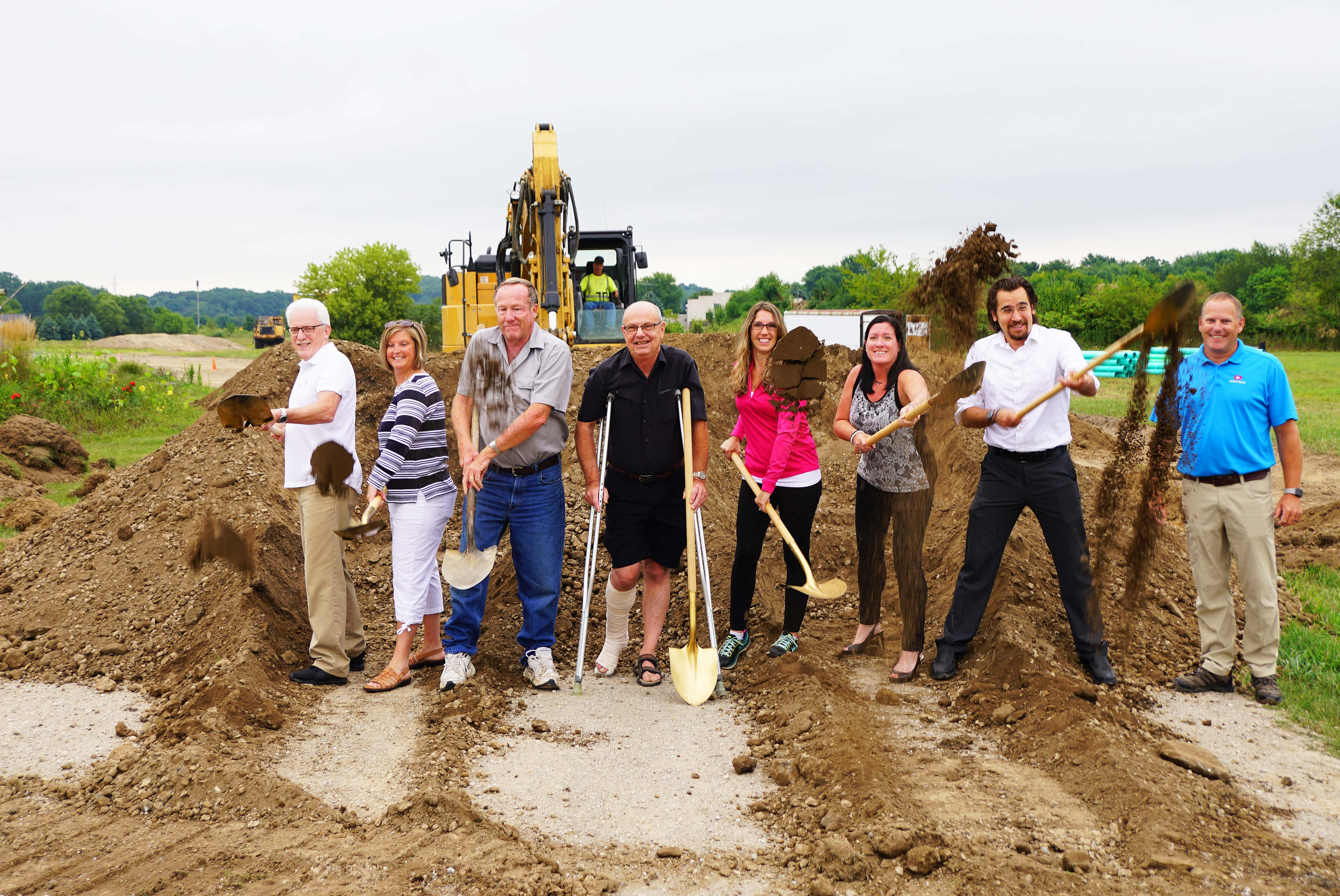 You won't be able to use the Village of Baroda much longer as the punch-line to the long-running joke question of "Where will you find the the only community in existence where the main street is a dead end?" Village officials conducted a formal ground-breaking ceremony first thing this morning to help end that punch-line once and for all, with installation of an industrial park road.
The new road has been officially underway for several days with work crews handling infrastructure improvements including waterlines and preparations for a sidewalk on the north side of the road which will connect the Village's main street — First Street — with Hills Road to the east.
Village Council President Bob Getz, propped on crutches with a cast on one foot, joined Council members, Village Clerk Tina Martin and 78th District State Representative Brad Paquette in turning over some dirt in the Baroda Industrial Park which was first created by the Council back in 2002.
Getz admitted, "It's been a long time coming, but it's great to see this activity here today to make it a reality."
Just last month the Village Council conducted a special meeting to approve resolutions on the road and water projects for the industrial park, agreeing to sell bonds to finally fund the projects.
Those agreements have the Village borrowing $220,000 to install water lines into the industrial park and $517,000 to build the road connecting First Street and Hills Road.
Three years ago Getz convinced the Council that they needed to do something to jump-start the industrial park saying, "If we don't go forward, we stop. If we stop, we're dead in the water." That was when the Council agreed to spend $44,000 for planning updates designed to improve chances for grant dollars for the park.
At that time Getz had told his colleagues in local government, "I've had all kinds of inquiries," regarding the Baroda Industrial Park from interested businesses, "but, once they learn there is no road or sewer, interest dries up." He added that summer, "If the park had a road and sewer it would be full."
Thanks to the hard work of Village Clerk — and Michigan Village Clerk of the Year — Tina Martin, Baroda has received a $95,000 U.S. Rural Development grant for road construction.
Martin says that road construction is already running a bit ahead of schedule and the project is expected to be complete by mid-October.