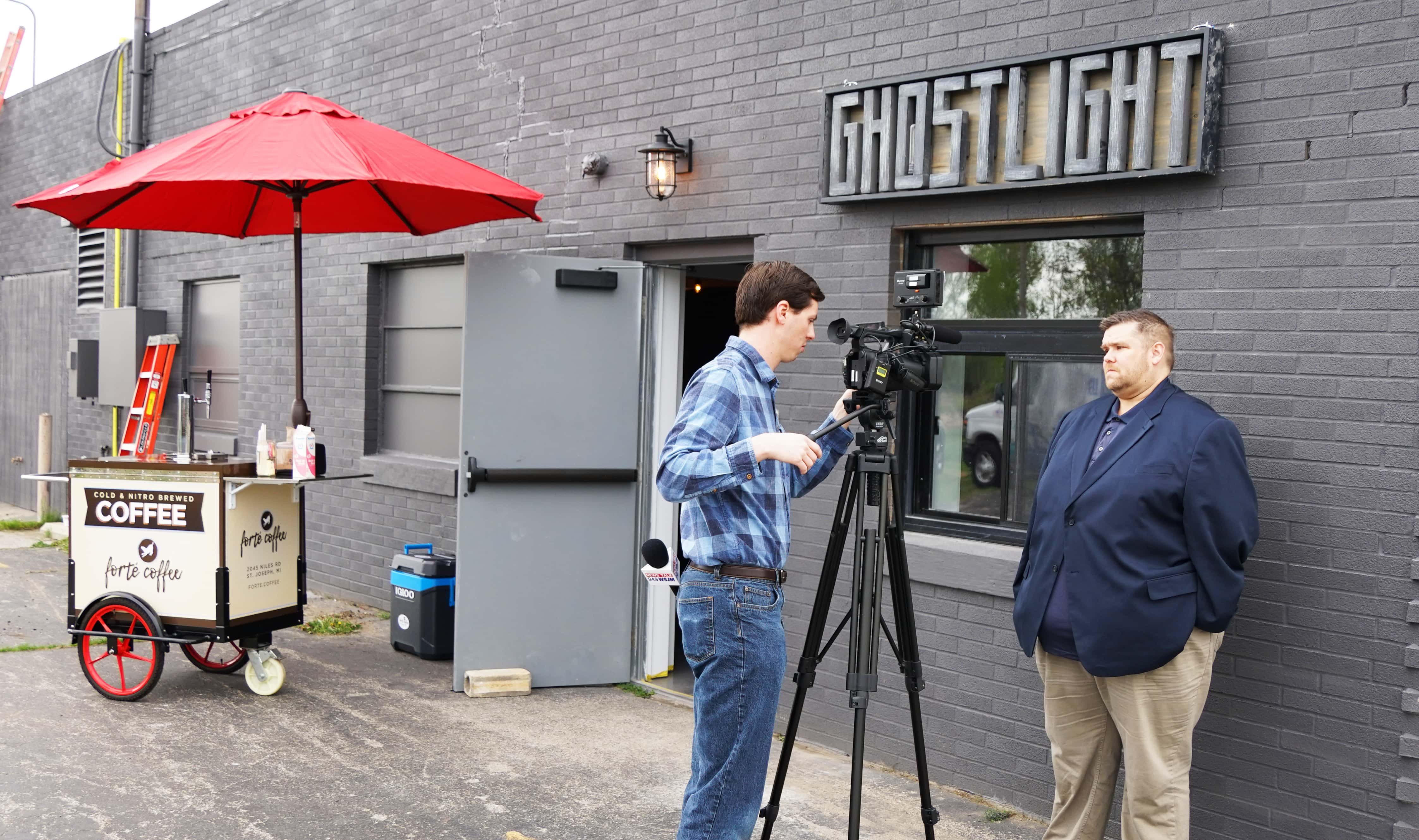 A hearty band of pioneers, all key players in the Benton Harbor Arts District, lovingly showcased their latest destination attraction coming to the district, The Ghostlight Theatre, in a media day open house this afternoon, and they were -- rightfully so -- beaming with pride.
Their remarkable new baby, The Ghostlight Theatre, located at 101 Hinkley Street in the heart of the Benton Harbor Arts District is rapidly approaching opening night, and this afternoon three summer interns actually became the first live performances to take to the stage in the exciting new venue.
Benton Harbor and its neighbor, St. Joseph, have long been held up as examples of racial and class division, and as the once-prosperous city of Benton Harbor struggled economically, it shone a glaring light on those differences. But the gradual progress the district has experienced over the past several decades has now made the neighborhood a draw for creatives, artists, business owners, and those who want to experience the energy of an exciting and always-evolving urban center that also happens to be bordered by world-class beaches, forests, and small-town charm.
For Ken Ankli, a local business owner and developer who's been deeply involved in the renaissance of the Benton Harbor Arts District for decades, The Ghostlight represents a logical next step in the evolution of a neighborhood that's been slowly and steadily re-emerging from a period of blight that began in the 1970s, and he's been a key player in the re-emergence, telling us, "The Benton Harbor Arts District is a story 25 years in the making - the collective product of many people over many years, whose artistry has helped make 5 square blocks of urban decay into a neighborhood that continues to grow and evolve."
Always looking for new opportunities, Ankli notes, "Every new addition and investment - especially those that complement the creative fabric that the District was born from - strengthens, multiplies and attracts new followers and patrons.  The Ghostlight Theater is helping to write the next chapter in the Arts District's story."
Artistic Director Paul Mow has been a fixture in the Arts District since his return to the area in 2007 after many years as a professional opera singer at the New York City Opera. He has made his career as a teacher, vocal coach, producer and director of plays and musicals working with Lake Michigan College, The Citadel Dance & Music Center, the Southwest Michigan Symphony Orchestra, Southwestern Michigan College, The Twin City Players, Children's Music Workshop, area high schools and more. After producing more than 30 staged productions and countless cabarets and concerts in SW Michigan over the past decade, Paul and a team of like-minded theatre makers and board members will open the newly-renovated black box theatre performance space and company  at The GhostLight in the heart of the Arts District opening on June 13th with the inaugural production of Jason Robert Brown's Tony-Award winning musical The Bridges of Madison County.
Mow says, "I've continually seen an opportunity to not only create theatre that starts important conversations, but also can bring people together in an area that has historically been seen as divided," adding, "Live performance has a way of breaking down barriers and can make tough conversations seem more humanizing, which is so important in today's climate."
Addressing the impact he expects the new theatre to have, Mow says, "When issues affect real people through the power of live theater, people are often more willing to have real-life conversations that they otherwise might have avoided."
Now, The Ghostlight - which was able to fund its building purchase and renovations, plus its inaugural season, through the generous donations of area organizations and individuals - is preparing to launch its first season with a four-show slate and a red-carpet event and concert featuring Broadway star Jason Robert Brown.
Mow says, "Although this area is a collection of small towns, we boast some seriously big, homegrown talent." Additionally, he notes, "I'm thrilled to provide another outlet for local actors to develop that talent, while also inviting professional artists from all over the country to perform on The Ghostlight stage. Hopefully we elevate each other and produce quality theater at the same time."
Today's media event featured tours of the facility as it is being prepared to open its first season, and the opportunity to interview the key players including Executive Director Martha Hesse, who says the new venue has the ultimate flexibility. She says, "Depending on where we put the stage, and the configuration for the event for the production itself, we can reorganize the manner in which we place the seats, whether for a meeting, or a movie set up, and we can put 150 seats in here very easily with space left over."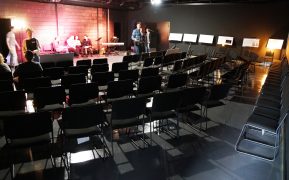 By way of example, she says, "The current production will feature the stage on the long wall, while another production will feature the stage in the middle --  a theater in the round -- and one of the productions will be in the far corner just because that's the manner in which the director wants to set up the stage and the set design for it." Everything else in the house shares that flexibility, as Hesse notes, "We have a grid system going in the ceiling so the lights can easily be moved to wherever they need to be, the sound system is on a cart, and we have wires all over in the ceiling so we can run our soundboard from any corner of the room or anyplace in the house, so, yes, we have the ultimate in flexibility."
As Executive Director, Hesse is excited about the line. She says, "We have four productions in the first season, first is Bridges of Madison County, which we open on June 13th, after that we do No Exit, which is a Paul Sartre existentialist play, and the guy who is directing is Larry Underwood and he has extensive, worldwide, tech theater experience. That play takes place in a bomb shelter in Paris during WW II, so he will be 'dropping bombs' on the roof (not literally) so you will feel like you're in a bomb shelter inside this black box theater so it will be very cool."
Later in the season, she says, "The third play is Clybourne Park which is kind of an updated version of Raisin in the Sun, with the first act set in a fictional neighborhood in Chicago where the first African American family is moving into a traditionally white neighborhood and all the stresses on everybody that that causes. Then, the second act takes place in 2009 when the first white family is moving back into the neighborhood after it has been an African American neighborhood for a long time." She notes, "The same cast plays both acts, and obviously they age and play opposite situations in the second act."
The fourth and final show is a very funny musical called Urinetown, which Hesse says is a kind of spoof on government gone wild, that's quite funny, and that close on September first. Tickets are on sale for all productions and going well, and Martha says, "I encourage people to buy soon and buy often."
The new theatre wants to attract children as well, and as such is hosting a Summer Camp, wherein an organization in Chicago called CircEsteem, around for 19 years now and wildly successful, will set up shop. Martha tells us, "It's like Cirque du Soleil, and they're bringing four instructors from Chicago for us and they will run a two week camp which starts June 17th, for which students are currently signing up and there are scholarships available at various organizations helping out, like school district foundations."
The Summer Camp is targeted to the 6 to 16 year age group and they will do everything from juggling to memorizing lines, and delivering an all around performing arts camp. Hesse says, "We've rented a building about a block away that has a large overhead crane from back in the industrial heyday, and we can hang silks from that and harnesses, so the kids can enjoy all kinds of things."
With great pride Hesse notes, "There's one more big event with Jason Robert Brown, a Broadway Composer, and winner of many Tony Awards who happens to be the composer that wrote Bridges of Madison County. He will be in concert here in our theatre on June 29th, and all tickets are available for these events on GhostlightBH.com."
It's going to be a huge hit in Michigan's Great Southwest, and there are still sponsorship, naming rights, and donation opportunities available which are also defined at the website which can be reached by clicking the link below: