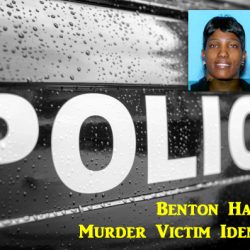 Benton Harbor authorities have identified the victim of a weekend murder as a long time Benton Harbor resident. She had been found dead in her own vehicle at the popular Hayward Wells apartment complex in the city over the weekend.
Here is what Benton Harbor's Director of Public Safety Dan McGinnis reports this afternoon:
The victim of this homicide was identified as NOVENA P. MATHIS, age 38, of Benton Harbor. Ms. Mathis was a long time Benton Harbor resident.   
The suspect in this case is WILLIAM "COONIE" EDWARDS, age 38, also of Benton Harbor.  
The suspect and victim have been in a long term relationship for about 20 years.  They shared two children in common.  
There has been a history of domestic violence in the relationship.        
The autopsy was conducted today at 10:00AM in Kalamazoo.  It was rule a homicide by gunshot wound.  
A warrant was authorized for Mr. William Edwards for OPEN MURDER, FELON IN POSSESSION OF A FIREARM and FELONY FIREARM.  Mr. Edwards is still being held pending his charges in Kalamazoo.  A hold has been placed for him to be returned to Berrien County at the conclusion of case there.
Here's the original story as posted here on Moody on the Market.com:
Just hours after she had been reported missing by distraught family members, the body of a young Benton Harbor woman was found inside a car at the popular Hayward Wells apartment complex in the shadow of the Benton Harbor water tower a couple of blocks from the high school.
Director Dan McGinnis of the Benton Harbor Department of Public Safety says his team had been alerted early Sunday, January 7th, to the disappearance of the young woman when family members called to say that she had failed to return home as she had been expected to do. Family members were fearful, calling it a case of an endangered missing person.
While searching the community for the young woman, authorities discovered her vehicle parked in the Hayward Wells apartment complex parking lot below the Colfax Avenue bluff that leads to the high school several blocks away.
Once they approached the vehicle, they found a woman dead inside, and it was subsequently confirmed to be that of the missing young woman they had been searching for. McGinnis says his officers "immediately suspected foul play," and began to search for suspects.
McGinnis says their investigation quickly ascertained the identity of the suspect, inasmuch as the victim and the suspect had been involved in a long term relationship. The suspect had fled to Kalamazoo, however, he was arrested and lodged by the Kalamazoo Department of Public Safety on unrelated drug and weapon charges, and a warrant request is pending in Berrien County for Open Murder.
McGinnis says, "Out of respect for the victim and her family, her name will not be officially released until after the autopsy which will be held Tuesday, January 9th, in the afternoon." He adds, "The suspect's official information will also be released at that time." No further information is available on the homicide at this time, as the case remains under investigation.
Hayward Wells is a part of the Trinity Village Non-Profit Housing Corporation headquartered in Muskegon, and is the second largest complex in their independent project line-up, with space for 81 families. Only the corporation's Wells Villa in Muskegon Heights has a higher capacity with apartments for 104 families. Between independent projects and joint ventures, the corporation provides housing for 1,236 families in West Michigan, valued at more than $101-million dollars.