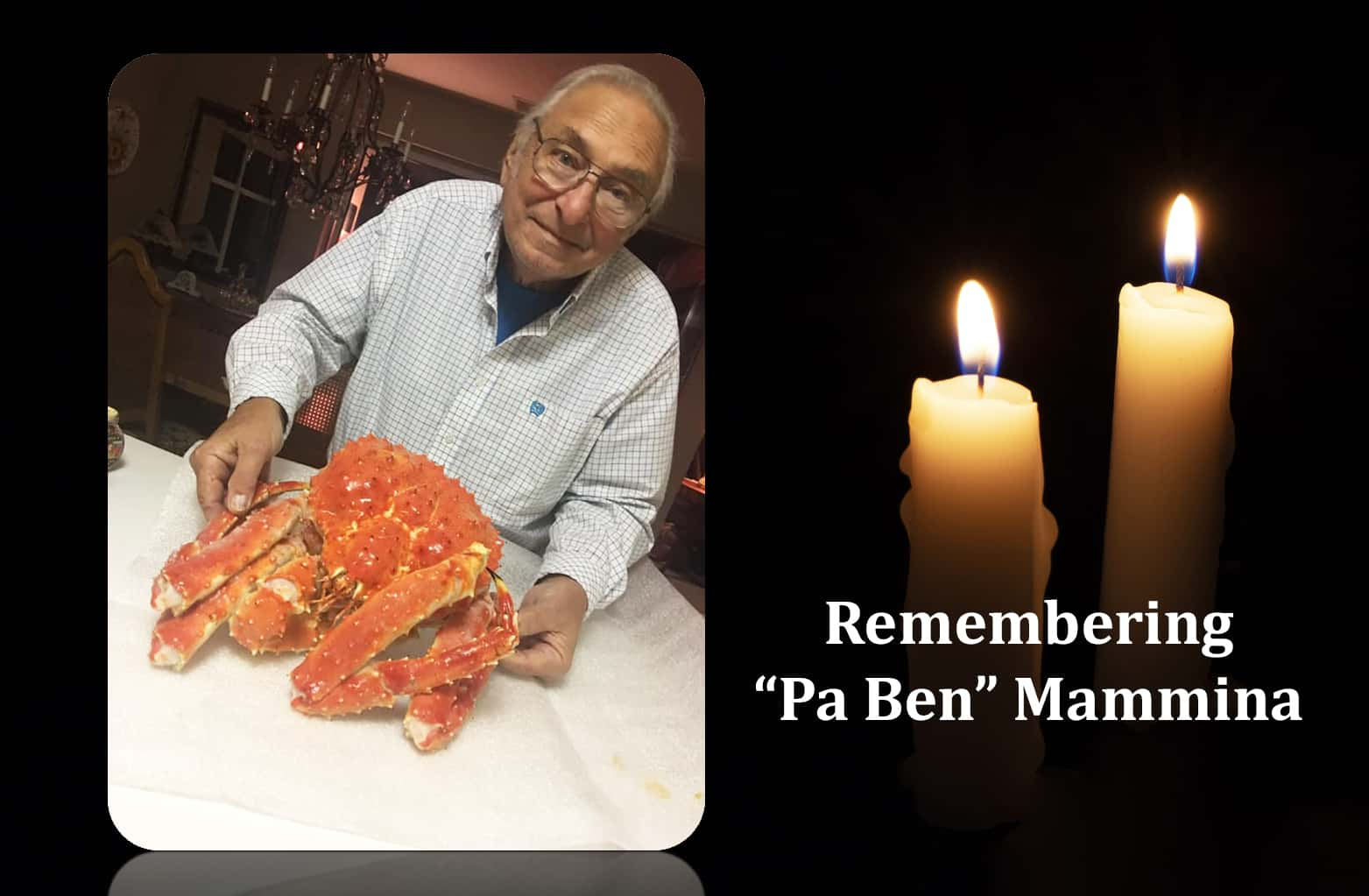 A man responsible for multi-millions of dollars in sales for his beloved Whirlpool Corporation over his 42 years of service to the appliance giant has gone on to his heavenly reward. Ben Mammina of Benton Harbor died surrounded by his family on the afternoon of Christmas day.
While his sales prowess was noteworthy on multiple levels, "Pa Ben" Mammina would probably be rather known as one half of the team that brought renowned singer Jenna Mammina and her siblings Nino, Lisa and Mitch into this world, the other half being "Mamma Grace" Mammina, also the namesake of Jenna's record label, Mamma Grace Records.
He was a remarkable man on many fronts, and one of the kindest souls one could ever meet. His family has shared with me his obituary, which I, in turn, am proud to share with you now:
Benedeto Balbo (Ben) Mammina was born on August, 22, 1933 in Michigan City, Indiana to Tony and Lillian Mammina, and went to heaven at 2:11pm (11:11 PST) on Christmas Day 2018.
He was a lifelong resident of Benton Harbor / St. Joseph, and graduated from St. John's High School in 1951.
Ben attended college at Central Michigan University and Marquette University, receiving a degree in Life!
Being a Veteran of the Korean war was beyond an honor, he loved his country so much, that he would never pass a flag or a veteran without a heartfelt salute. Kilwin's was a regular stop where he was thrilled to get a chocolate shake or a double scoop of his favorite ice cream for serving his country. While stationed in New Mexico, he met his future wife, and love of his life, Grace Margaret Maes. They were married on June 30, 1956 in Las Vegas, New Mexico.
He spent 42 years employed at Whirlpool, beginning as an engineer and finishing his last 20 years in Sales to Sears with his Great Buddy, Don Bodjack, representing many millions of dollars of business of washers and dryers on a handshake.
Ben retired at the ripe young age of 60 to pursue his passion of fishing rivers, lakes and oceans around the country, and other parts of the world, with his pals, but always knew that The Good Ole St. Joe and The Big Lake were his favorite places to wet a line. "Fishin is good-but Catchin is Better!"
He also worked on countless building and design projects, holding patents throughout his career and after retirement. "Pa Ben" as he was known around town, the country and by thousands on social media, knew so much about so many different things including: trivia, chess, engineering, the history of Benton Harbor and St. Joseph, and the card game, Shanghai! He could fix anything and "didn't know what he couldn't do." He enjoyed pasta any day of the week, but for sure on Sunday! Crab was always welcomed at the table as well as anyone who he would meet; and when you did meet him, you were family!
Ben was a member of Saint John / Saint Joseph Parishes as an usher and lectorer. He was also involved in Sons of Italy, The Knights of Columbus and Toastmasters. Most recently he was an active member of the Saint Joseph Waterfront Condominium Community where he simultaneously served on the condo and marina boards of directors.
He found great joy in his family and loved listening and watching them perform on stage; always wishing them to "break some bone's" before every show!
Every time we said goodbye, we would say I love you and Pa Ben's response was "I love you so much and say your prayers."
Survivors include his wife of 62 years Grace, daughters Lisa (Dr. Katy Sommers) and Jenna, son Mitch, granddaughter Rae, grandson Cam, brother Butch, countless relatives and more friends than one person deserves. As one friend said today- "we lost a legacy", another saying "Ben was the nicest man I have he ever met."
He was preceded in death by his parents, Tony and Lil of the famous Mammina's Hamburgers; his sister Louise and especially his beloved son Nino.
Visitation will be at Starks and Menchinger Funeral Home in St. Joseph on Friday, December 28 between 4:30 and 7pm with a rosary at 7.
Ben's funeral will be held at St. Joseph Catholic Church on Saturday December 29 at 10:30 am. A luncheon will follow at the Rose Center and then a celebration Topper or two at Babes…
Come with a story about Ben as we will be sharing his life with each-other after.
Ben Mammina was a community icon, well-respected, loved, and welcomed everywhere he went, which includes a welcoming celebration second to none currently underway on high. He will be missed by all who knew him over his 85 years of life.