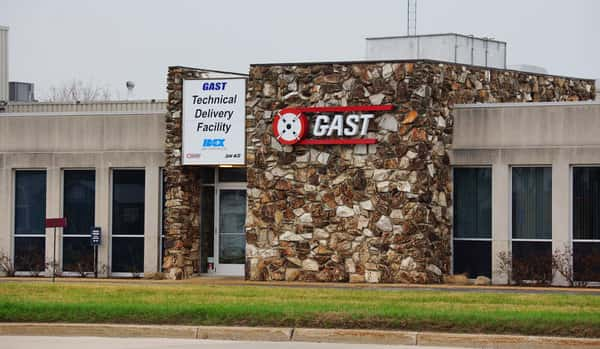 In 2021, Gast Manufacturing of Benton Harbor will be 100 years old, but work is getting underway to build the impetus for a spectacular celebration as the company, a business unit of IDEX Corporation, invests more than $6-million and adds up to 35 new jobs over the next three years, preparatory to that huge milestone event.
Cornerstone Alliance, Berrien County's lead economic development agency, joined Gast's Global Director of Finance Chris Corich tonight in appearing before the Benton Township Board of Trustees seeking an Industrial Facility Tax Exemption for the multi-faceted project to grow operations in Michigan's Great Southwest. Shane Kissack represented Cornerstone on the request.
Gast has been a leader in the design and manufacturing of quality air-moving products such as air compressors, air pumps and similar materials for nearly a century.  Gast plans to add at least 30 new jobs over the next three years, and perhaps as many as 35.
Greg Vaughn, Chief Operating Officer and Vice President of Business Development at Cornerstone Alliance says, "Gast Manufacturing has a long history of producing quality products while steadily growing its Southwest Michigan workforce." He adds, "This expansion is another example of a global company excelling in Berrien County."
Regarding Benton Township's unanimous approval of the IFT issue for 12-years, Vaughn adds, "In today's hyper-competitive atmosphere, it's more important than ever to have a cooperative partner in local government. The Benton Charter Township elected officials always conduct a thorough analysis of the expansion opportunities in front of them and provide a stable environment where businesses can succeed."
The new investment in Gast's existing facility, including the modernized labs, research and development areas, offices, conference rooms and general facility, will help Gast Manufacturing retain and attract new talent to Berrien County. Hiring is already underway for some vacant positions and for the expansion project some hiring is expected to begin within the next couple of months. The full addition of some 30 to 35 jobs will be spread over the next three years.
Chris Corich echoed the sentiments of Gast Manufacturing President Scott Kerns tonight. Kerns says, "Gast is grateful for the continued support of the Township and local community as we seek to make investments in our facility that will enable us to grow with and support our customers," Both men noted, "These specific investments will allow us to stay at the cutting edge of product technology, as well as create an atmosphere that will allow us to attract talent."
Benton Township officials had approved creation of the Tax Increment Financing District for the Gast project back on August 21, 2018 to set the stage for tonight's approval.
Cornerstone Alliance is a non-profit, investor-governed, economic development organization primarily focused on increasing employment opportunities, private sector capital investments and the local tax base in Michigan's Great Southwest; with specialized business services offered in economically distressed areas.