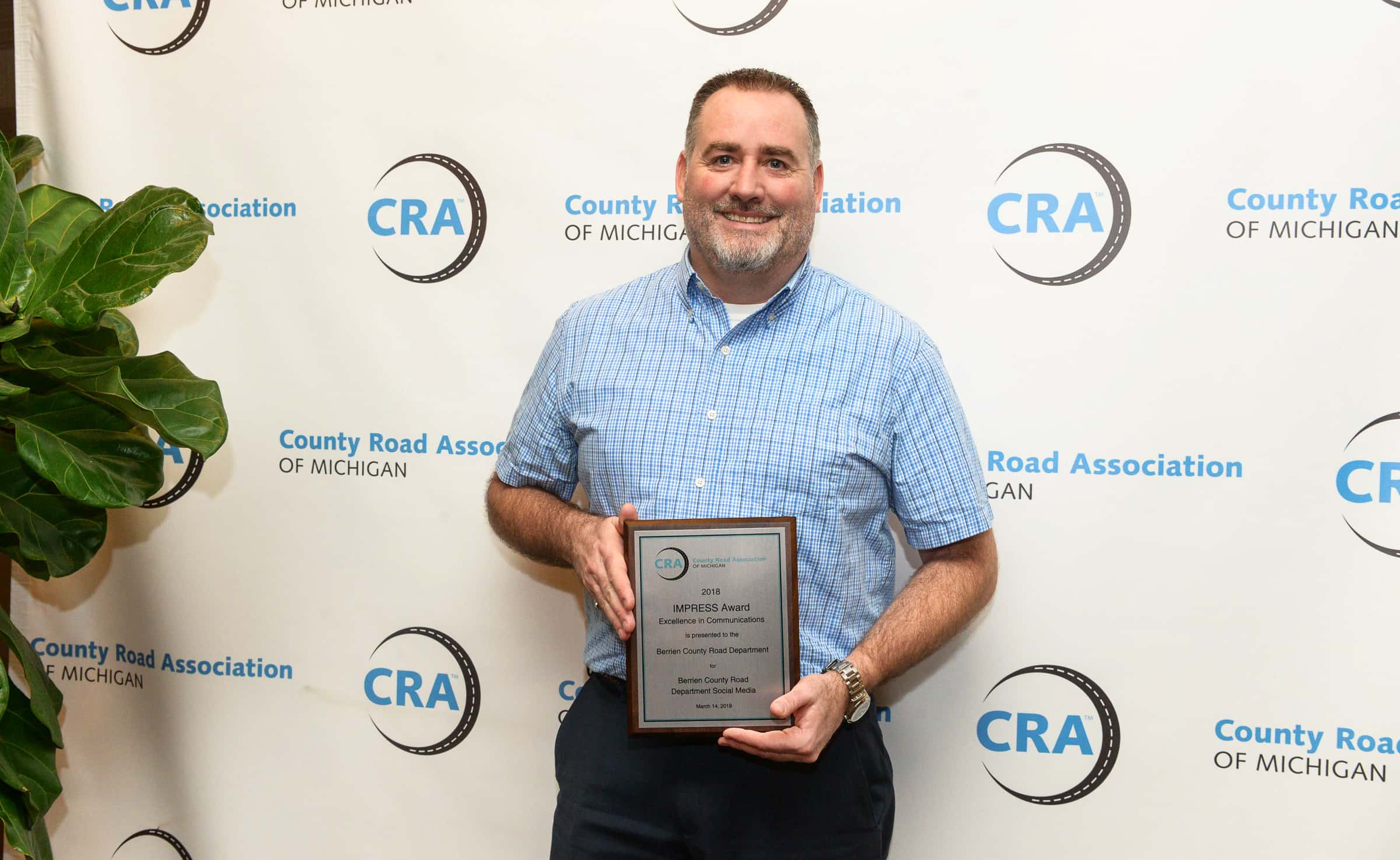 The Berrien County Board of Commissioners knew they had a winner when they hired Jason Latham to take the reins at the Berrien County Road Department after dissolving the former Berrien County Road Commission, but they didn't know they would take the trifecta in the process.
The Berrien County Road Department (BCRD) took home three IMPRESS Awards at the County Road Association (CRA) of Michigan's statewide 2019 Annual Highway Conference last month. IMPRESS awards recognize county road agencies that demonstrate innovation with special projects in communications, operations and collaboration.
BCRD received IMPRESS Awards in Collaboration, Communication, and Operations for its projects, "Berrien County Flood Emergency – Spring 2018," "Social Media" and "Asset Management Roads and Bridges."
Denise Donohue is Director of the County Road Association of Michigan. She says, "Three winning projects by Berrien County Road Department is, as the name of the award suggests, very impressive," adding, "It is very fulfilling to see county road agencies working well with others, creating content for all to see, and having asset management plans in place."
For its Collaboration award, BCRD and its Emergency Operations Center joined forces in February 2018 when flooding prompted a local state of emergency in Berrien County. Thanks to communication and collaboration by the road department, the community knew of closures and detours in an effective and efficient fashion.
For Communications, BCRD has significantly increased its social media presence since 2018, which allows for more communication and quality of services. Between Facebook, Twitter and Instagram, BCRD has embraced social media and created an increased connection to the community at large.
For Operations, BCRD has been educating local officials since 2011 about the benefits of asset management. These include roadway decisions and best solutions of maintaining roadways that are in good/fair condition. The road department's use of asset management principles has helped streamline processes and ensured economical use of resources.
An independent panel of communications and operations experts from several of Michigan's 83 county road agencies judged the projects. Award recipients were honored for projects that solved time restraints, labor costs, communication barriers and fostered collaboration.
The 83 members of the County Road Association of Michigan represent the unified voice for a safe and efficient county transportation infrastructure system in Michigan, including appropriate stewardship of the public's right-of-way in rural and urban Michigan.
Collectively, Michigan's county road agencies manage 75-percent of all roads in the state, including 90,000 miles of roads and 5,700 bridges. County road agencies also maintain the state's highway system in 64 counties. Michigan has the nation's fourth-largest local road system.
In the photo accompanying this story on Moody on the Market, Director Jason Latham is shown with one of the three awards presented last month.