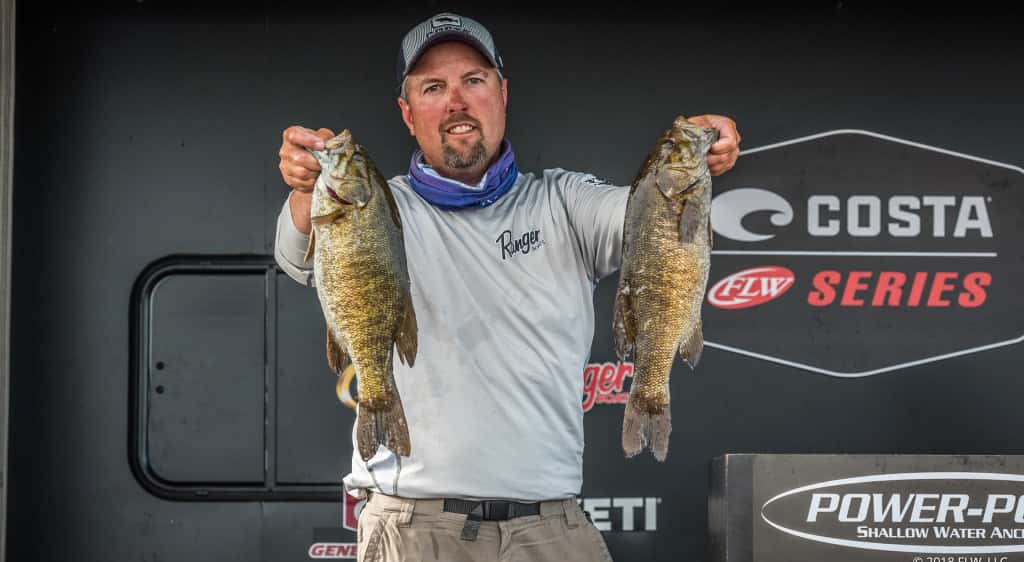 Fishing Champ Ron Nelson of Berrien Springs is no stranger to tournament success in the world of championship fishing, but this year he's earned a slot as one of 34 rookies on the Fishing League Worldwide Pro Tour and hoping for Rookie of the Year honors.
Fishing League Worldwide (FLW) is the world's largest tournament-fishing organization. When they announced the full pro roster for the upcoming 2019 FLW Tour season, Ron Nelson was on the list.
This will mark the 24th season of the FLW Tour, and the field will be showcased along the tour, which features seven regular-season tournaments around the country with competition kicking off at Sam Rayburn Reservoir from January 10th to the 13th in Brookeland, Texas. The tour will wrap up near the end of summer with the world championship of bass fishing – the FLW Cup in Hot Springs, Arkansas.
Ron Nelson from Berrien Springs as among the 170 professional anglers competing this year, where he will be one of 34 rookies on the Tour, and will look to accumulate the most points of his 33 peers to win the coveted FLW Tour Rookie of the Year award.
There was enormous demand to compete on the 2019 FLW Tour, with 210 anglers registering for a slot on the prestigious tournament circuit in its final year of priority registration before switching to a strict qualifying process and a 150-pro field in 2020.
The top award at each Tour event is $125,000 with $300,000 going to the winner of the FLW Cup. Since the final field exceeds the published payout basis of 150 pros, FLW will survey all 170 participating pros to finalize the 2019 payout structure.
Bill Taylor is Senior Director of Tournament Operations for the tour. He says, "With the demand we saw this year to join the FLW Tour, we couldn't be more eager to kick off another season at Sam Rayburn Reservoir in January." He adds, "FLW has long been the home to some of the most decorated bass anglers in the sport, and with the expanded live coverage at all of our Tour events this year, we are more than ready to show off their skills at some of the best fisheries in the world."
The 2019 FLW Tour roster is headlined by a stout contingent of bass-fishing heavyweights, including three-time Angler of the Year and 2003 FLW Cup champion David Dudley of Lynchburg, Virginia, 2015 Angler of the Year and 2011 FLW Cup champion Scott Martin of Clewiston, Florida, and two-time Angler of the Year Bryan Thrift of Shelby, North Carolina. They'll be joined by bass-fishing legends Jimmy Houston of Cookson, Oklahoma, and Larry Nixon of Quitman, Arkansas, as well as three former FLW Cup champions – John Cox (2016), Brad Knight (2015) and Darrel Robertson (2002).
As noted earlier, Berrien's Ron Nelson is no stranger to success, holding three career wins on the semi-pro Costa FLW Series Tournament circuit. You can read about one of his largest victories from last summer when he picked up nearly $100K on Lake Champlain in this story earlier on Moody on the Market:
https://www.moodyonthemarket.com/berrien-springs-angler-hits-fishing-tourney-for-nearly-100k/
The complete FLW Tour roster for 2019 can be found at FLWFishing.com.
Here is the 2019 FLW Tour Regular-Season Schedule:
January 10-13 Sam Rayburn Reservoir in Brookeland, Texas...Hosted by the Jasper County Development District
February 7-10 Lake Toho in Kissimmee, Florida...Hosted by Experience Kissimmee and Experience Kissimmee/Kissimmee Sports
March 7-10 Lake Seminole in Bainbridge, Georgia...Hosted by the Bainbridge Convention and Visitors Bureau
March 28-31 Grand Lake in Grove, Oklahoma...Hosted by the City of Grove and Cherokee Casino Grove
April 11-14 Cherokee Lake in Jefferson City, Tennessee...Hosted by the Economic Development Alliance, Jefferson County
May 2-5 Lake Chickamauga in Dayton, Tennessee...Hosted by Fish Dayton and the Rhea Economic and Tourism Council
June 27-30 Lake Champlain in Plattsburgh, New York...Hosted by the City of Plattsburgh and Adirondack Coast Visitors Bureau
Aug. 10-12 FLW Cup – Lake Hamilton in Hot Springs, Arkansas...Hosted by Visit Hot Springs and the Arkansas Department of Parks and Tourism
FLW announced last week a greatly expanded FLW Live schedule for the 2019 season as part of its commitment to growing the sport of tournament bass fishing and bringing more publicity to the anglers who fish its circuits. The live on-the-water broadcast will air on days three and four of all FLW Tour regular-season events from the boats of the tournaments' top pros. Originally airing from 8 am to Noon during FLW Tour events, the FLW Live on-the-water program has been extended two hours and will now broadcast from 8 am to 2 pm. Every weigh-in will be broadcast on FLWFishing.com.
You can watch any FLW Live broadcast – either from on the water or weigh-in – by logging on to FLWFishing.com and clicking on the FLW Live page link. On-the-water broadcasts will be simulcast on FLWFishing.com, YouTube.com/FLWFishing and Facebook.com/FLWFishing. All FLW Live broadcasts are free to watch.
For regular updates, photos, tournament news and more, follow the sport's top anglers on the FLW Tour on FLW's social media outlets at Facebook, Twitter, Instagram, YouTube and Snapchat.
FLW is the world's largest tournament-fishing organization, providing anglers of all skill levels the opportunity to compete for millions in prize money in 2018 across five tournament circuits. Headquartered in Benton, Kentucky, with offices in Minneapolis, FLW and their partners conduct 286 bass-fishing tournaments annually around the world, including the United States, Canada, China, Italy, South Korea, Mexico, Portugal, South Africa and Spain.
FLW tournament fishing can be seen on the Emmy-nominated "FLW" television show, broadcast to more than 564 million households worldwide, while FLW Bass Fishing magazine delivers cutting-edge tips from top pros. For more information visit FLWFishing.com and follow FLW at Facebook, Twitter, Instagram, YouTube and Snapchat.