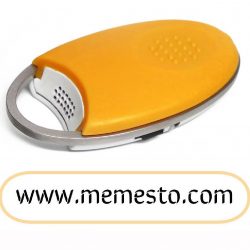 When I first introduced you to Zach Gordon a couple of years ago he was working on a brilliant idea through InventStart in a bid to bring an inventive new device to the marketplace to improve the quality of life for patients suffering from diseases associated with memory-loss. He was on an aggressive run because he knew the concept was solid and was working in his private experimentation.
Fast-forward to today and Mr. Gordon has achieved world-class success and has brought his new product to market with the goal of providing improved care for a broad range of patients suffering from diseases like Alzheimer's and Dementia.
His innovation is the Memesto -- a portable device invented by Gordon specifically to play music and to deliver custom messages, thereby bringing comfort while also helping to lower one's dependence on prescription drugs.
Zach Gordon, as you may recall from my original story, is a Registered Nurse/inventor from Berrien Springs,  who came up with the idea while working with patients suffering from those diseases most associated with memory-loss such as Alzheimer's and Dementia.
By partnering with a group of investors to bring the concept to reality, a new company was formed called  Edgewater Safety Systems (ESS) which is located in Saint Joseph. The product (now officially named the Memesto™) was prototyped and will be ultimately mass produced by a local group of world-class engineers at Edgewater Development, a division or Rick Blake's Edgewater Automation, also located in Saint Joseph.
The Memesto™ is a small, portable device that can play music and messages. After being tested in multiple nursing homes, it has been found to be effective in calming patients and reducing the amount of medication that would have otherwise been needed to be administered.
Memesto's features include:
A durable design that is easy to wipe clean...
Single button operation on the front to instantly play a message on demand...
An internal speaker with clear audio quality...
A display on the rear to allow caregiver control...
Dr. Daniel L. Hayward is one of Gordon's investors in Edgewater Safety Systems. He says, "Anything that can decrease possibly dangerous drugs is a major step in the right direction!"
The Memesto™ is now available on-line for pre-order with shipments expected to start in January 2018.
More information about the product is available online by clicking the link below, and you can also see a video news story about the device, also linked below:
Edgewater Safety Systems was founded earlier this year in St. Joseph, in order to bring innovative products and solutions to the medical market. Zach Gordon, the inventor of Memesto, and as founder, is Vice President of Edgewater Safety Systems.