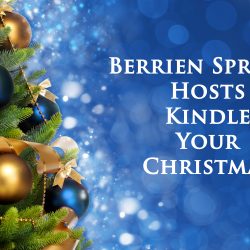 While it's not likely as old as the 1839 Courthouse located there, an annual Christmas tradition that has been around for decades will be replicated again this week when downtown Berrien Springs comes alive with the Kindle Your Christmas celebration.
Your chance to Kindle Your Christmas happens Thursday, December 7th from 6 until 9pm as authorities close off the streets of the central business district to allow residents and visitors alike to stroll the streets from store to store while enjoying live music from musicians performing in the streets and other great family traditions.
Also on the Christmas agenda in the village of Berrien Springs are ice carving, horse drawn carriage rides and a tram ride down to Grove Park and back. Tram rides will also be offered from the Berrien Springs Public Library to downtown and more.
The historic 1839 Courthouse complex will be open to visitors, there will be a live nativity scene downtown and the community will host the village Christmas Tree Lighting Ceremony complete with a hand bell choir accompaniment.
Other highlights of the Kindle Your Christmas celebration are kid's face painting, children's crafts, treats and special pricing offers in many of the retail shops in the central business district.
Santa & Mrs. Clause will take up residence in the Village Hall during the festival to hear the wish lists of children from the community, and everyone is encouraged to bring along one or more non-perishable food items and/or new, unwrapped toys for the community's "Stuff a Bus For Christmas Care" to help the less fortunate members of the local community during the holiday season.
Berrien Springs Village Clerk Sheri Kesterke is leading the campaign with other volunteers in the community again this year, and she hopes to see everyone take advantage of the celebration's good cheer, keeping alive a long running tradition in the heart of Berrien County.