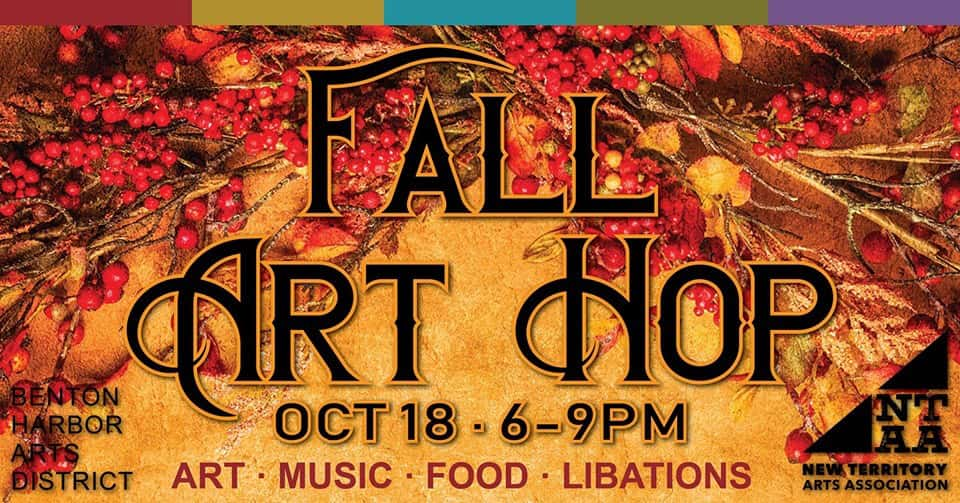 As the cooler breezes of fall make their way to the Lake Michigan shores, the crew at the New Territory Arts Association in the Benton Harbor Arts District hope you'll make plans to join them for their Annual Fall Art Hop coming on Friday, October 18th from 6 to 9pm.
The Fall Art Hop features great art, music, food, shops, drinks, fun and friends and is always one of the most popular hops of the year. You are invited to browse the Arts District, meet some cool artists, see fantastic artwork, sample food and drink, visit businesses and enjoy all of the good the District offers.
Arts District venues include​ ​Water Street Glassworks​,​ ​The Phoenix Coffeeshop​,​ ​The GhostLight​ Theater,​ ​210 Art Space​,​ ​The Livery​,​ ​3 Pillars Music​,​ ​Houndstooth Restaurant​,​ ​The OutCenter​,​ ​Benton Harbor Public Library​,​ ​The Collective​,​ ​The Hawks Nest​,​ ​Citadel Dance & Music Center​ and more.
Here are just a few of the Fall Art Hop highlights included this year:
GhostLight Theater: The GhostLight Theatre will be hosting a "2019 Season Review" event during the October 18th Art Hop…
The OutCenter: The OutCenter will feature an exhibition of paintings and choreography videos by Peter Sparling, "See Me as I Feel."
Water Street Glassworks: Water Street Glassworks will feature "ripe" blown glass pumpkins for sale in the Dorris Akers Gallery, refreshments and glass demos in the hot shop. Plus, 100-percent of your purchase supports the programming of the Water Street Glassworks.
Benton Harbor Public Library: The Benton Harbor Public Library will feature artwork by Nathan Smith. In his own words "I have a love for comics and a passion to see the culture expand without limitations to All of God's Creation. Inking, freehand drawing, graphic design and digital art is what I love to do."
Oak Room at the Citadel: Upcycle Fest will be held at the Oak Room at the Citadel. Area upcycle artists will create art live at the Citadel Oak Room. You can nibble on Silver Beach Pizza and sip some wine and local cider and watch something old become new again. Hoppers can also view "Synergy 3" by Alayjah Thompson along with art by other local young artists. The Dance Department will also host a family hip-hop night and will have an open rehearsal for A Steamed Nutcracker from 6:30-8:30.
The Citadel Music Center: The Music Center of the Citadel Music Center will host an open house with live music by students and faculty and Fall sips and bites.
The Hawk's Nest: The Hawk's Nest will feature live music by Noah J. Privett and Dirty Sally, and artwork by Patrick Adam WillsCulby, Nikki Gauthier, Miranda Skibbe, Kendra Yarlin, Kimi Bollman, Miriam Olofsson, and Tina Schneider.