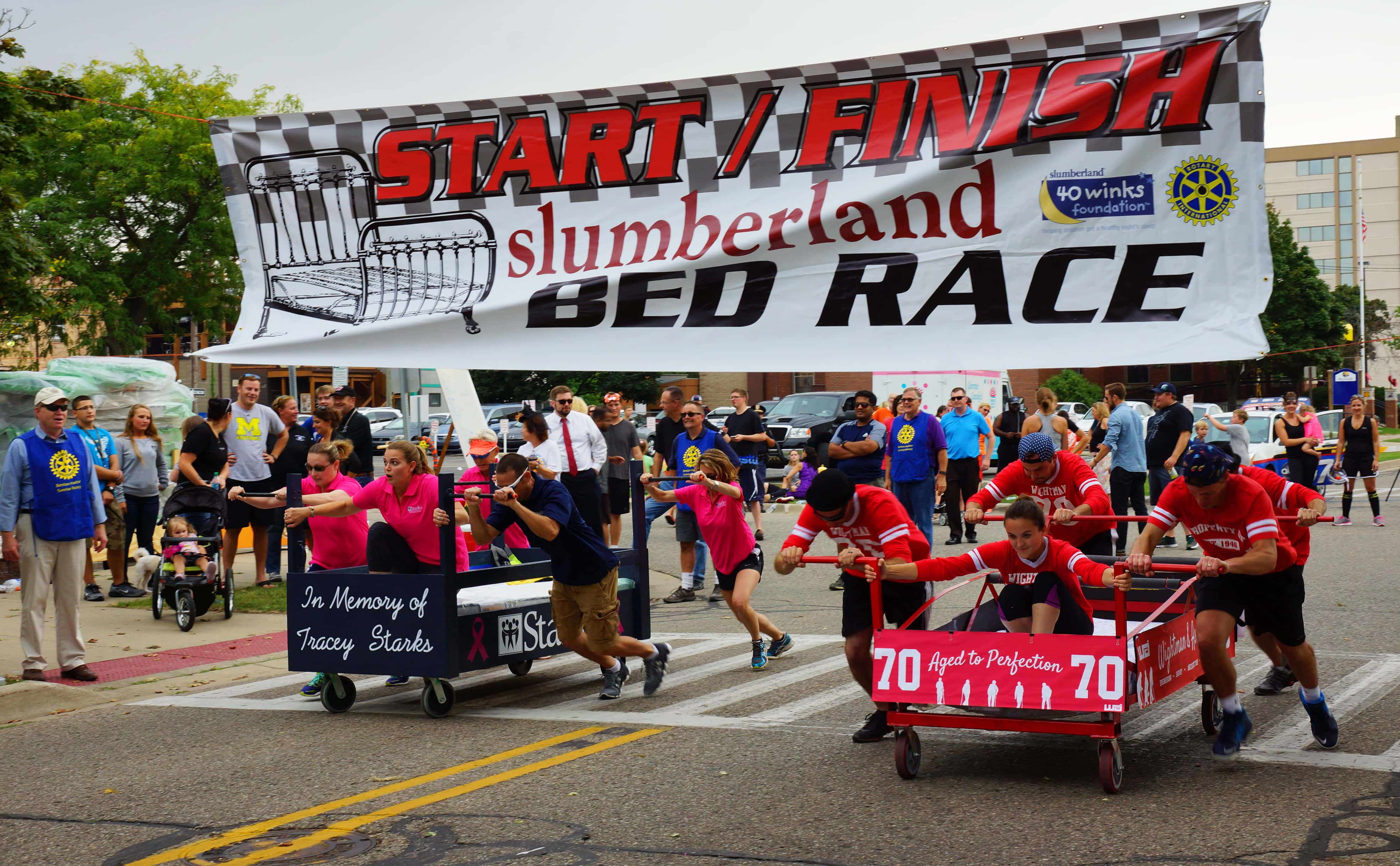 If you've never witnessed the sheer madness and wild enthusiasm of businessmen and women racing wheeled beds down the boulevard overlooking Lake Michigan, hold off on any plans that might conflict with the 4:30pm start time on Friday, September 20th for the 7th Annual Great Bed Race in downtown St. Joseph and make plans to take it all in.
The Benton Harbor Sunrise Rotary, in partnership with Slumberland Furniture, will hold the seventh annual Great Bed Race along Lake Boulevard in St. Joseph that evening with Berrien County Sheriff Paul Bailey serving as Grand Marshal.
This year's charitable event will feature a WIRX Half-Time Show that includes a competition among radio station employees, select listeners, and the station's Giant Screaming Yellow Lobster.
Bryan Tutton from the Benton Harbor Sunrise club says, "The goal is to bring the Benton Harbor and St. Joseph communities together to enjoy a fun-filled event and cheer on their favorite companies in the race." Spectators are encouraged to head to Lake Bluff Park along Lake Boulevard by 4:00pm for the best seating and to choose their favorite teams during the Parade of Beds at 4:30pm.
A portion of the dollars raised in the event are used to get kids off the floor and into a bed through the Rotary partnership with Slumberland Furniture's 40 Winks campaign. Mattresses and beds are donated for those who might otherwise have nowhere to sleep. To date, the local Slumberland store has distributed 210 beds for area children.
The Benton Harbor Sunrise Foundation provides beneficial grants to community partners, organizations, and projects that focus on the improvement of literacy, numeracy, and the personal development of youth in Benton Harbor.
Most businesses taking part in the Great Bed Race build their own beds, but with the generous support of Home Depot, Rotarians were able to construct three new beds for competitors in need of a ride.
The Great Bed Race on Friday is free to spectators. Raffle tickets will be available during the event for Saturday's Pumpkin Raffle at $10 each. The Pumpkin Raffle takes place in conjunction with St. Joseph's Farmer's Market on the Bluff from 10:00 am until 2:00 pm that Saturday.
For each raffle ticket sold, a numbered pumpkin is placed in the Pumpkin Raffle water tank. At 2:00pm., pumpkins will be drawn from the tank. Raffle prizes range from $50.00 to $500.00. Individuals do need not be present to win.
Sunrise Rotarians will also have homemade baked goods, unique items, and plants for sale. Pumpkins will be available at $5.00 each for children to carve and decorate.
The Rotary's Pumpkin Raffle is licensed by the state of Michigan under license #R53974.
All proceeds benefit the children and the community of Benton Harbor. For more information or to donate to the Benton Harbor Sunrise Rotary Foundation online, you can visit at www.bhsunriserotary.org.