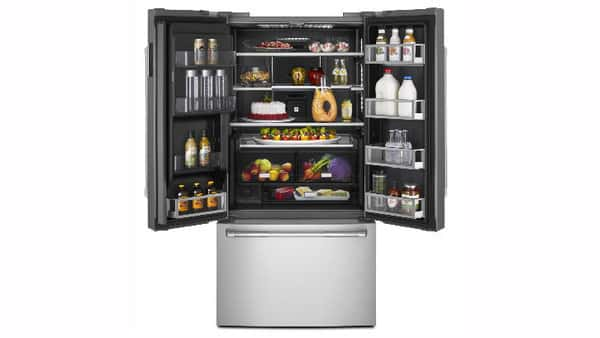 So, you're at work chatting with friends and decide to host a little impromptu cocktail party at your place after work. Realizing that you recently wiped out most of your cache of ice from the freezer you simply log onto your Wi-Fi connected Jenn-Air refrigerator from your desk or even from your smartphone and dial up the ice maker inside. That's just one of the great options coming in a fabulous looking new refrigerator from the Benton Harbor-based company.
In addition to Wi-Fi connectivity and unique performance capabilities, a new counter-depth French door refrigerator from Jenn-Air will feature the brand's elegant and eye-catching Obsidian interior. The new 72-inch counter-depth French door refrigerator, scheduled for availability this winter, will expand the brand's collection of Obsidian options beyond currently available built-in models.

Brian Maynard is Marketing Director for Jenn-Air. He tells us, "While unexpected in a refrigerator interior, black really adds a modern sophistication that has been very well-received by designers and high-end consumers alike." He adds, "We're excited to broaden our Obsidian options with a counter-depth model that we've elevated to a new level with intelligent connectivity."

Like the luxury appliance maker's recently launched connected wall oven, the new Jenn-Air counter-depth French door refrigerator will feature wireless connectivity and a fully functioning application for IOS and Android devices. The app will allow users to view the appliance status of activated settings while also providing remote control of refrigerator settings. Users can choose from a range of notifications to receive such as a door that's been left open or a loss of connectivity. A special mode allows for remotely activating specific appliance behavior such as making extra ice when entertaining or decreasing refrigerator temperatures in anticipation of doors being open more frequently.

Maynard says that in addition to enhanced features, the control the app offers remotely can also help optimize conditions for the refrigerator's contents. For example the Max Cool setting which lowers the temperature for a select period of time, can be activated prior to returning home to unload a large batch of groceries.

In addition to status updates, remote control and notifications enabled by the app, there is quick access to online support and instructions. For added convenience, the app will also include live links to purchase items like water and air filters.

For optimal storage conditions, the brand's patented TwinFresh Climate Control System features separate evaporators in the refrigerator and freezer compartments that deliver independent humidity and temperature control, allowing two distinct environments for fresh and frozen foods. Other new features designed to keep food at its freshest include two Humidiseal drawers that provide a higher humidity environment to help keep produce fresh.

Maynard says, "We designed these to be peerless in their category with the same high standards that we apply to our built-in collection."

Additional luxury details found on this model include soft-close refrigerator and freezer drawers. Elegance shelving with crystal clear glass and metal door bins are all adjustable for flexible loading options. Integrated cabinet LED strip lighting brightly illuminates the interior while drawer lights make sure nothing gets overlooked.

In addition to offering a more built-in appearance, as well as the most capacity of the brand's counter-depth offerings, this refrigerator's 72-inch height provides three extra inches that fill the gap 69-inch refrigerators leave below standard cabinets. Style options include a Euro-Style design featuring slightly curved, metal handles, and a more commercial Pro-Style which includes metal handles with diamond etched grip. Suggested retail prices will be $4,599 for the Euro-Style and $4,699 for the Pro-Style option.