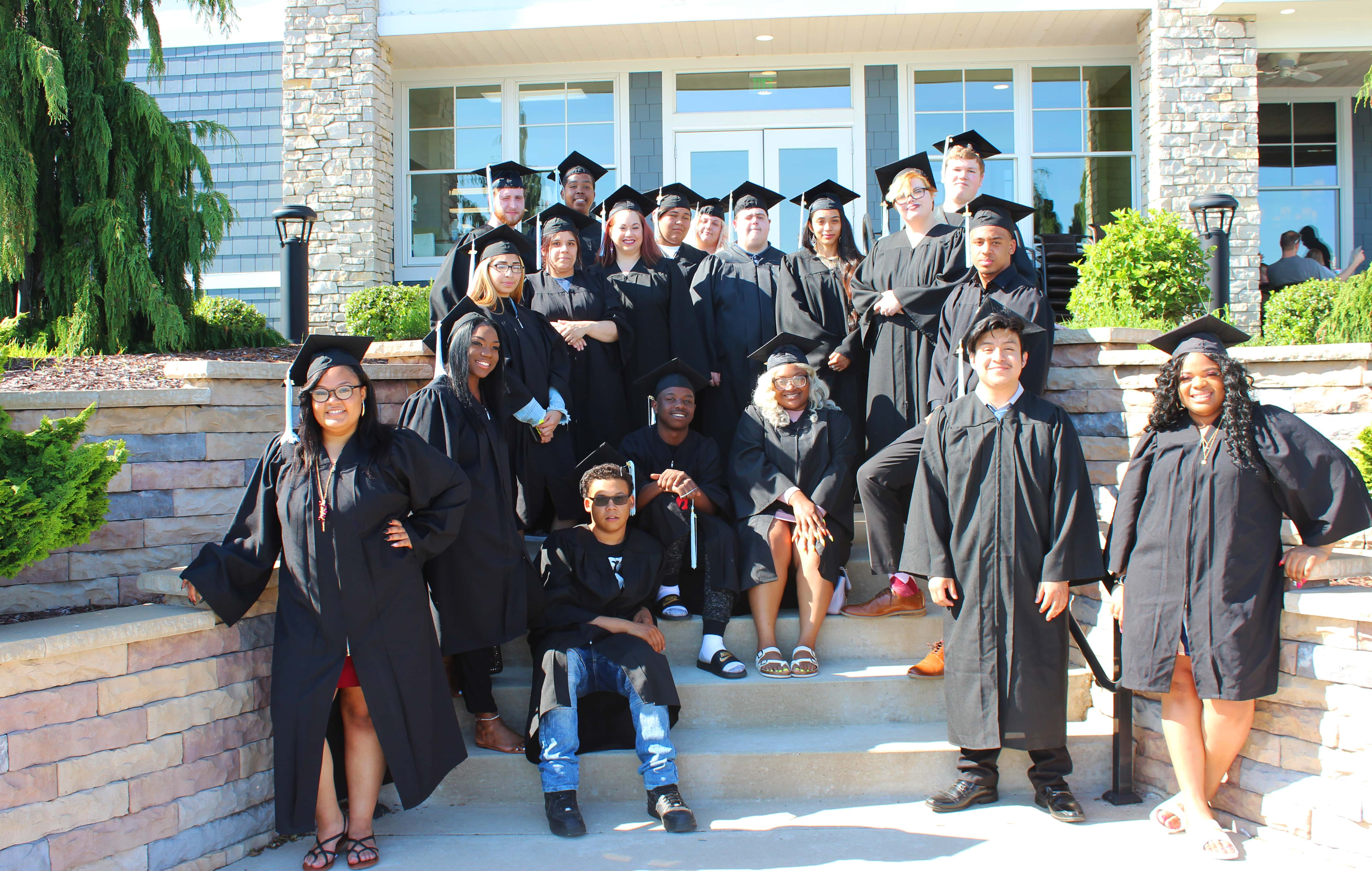 In a big night overlooking the inner harbor last night, three dozen new graduates set sail on the next adventure in their careers after marking graduation from the Bridge Academy operated by Kinexus Group in Benton Harbor.
In the bright second floor ballroom at The Inn at Harbor Shores, 36 new graduates from the Bridge Academy youth and adult education programs earned their diplomas and were promptly told by their guest speaker that while it might mark the end of a portion of their formal learning, it's only the beginning of the next phase of their careers for all of them.
More than 150 family members, friends, Kinexus board members and community partners joined in the celebration at The Inn at Harbor Shores on Tuesday evening, as graduates were honored for achieving either a GED or high school diploma to help them prepare for the next steps of their lives.
Emmanuel Clark, Owner of Black Nasdaq, was the commencement speaker, telling the grads, "What you guys did here today is only the beginning," and adding, "You're not even scratching the surface. You're going to have hard moments but failure is not a destination, it's a part of the process to success."
Special recognition at the event included:
Alumni Award: Halaila Marie Correa-Acevedo
Karrington Penny Memorial Academic Achievement Award: Christina Araguz
The Bridge Academy is run by Michigan Works! Berrien, Cass, Van Buren, a subsidiary of Kinexus Group, and in partnership with Berrien Springs Public Schools. Through the partnership, the Bridge Academy offers academic programs including GED or online high school diploma. In addition, the Bridge Academy offers vocational training programs in high demand industries such as National Retail Federation, Pre-Apprentice Construction Training, and Certified Nurse Assistant training.
The Bridge Academy has programs that serve non-traditional students, including youth 16-19 and adults who are 20 and older that are committed to achieving academic and vocational goals. Enrollment for fall begins in July. Anyone with questions about the Bridge Academy youth services or adult education, is invited to contact Allie Knapp, Education Services Manager, at 269.927.1064, x1412, or KnappA@kinexus.org.
Kinexus Group is an organization that invests its time and resources into inspiring positive economic change one individual, one business, and one community at a time. For more information, visit www.Kinexus.org, follow along on Twitter @KinexusGroup or "like" them on Facebook @KinexusGroup.