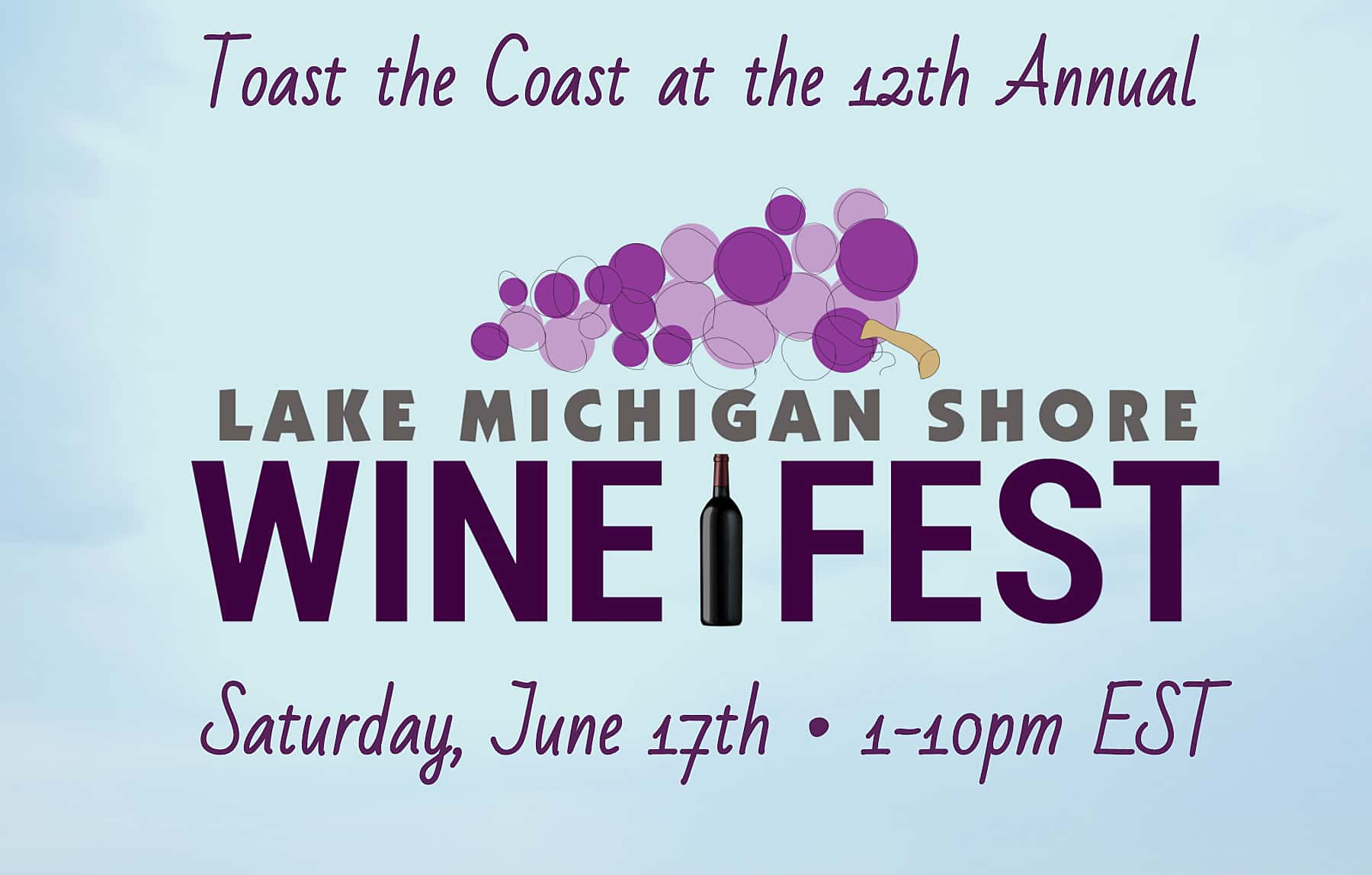 If you've ever waited until the last minute to get your tickets to the Lake Michigan Shore Wine Festival at Weko Beach in Bridgman you might want to seriously reconsider that strategy from here on out. If you procrastinate long enough, there's an excellent chance you will be shut out…as the 12th Anniversary event is nearing a sell out position. In fact…for now the only way to get tickets is in advance and if there are any tickets left on game day, you might get lucky and score one.
In the meantime…g
et ready to toast the coast!
The Lake Michigan Shore Wine Trail is proudly gearing up to celebrate the 12th anniversary of the Lake Michigan Shore Wine Festival on Saturday, June 17, 2017, from 1 to 10pm at the picturesque Weko Beach. More than 4,000 guests from all over the Midwest are expected to raise a glass to this much-anticipated annual event commemorating Southwest Michigan's award-winning wineries, incredible shorelines and charming resort towns.
The party is presented by The Greater Bridgman Area Chamber of Commerce and Growth Alliance, the Lake Michigan Shore Wine Trail, which is now in its 15th year and Traffic PR & Marketing.
Due to the extremely high demand and the strong possibility of a sell-out position, organizers have installed the new plan this year of providing tickets exclusively in advance for $20 (plus service fee) through June 16 at this link: brownpapertickets.com or at the Harding's Friendly Market in Bridgman. All admission sales end at midnight on Friday, June 16. Then, and only then, if there are still some tickets available, the remaining admission tickets at the door will be $25 with no guarantees that any will be available, and there are no refunds under any circumstances. 
All attendees will receive a souvenir wine glass upon entrance, and your wine tasting tickets cost $1 per ticket (with tastings running 1-to-2 tickets per tasting and 6-10 tickets per glass of wine). Food booths, on the other hand, as has become tradition, are cash only, and no outside coolers will be allowed. 
The following Lake Michigan Shore Wine Trail Wineries will be on hand for the big event:
12 Corners
Baroda Founders
Cody Kresta
Cogdal
Contessa
Dablon
Domaine Berrien
Fenn Valley
Free Run
Gravity
Hickory Creek
Karma Vista
Lawton Ridge
Lazy Ballerina
Lemon Creek
Round Barn
Julian
Tabor Hill
Vineyard 2121
Warner
White Pine
An eclectic musical line-up this year includes the following artists:
8:15-10pm         The Rock Show
6:15-7:45pm   Joanna Connor
4:15-5:45pm    Top Secret Band
2:30-3:45pm   The Empty Pockets
1-2:15pm      Rebecca Anne Band

All festival attendees can avail themselves of free parking, and shuttle buses will be available at designated lots throughout Bridgman. Check the website for participating local hotels for lodging & shuttle transportation.

The 12th Annual Lake Michigan Shore Wine Fest us a rain or shine event.  An ATM machine is available, and a reminder that all food booths are cash only. The event begins at 1pm EDT and ends at 10pm EDT.  You can call 269.925.6301 for additional information. No pets are allowed on premise and there is no smoking allowed.

Weko Beach is located off of I-94 at Exit 16 in Southwest Michigan. Drive on Red Arrow Highway to the stop light in Bridgman, then west on Lake Street. Parking and shuttle buses will be available at designated lots in Bridgman.
For additional information, visit www.lakemichiganwinefest.com, www.swmichigan.org, or call 269.925.6301. If you take time out to "Like" Lake Michigan Shore Wine Festival on Facebook, you can follow all updates there as well as on their Instagram and Twitter channels for all current news and updates.