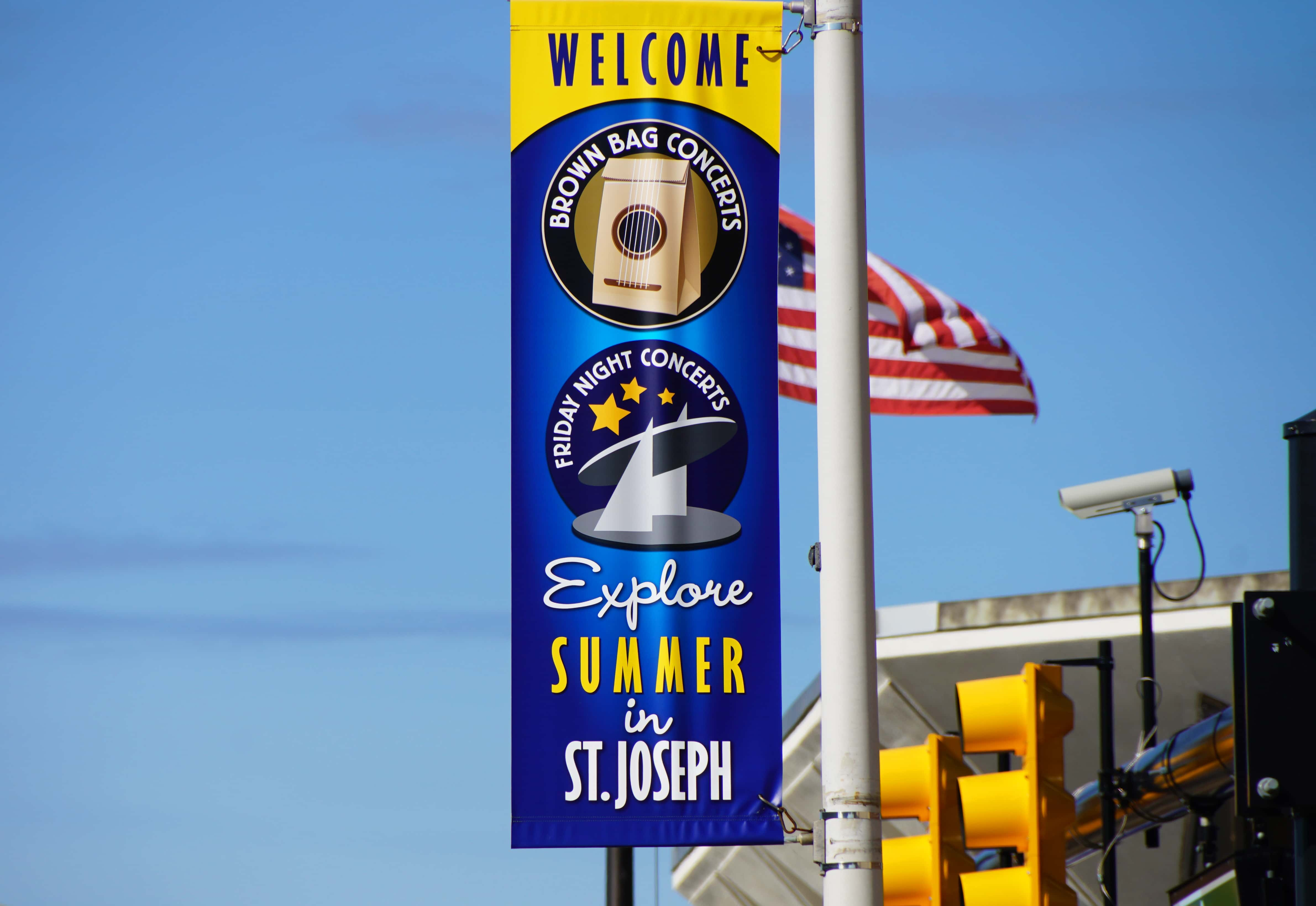 Working together to capture the traveling public's imagination and desire to search out new adventures in Michigan's Great Southwest, the crew at St. Joseph Today has teamed up with The Boulevard Inn & Bistro to deliver some colorful, informative and eye-popping new banners to the street lights along Main Street in downtown St. Joseph.
Inasmuch as the community of St. Joseph is primarily known as a summer destination thanks to an array of beautiful downtown attractions and pristine sandy beaches, both businesses are hopeful that the striking new banners will help showcase the exciting events that happen throughout the course of the entire year, not just in the good ole summertime.
As Amy Zapal, Executive Director of St. Joseph Today says, "St. Joseph is really a destination for year-round fun!" She points out that, "In addition to the many spring and summer events, fall and winter are also jam packed with fun for all ages."
Zapal reminds visitors and residents alike that, "From Fall Festival weekend, a celebration of autumn, and Roots & Brews, a beer, wine and cider tasting event with live music in late September, to the Luminary Festival, a holiday shopping kick off in mid-November and the Magical Ice Fest, the annual ice carving competition and extravaganza in early February, there is always something to do in Southwest Michigan. And these are just some of the events that make our community a vibrant and exciting place to be."
Zapal tells us that The Boulevard Inn & Bistro is a proud sponsor of many events throughout the year, and adds, "They're a great community partner and provide support for a vital year-round downtown for residents and visitors to enjoy."
There are several very colorful variations in the light pole banners running along the I-94 Business Loop through the community which is always Main Street in the city limits.
The Boulevard Inn & Bistro offers guests a traditional, full-service, all-suite hotel and restaurant located on the picturesque bluff overlooking Lake Michigan. It's a beautiful getaway destination that features spacious, comfortable, and quiet suites with scenic views in the heart of St. Joseph's vibrant central business district – within walking distance of the beach, local shops, restaurants, and many popular attractions.
St. Joseph Today is a 501(c)(3) membership-based organization dedicated to developing and promoting events and businesses in St. Joseph and its surrounding communities. For more information about upcoming events, visit stjoetoday.com, facebook.com/stjoetoday, the Welcome Center or call 269-985-1111.
As you drive through downtown on your way to shopping, lunch dates, dinner and fun be sure to take note of the great new banners now in place for everyone to see.