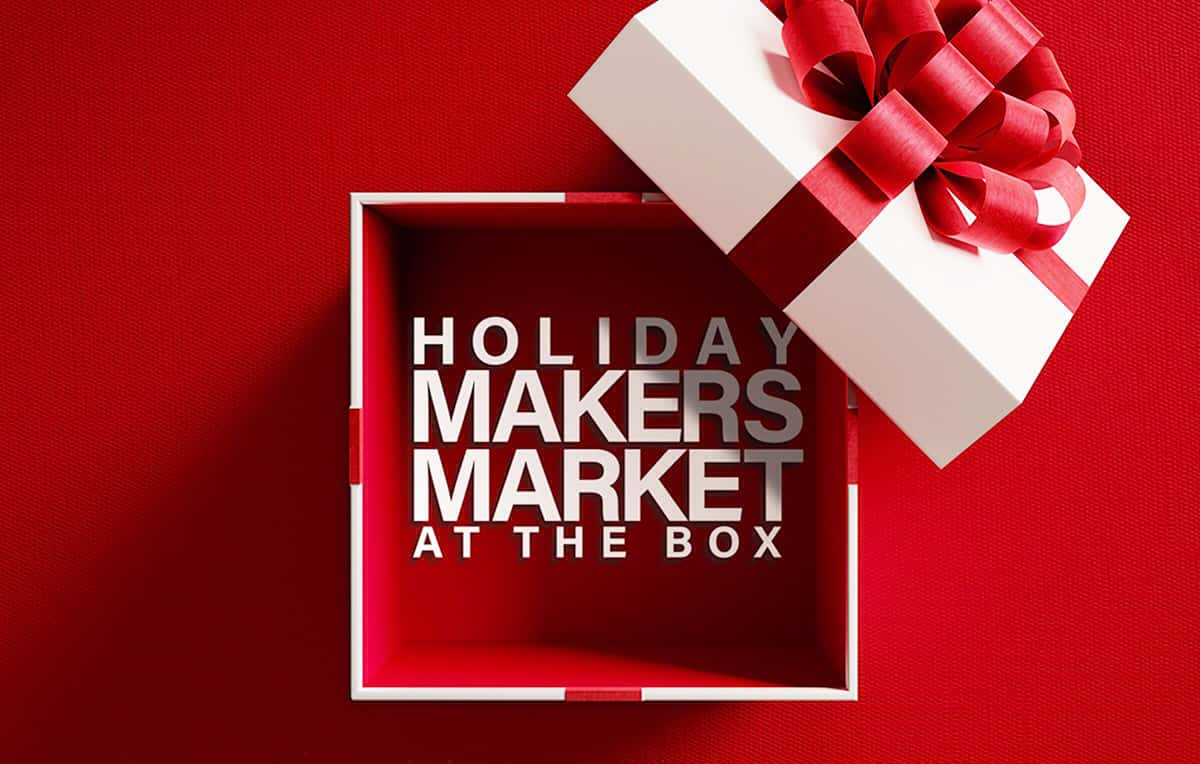 There's a never ending supply of local talent ready to help you score some great holiday points with members of your family or those in your circle of friends who value locally-made, hand-crafted items as gifts. Fortunately for you, a large contingent of those "makers" will be on hand late this month for an encore of the Holiday Makers Market at the Box.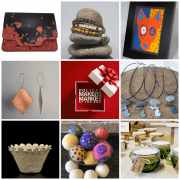 On Saturday, November 30th, Artists & Makers will be setting up booth spaces throughout the Box Factory for the Arts in St. Joseph to create a fun and festive Makers Market just in time for the Holiday Season. Organizers invited you to "Come early, stay late, and make a day of it," promising that, "You are sure to find special gifts for everyone on your list." The Holiday Makers Market at the Box is open from 10 am to 6 pm and admission is just $5.
The Box is welcoming back some returning artists as well as introducing some new ones. In fact, The Box Factory will be brimming with 35 artists on two levels of the building and many Studio Artists will be open that day as well.
The creative artists of the Holiday Makers Market at the Box are bringing their best in a variety of mediums – jewelry, pottery, fiber, woodworking, paintings, photography, metalwork, leather, soap, candles, quilling and origami, leather, pen and ink, woven recycled art and more.
Your food and beverage needs are covered too, with the fabulous Chef Audy Peeples of WERK It Food Truck on hand with the yummy eats and Forté Coffee filling your every caffeine need. There will be a full cash bar open all day, with beer, wine and select cocktails, including the ever popular Bloody Mary bar.
There's also a great live music lineup for the Holiday Makers Market, from the moment the doors open at 10:00 am until the market closes at 6:00 pm. They offer up some of the best and brightest from the community bringing their talents to the stage, including:
10:00 :: Aiden and Bill Schnell
11:00 :: Twin City String Band feat. Aiden Schnell, Caleb Kibby and Wes Shuck
12:00 :: Jenna Mammina with Tom Castonzo
1:00 :: Erick Fisher
2:00 :: Larry Zenk
3:00 :: Morgan Ingle
4:00 :: Dirty Sally feat. Nikki Gauthier & Rob Skibbe
5:00 :: Emma Hamel
They invite you to plan your shopping breaks accordingly so you can hear your favorites all day.
These are the 2019 HOLIDAY MAKERS MARKET ARTISTS:
Jan Orlando of Sandy Point Designs
Angie Novak of Straight from the Lake
Annemarie Kubicek
Audrey Antosz-Flowers with Les Fleurs Soap Co.
Leah Jackson with Kipaji Praise Jewelry
Ali Hansen with No-2-Ali-ke
Kara and Brendan DeMeester of KB Artisans
Kathi J Anserello with Glassybitsbykathi
Tina Tavolacci
Calina Krugler of Just Plain Calina
Scott R. Gane, Matthew Harrison & Aidan Gane
Adrian Gauthier with Gokey Creations
Matthew Kasewurm with Matthew Kasewurm ART
Chandra Williams of Lunch Money Designs
Nikki Gauthier with She Looks Designs
Sarah Barton Strait of intentional elements
Donna Sauers with Donna Sauers Designs
Miranda Skibbe of M's Jemz
David McKie with Art by Graves
Jackie Leeser Baker of Dragons Fly
Maria Vettraino of Mia Maria Candle Studio
Jeffrey & Theresa Heaton of Cheeky chic-y studio
Elizabeth Kozlowski of Aveline
Erin Baldwin with Ella's Soapbox
Jennifer Miller Fedewa with A Penchant for Pebbles
Gretchen Heidi Krieger with Eclectic Pearl Crafting
Peggy Gearhart of Love Leather Wraps
Linda Spitzer with Priceless Photos
Summer Segar of Fox Forest Resin
Bailey Gruss of Bailey G. Photography & Unsalted Studios
Katie Boyer & Kelly Gulliver with Katertot's Kreations & KJ Gulliverart
Kerry Tollar Bolin with Happy Goat Soap
Andrew Curran of Gray Scale Arts
Kim Bollman with CC Chainmaille
Sydney Ziemke & Sean Adams of Boo Lee
The Box Factory for the Arts is located at 1101 Broad Street in St. Joseph.
For more information, you can contact the Box Factory for the Arts at 269.983.3688 or visit online at: https://boxfactoryforthearts.org/