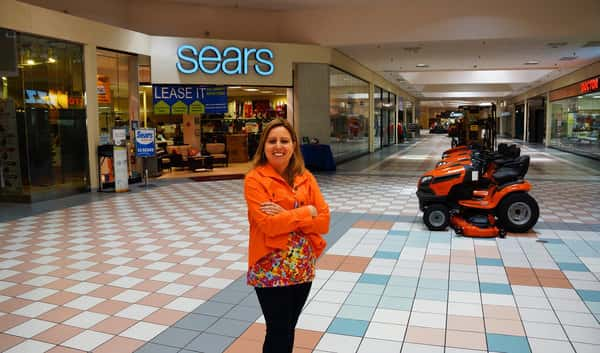 The woman who brought the Fusion Center for Dance to The Orchards Mall last summer was starting to understand why some of her fellow merchants were becoming increasingly alarmed over the physical condition of the 37 year old property in Benton Charter Township. However, Christine Waterhouse decided not to simply get in line to take pot shots at mall owner Mike Kohan. She called him out on his pledge two years ago to turn the mall around and make it a viable retail shopping center once again.
Waterhouse picked up the phone, called Kohan and asked him what he was going to do about the rapid deterioration of the mall and when he was going to do something about it. Her demeanor however was decidedly different than most people who want to pound the table and scream. Instead, she offered to become his on-site property manager, provided he would get off the dime and begin to fulfill the promises made. She was simply trying to save her own investment in the 8,000 square foot dance center she had established there last August. Amazingly, he accepted.
When she called to tell me that news, frankly I was in the process of assembling a story that essentially would have called Kohan at the very least a chronic procrastinator if not a liar and potentially even a fraud. She told me she was headed to Great Neck, New York to sit down with Kohan to assemble the keys to solutions for the failing property where he was even beginning to fall delinquent on his property taxes.
Kohan's track record as an aggressive accumulator of malls and shopping centers is a checkered one with both strong successes and abject failures from one end of the nation to the other. He was bordering on reneging on multiple plans for the center until Waterhouse took control.
Her moxie is noteworthy, as she essentially told Kohan what needed to be started if the center is ever to enjoy a new lease on life. Cynics across the region have long since written The Orchards Mall off, and that is a very easy thing to do. On one of Kohan's retail websites he shows 73 available spaces on the floorplan map of the property and only two were even labeled with tenant names. Those were Carson's and Slackers Family Fun Center (ironically spelled incorrectly as Slager's).
Perhaps at an alltime low for occupancy, Waterhouse says there are currently 26 tenants in the house. Of those 26, there are 14 retail shops, 2 entertainment centers, 3 non-profit organizations, 2 government offices, and five service oriented businesses. The remainder of the mall stands vacant.
Waterhouse has successfully gotten Kohan to repair all of the pot holes in the sprawling parking lot in recent weeks, has hired a landscaping crew to begin work on restoring some measure of decorum to the exterior of the mall where 13 dead trees have been removed, others have been trimmed, and weeding and new mulch placement is underway. The once-malfunctioning air conditioning has been successfully repaired under her watch, and the entire HVAC system is being overhauled unit by unit among the 19 individual components on the rooftop. Some of those are original equipment from when the mall was built in 1979.
The completely empty Food Court has had the entire plumbing system flushed, freeing up a critical drain system which had rendered most facilities there unusable even though they were vacant.
I walked the full length and breadth of the mall with Christine, just like the more than 100 "mall walkers" who still show up for their exercise regimen every day, and have to tell you that I haven't seen the floors and windows as clean as they were today in years. She clearly ascribes to the old saw that says, "You may be poor, but that doesn't mean you have to be dirty."
The Customer Service Center, routinely managed by Mall Security Officers, has moved from the Carson's Court to the top of the Food Court. The security team is now sporting new, clean, identifiable uniforms, and a new pride is being instilled by the employees of the mall itself. There are some 200 to 300 workers employed by tenants of the mall, and they all are hoping that Waterhouse's bid to return food service to the mall or a restaurant to the space vacated most recently by Rock Star's Karaoke Bar will be successful.
Two new businesses are coming online in the next couple of weeks from the same tenant. One will be called Sass and the other will be called Sassy's. Both are accessories stores, with Sass targeted at adult women and older teens, while Sassy's aims for children and early teens with a lot of school spirit items, hair bows, jewelry, scarves, hats and the like at both centers. Sassy's will take the space most recently vacated by Claire's Boutique, and Sass is assuming the space that was once Sears Optical, right outside the main entrance to J.C. Penney.
Waterhouse has been on the job for more than a month and a half now, and she has painting contractors working on redoing the common area hallway leading to the mall office and rest room areas. Because the Community Room is rented virtually every single weekend for a wide variety of private events, she has created a second "Hospitality Room" right alongside of it outside the main entrance to Carson's to keep the traffic flowing. Baby Showers, Graduation Parties, Birthday Parties, Business Meetings, Forums and other activities are all welcome in the freshly painted and carpet-cleaned site.
Gone is the canned music piped to speakers overhead, as Waterhoue works to keep a local spin on everything possible. She now has 98.3 The Coast on the system. The parking lot is slated to be re-striped with freshly painted parking lines beginning as early as next week. Work crews were cleaning grass and weeds from portions of the lot this afternoon ahead of that project. A workman was replacing or repairing lighting over an entrance to Carson's, and parking lot light repairs are on the bucket list soon, as well.
In her steady drumbeat bid to attract new tenants both national and local, Waterhouse reminds everyone that "rents are extremely reasonable, in fact, very likely the cheapest available retail space in town!" She is the Leasing Agent for the mall and can negotiate terms with any interested party. You can reach her at 269-927-4467 or by email at customerservice@TheOrchardsMall.com. Her office door is open daily from 10am until 4pm Monday through Friday.
Regular merchant meetings are now being hosted with current tenants, the utility bills are being routinely paid (something that had not always been true before she assumed control) and a true professional feel is now being exhibited with pride in the house.
I asked Christine to characterize her face to face meetings with Kohan in New York, and she says they have a good  relationship. She calls him nearly every day for updates and some merchants routinely talk to him by phone as well. His direct approach has been met by her straight forward, no-nonsense attitude and they seem to have meshed to finally get the promised work done.
Waterhouse has at least 75 families at her Fusion Center for the Dance every day Monday through Thursday and on Saturdays. She wants for those people and others to continue to have more things to see and do and places to shop and she is unrelenting in her bid to accomplish that task. A local charter school has decorated the Food Court walls with original artwork, the 4-H is bringing a show to the mall, and she is working with Berrien County Animal Control for additional Adoption Day events.
Recognizing that the mall's decline didn't happen in one fell swoop, Waterhouse says, "The Orchards Mall won't be fixed completely overnight, but we keep making steps in that direction." She fully intends to "keep the pressure on" Kohan and argues that retailers "can, in fact, find success here." In fact, she points out that "Zale's Diamond Center is having the best year in the local history of the store." She partially attributes that success to the strong customer service attitude and profesionalism displayed by the clerks at that store.
"Morale is strong in the mall, and getting stronger by the day," she tells me. Longtime security agent "Luther" exhibited that when we crossed paths as well.
Retailers and other organizations or service companies interested in space at the mall are strongly encouraged to tee up their ideas to Christine. She suggests, "I'm open to out of the box thinking." Examples of that are Doug Fordyce's Kids on Stage agency and the Blossomtime Sorority's Royal Connection resale shop.
The massive Halloween Store has already signed on to return to the mall from August through October, the Colby Bounce Center (currently busy with on-site work at parties and festivals outside the mall) returns in the fall to their inside space, and Waterhouse is teaming up with Cornerstone Alliance, Cornerstone Chamber of Commerce, Small Business Services and the Women's Business Center for a four-hour Open House for Entrepreneurs on September 21st from 11am until 3pm. She is currently looking for vendors who would like to provides services to future tenants in the form of signmakers, insurance agents, financial advisors, marketing agents and others to play a role in that Open House as well.
A Back to School Fashion Show featuring retailers from the mall is slated for Saturday, August 13th, and starting next week, every Wednesday from 1pm to 3pm throughout the summer special kid's focused events will take place at the mall for things like art projects, building projects, story times, tea parties and other similar shows.
Merchants are also being increasingly held accountable to the standards they signed on to. Fresh copies of the tenant rule book have been distributed, and two merchants who had been allowed in under previous management were evicted by Waterhouse when she determined they were doing things in direct conflict to a stringent lease held by one of the major anchors at the mall.
Clearly…there's a new sheriff in town, and Christine Waterhouse is wearing the badge proudly, but with a firm pistol grip ready.
Here is a list of the tenants currently housed at The Orchards Mall:
Carson's
J.C. Penney
JoAnn's Fabrics
Zales
Rainbow
Bath & Body Works
Sears Hometown Store
Finish Line
Jimmy Jazz
Touch Wireless
Payless Shoe Source
Hippie Haven
Slacker's Family Fun Center
Colby Bounce Center
Habitat for Humanity
U.S. Post Office
SMC Photography & Images
Colbert/Ball Tax Service
GNC – General Nutrition Center
Doug Fordyce's Kids on Stage
Top Nails
Armed Forces Career Center
Closson's Auto Center
Kustom Tatooz
The Royal Connection Resale Boutique
Doctor ZZZZ'z Mattress Center
The Orchards Mall is located at 1800 Pipestone road in Benton Charter Township and comprises just under 625,000 square feet, owned and operated by Kohan Retail Investment Group of Great Neck, New York.  Despite the rampant sarcasm with which many talk about the mall, Christine Waterhouse is working diligently to prove them wrong. She asks, rhetorically, "Will we ever get a Macy's here, no…but we can still work hard to do our best to make the mall successful again." With the drive she's shown in just six weeks time, don't bet against her just yet.