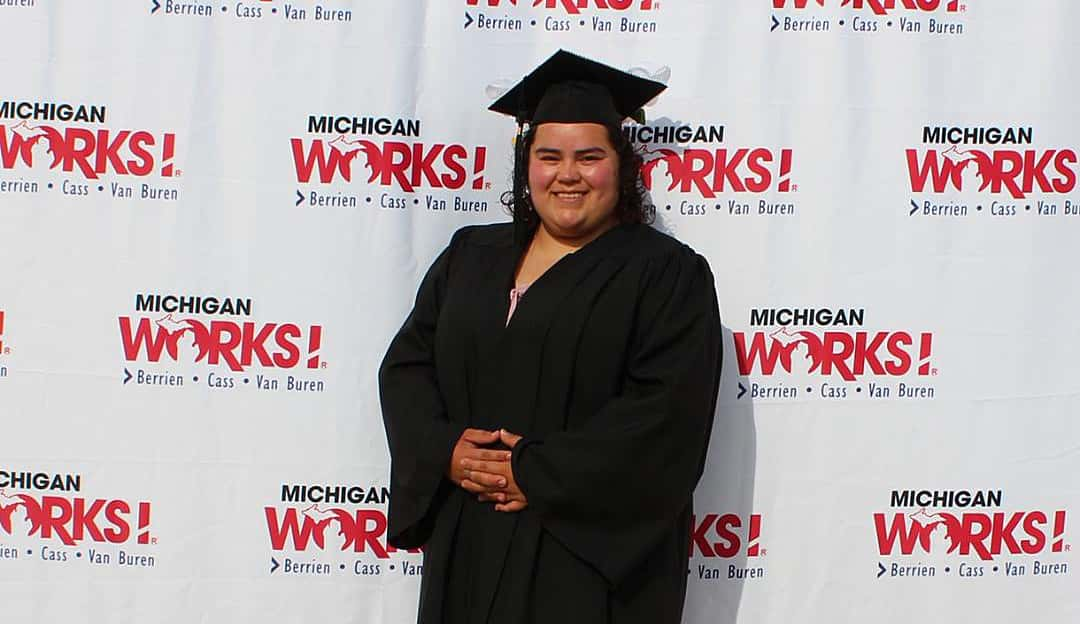 A pandemic-style, restricted celebration may have kept graduates physically apart last night as the Benton Harbor Bridge Academy marked the successful completion of their school year, but it certainly didn't put a damper on the excitement for each and every one of them as they advance in their personal lives.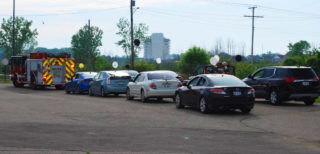 Organizers from Michigan Works! of Berrien, Cass, Van Buren assembled a night of celebration for the 15 graduates from the Bridge Academy youth and adult education programs. Family members, friends, board members and community partners joined in the celebration in their own vehicles, social distancing style, at the Michigan Works! Training Center last evening, Thursday, June 4th. Graduates were honored for achieving either a GED or high school diploma to help them prepare for the next steps of their lives with a celebratory parade.
Allie Knapp, Director of the Bridge Academy, says, "Although we could not physically celebrate with one another in our traditional graduation setting, we wanted to show our graduates how proud of them we truly are with a parade," and adds, "This day is a fantastic accomplishment, so we made it a big deal for our graduates. Our team delivered an 'at home' graduation kit prior to the parade that included fun yard signs, a cap and gown to wear to the parade, cupcakes to share with their family, and professional photos so that their day could be a special reminder of all that they have accomplished despite the pandemic we are all facing."
Every year at the Bridge Academy Graduation, an individual is presented with the Karrington Penny Memorial Academic Achievement Award, which celebrates a graduate who earns their GED in the shortest amount of time. The award is in memory of Karrington Penny, a Bridge Academy and YouthBuild graduate, who passed away in 2014. His mother, Kimberly, presents this scholarship award annually, as a tribute to her late son. The 2020 award was presented to Maritza Dorado in a brief ceremony prior to the parade, as shown in the photo accompanying this story on Moody on the Market.
The Bridge Academy is operated by Michigan Works! Berrien, Cass, Van Buren and in partnership with Berrien Springs Public Schools. Through that partnership, the Bridge Academy offers academic programs including online high school diploma or GED. There are flexible options to serve a wide variety of students, including students who may have had challenges with a traditional learning environment, have priorities or responsibilities at home, or would like a connection to an employer.
In addition, the Bridge Academy offers vocational training programs in high demand industries such as National Retail Federation, Pre-Apprentice Construction Training, and Certified Nurse Assistant training.
If you are, or know someone who is, interested in enrolling in the Bridge Academy youth services or adult education programs, contact the Bridge Academy at (800) 285-WORKS, x1400. For more information or general questions, you can "like" them on Facebook at Bridge Academy, Powered by Michigan Works! or visit online at www.miworks.org.
Michigan Works! of Berrien, Cass, Van Buren specializes in educating, training, and employing individuals of all ages, by working with local businesses to find out what keeps them up at night and help them tackle the most pressing challenges they may face, including attracting and retaining talent.